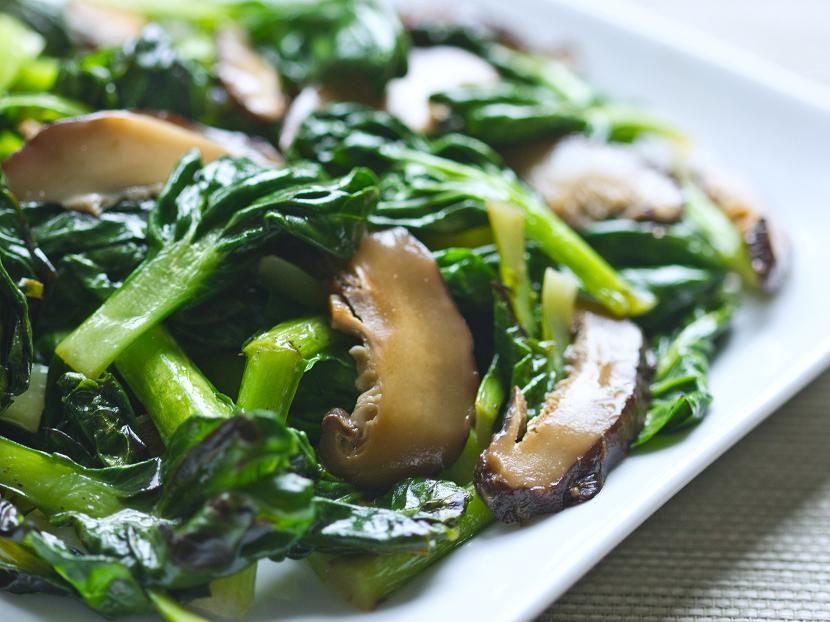 Following the footsteps of bok choy and gai lan, tatsoi has started to gain the attention of mainstream America.
It certainly has the look to seduce you.  Its dark green spoon-shaped leaves and light green stalks form an attractive flattened rosette.  Because of its unique look, it is also called rosette bok choy or spoon mustard.
What's giving tatsoi real star quality, however, is its flavor.  The leaves are tender and sweet, and the stalks are creamy with a nutty undertone.  As compared with bok choy, a close relative, its flavor is more robust and complex.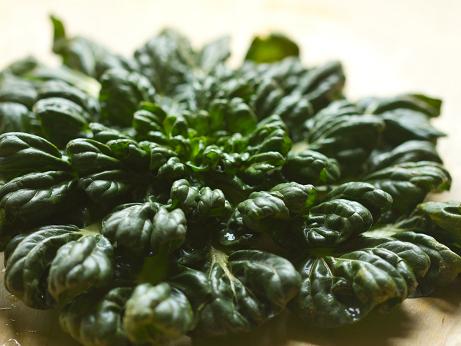 Part of the large Brassica family, which includes various cabbages and mustards, tatsoi (塌棵菜 or 塌菜) is indigenous to China, and has been cultivated there for over 1,500 years.  Because it withstands frost and snow well, it's a favorite vegetable in cool seasons.  In fact, the cooler the weather when it's harvested, the sweeter and creamier it tastes.  Have you heard of the term "frost kissed"?  Cabbages and boy choi are some of the other vegetables that love to be "frost kissed".
When I was a kid, my grandmother always got so excited about cooking tatsoi when the temperature outside dropped.  "They taste better after frost has nipped them", she would tell me.  I still remember how wonderful her stir-fried tatsoi tasted!
Now I feel the same way whenever tatsoi is in season…
In Chinese cooking, tatsoi is typically used in stir-fry dishes, or added to soups for flavor and texture.  You can also eat the young leaves raw, by mixing them with other vegetables to make mesclun salad.
Your best chance to find tatsoi is at your local farmers market or Chinese grocery stores.  At Union Square Greenmarket, I've seen them at Gorzynski Ornery Farm and Keith's Farm.
"Our field is quite frosted right now", Tim from Gorzynski Farm told me, as I was picking up this gorgeous tatsoi you see in the picture.
Frost kissed!  Now is the time…
Stir-fried tatsoi with shiitake mushrooms
Makes 2 servings
Ingredients
2 heads tatsoi, about 4 oz (115 g)
3 dried shiitake mushrooms
1 teaspoon Shaoxing wine
1/2 teaspoon sesame oil
1 tablespoon vegetable oil
Pinch of sugar
Salt and freshly ground white pepper
Procedure
Soak the dried mushrooms in ½ cup of water for about 2 hours, or until soft.  Squeeze the water off the mushrooms, remove the stems, and cut each mushroom into thin slices.  Strain the soaking liquid and reserve.
Remove the core of tatsoi to separate the leaves.  Wash and drain.
Heat the vegetable oil in a hot wok or skillet over medium high heat.  Add the leaves and stir-fry for 1 minute.  Add the mushrooms and Shaoxing wine; stir and mix for 20 seconds.  Pour in the soaking liquid and cook, covered, for 1 more minute.  Season with salt and pepper, and pinch of sugar.
Drizzle with the sesame oil and serve.

Subscribe to Soy, Rice, Fire

Archives