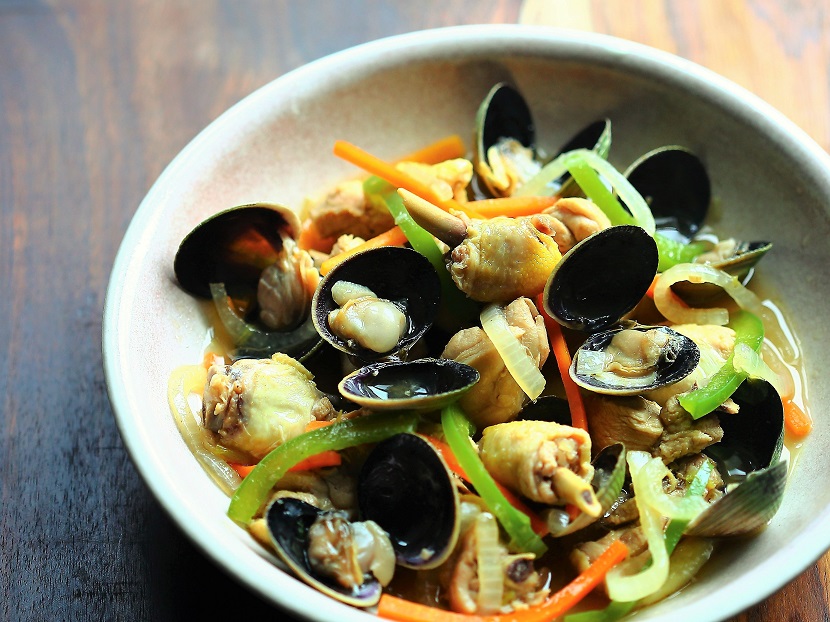 Qingdao (青岛 in mandarin), also spelled as Tsingtao, is a charming seaside city in Shandong province of China. It's best known for three things: great seafood, European architecture from the German concession period, and of course, its Tsingtao beer.
The locals love their seafood so much that they even add them to their meat and poultry dishes, as witnessed in the chicken and clam recipe I'm sharing today. Cooking chicken and clams together is indeed a great idea: when different types of amino acids from the two ingredients are released during cooking, the umami level is multiplied and elevated, creating an exceptionally delicious dish.
And, when you have a great local beer like Tsingtao beer, using it for cooking is another smart move. The aromas and flavors from malt and hops in beers make them a fantastic, and often underrated, choice for braising liquid.
Of course, you can make this dish with any light beer you like. Do avoid using a strong one as it would overpower the delicate chicken and clams.
Qingdao beer-braised chicken with clams
Makes 2 servings
Ingredients
14 oz (400 g) bone-in chicken parts of your choice, cut into bite-size pieces
11 oz (310 g) small-sized clams such as Manila clams or cockles, scrubbed and cleaned
1 can (330 ml) Tsingtao beer or any light beer you like
2 oz (60 g) green bell peppers, cut into matchsticks
2 oz (60 g) carrots, cut into matchsticks
Half medium onion, sliced
2 scallions, cut into 1-inch (2.5 cm) pieces
2 garlic cloves, sliced
1-inch (2.5 cm) ginger, sliced
1 tablespoon soy sauce
1 teaspoon sugar
1/2 teaspoon Zhengjiang (aka Chinkiang) vinegar
1 tablespoon vegetable oil
Salt and freshly ground white pepper
Direction
Heat the oil in a hot wok or skillet over high heat. Add the scallions, garlic, and ginger; stir-fry until fragrant, about 30 seconds. Add the chicken, stir and cook for 1 minute. Mix in the soy sauce and sugar, and pour in the beer. Bring to a boil and reduce to a simmer. Wait for the foam to subside, and remove impurities that rise to the surface. Simmer, uncovered, until the chicken is just cooked through, about 20 minutes.
Turn up the heat and stir in the bell peppers, carrots, and onion. When the liquid reaches a boil, add the clams.  Cook, covered, shaking the wok frequently, until the clams are open, about 2 minutes.  Discard any unopened clams.  Add the vinegar and adjust seasoning with salt and pepper as needed.  Serve immediately.

Subscribe to Soy, Rice, Fire

Archives