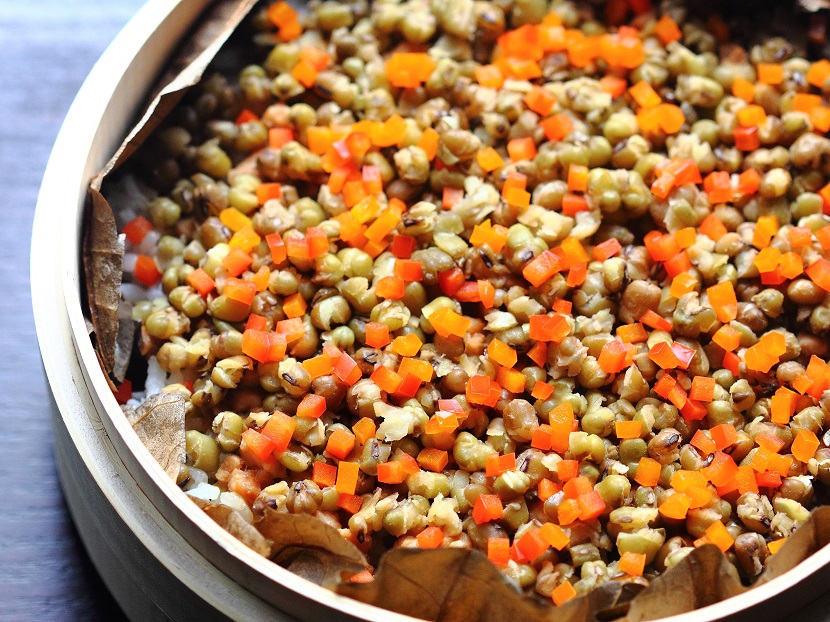 Mung beans are frequently used in Chinese cooking, though often not in their original form.
For example, they are ground to extract mung bean starch, which makes cellophane noodles, an iconic Chinese ingredient.
Or they are germinated to grow bean sprouts, excellent for stir-fry and soup dishes.
Mung bean paste also shows up in various Chinese pastries and desserts.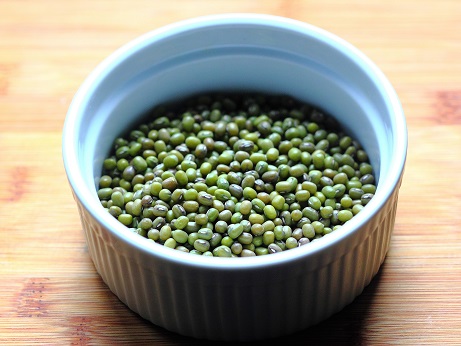 Whole beans in cooking? Rarely. One of the few exceptions is sweet mung bean soup (绿豆汤), which is consumed chilled in many Chinese households during the summer. The cooling properties of mung beans, as documented in Traditional Chinese medicine (TCM), make them a more effective option (and a heathier one as well) than ice creams to fight off the heat.
All that makes the recipe I'm sharing with you today truly special, as it uses whole mung beans in a savory dish together with rice and chicken. I've been in love with dish ever since I "discovered" it a few years ago. The natural affinity among the three ingredients, steamed together and imbued with the scent of lotus leaf, creates such a harmonious and comforting dish.
Equally intriguing about this dish is the fact that I "discovered" it from a cookbook about Sichuan cuisine.  Although most people associate Sichuan cooking with complex flavors and spices, subtle dishes like this one also exist in the region's repertoire, to offer "palate-cleansing" breaks from fiery sensations.
Steamed mung beans with rice and chicken in lotus leaf
Makes 2 servings
Ingredients
2.5 oz (75 g) whole dried mung beans, soaked in cold water overnight
3.5 oz (100 g) short-grain rice
6 oz (170 g) chicken breast or thigh meat
1 dried whole lotus leaf, soaked in cold water for 1 hour
3 oz (85 g) bell peppers, cut into small dices
Marinade
1-inch ginger, grated with a Microplane grater
2 teaspoons soy sauce
2 teaspoons Shaoxing wine
2 teaspoons cornstarch
Finishing sauce
2 teaspoons sesame oil
2 teaspoons soy sauce or oyster sauce
Freshly ground white pepper
Procedure
Cut the chicken into small cubes, ideally 1/4 inch (6 mm) in size.  In a bowl, mix the chicken with the ingredients for the marinade, and marinate for about 30 minutes.
Precook the mung beans: in a pot, add the soaked mung beans and 1 cup of water. Bring to a boil and reduce to gentle simmer.  Cook, uncovered, for about 20 minutes, until the beans just turn tender, but not too soft. Add a bit more water as needed if the cooking liquid dries up.
Precook the rice in the same way with 1.5 cups of water. Bring to a boil and gently simmer until the rice grains just turn soft but still firm to the bite, i.e. "al dente".  Do not overcook.  Add a bit more water as needed if the cooking liquid dries up.  Transfer the rice to a colander to drain and cool.
Cut the lotus leaf into a circle large enough to cover the bottom and sides of a medium-sized steamer (such as a 10-inch bamboo steamer). Spread the rice into a thin layer at the bottom lined with the lotus leaf.  Scatter the chicken cubes over the rice.  Then spread the mung beans on top.  Steam until the beans are very soft and the chicken is fully cooked, about 20 minutes.  Alternatively, you can use a smaller two-tier steamer (for example 8-inch in diameter), cut 2 lotus leaf circles, and divide the ingredients into two tiers.
Mix the ingredients for the finishing sauce in a small bowl and drizzle on top. Garnish with the diced bell peppers and serve immediately.

Subscribe to Soy, Rice, Fire

Archives