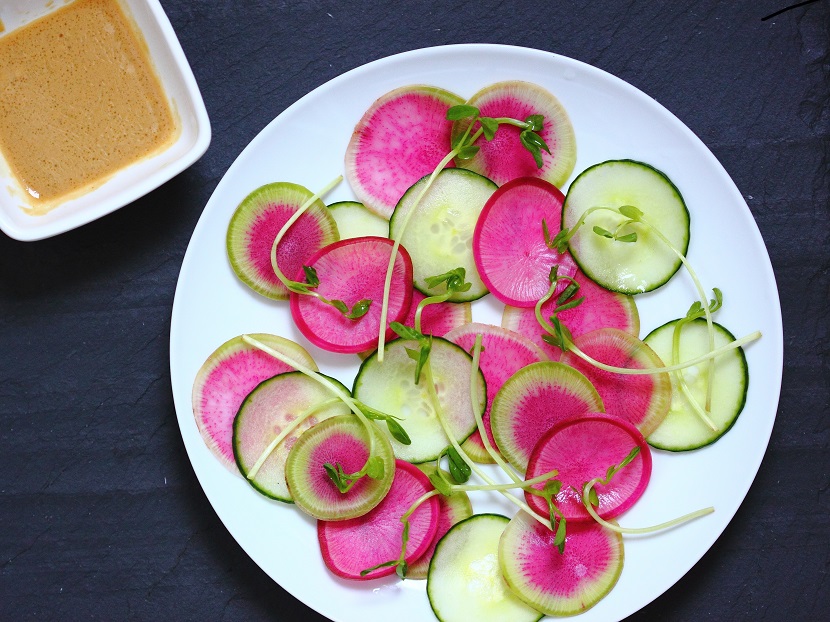 Mustard is considered one of the world's oldest condiments, and using mustard in a salad dressing is a great way to create an emulsified mixture with a lovely punch.
Now, if you've been making your mustard dressing with a store-bought mustard sauce, such as Dijon, as most people do, it might be time for you to try something new: a homemade mustard sauce can truly be a revelation.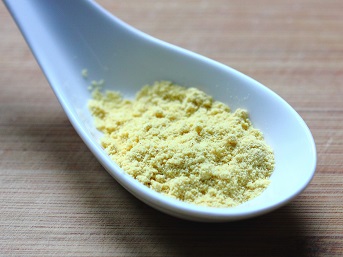 And it only requires two basic ingredients: mustard powder and water.  Simply mix them, wait for a few minutes, and let the magic unfold before your eyes.  With water, the chemical reactions between the enzyme and sulphur compounds in mustard powder create mustard oil, producing the characteristic heat of hot mustard.
This simple preparation is what gives Chinese mustard its strong kick.  Using this mixture as a base, you can add acidic, sweet, savory, and fatty elements, and create a sauce or dressing you desire.  My recipe below uses rice vinegar, soy sauce, sugar, and sesame oil.  You can take a completely different approach, for example, by using wine vinegar, shallot, honey, and olive oil.
You can find mustard powder online, or in spice shops or fine grocery stores such as Whole Foods.  Your homemade mustard dressing will work well with a wide range of vegetable, including lettuce, spinach, watercress, cucumbers, and radishes.  Be aware that the mustard mixture will lose its potency relatively quickly, so only make a small quantity right before using.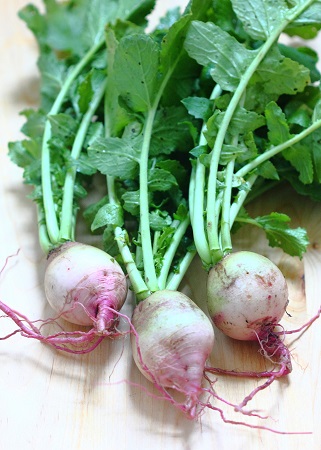 My salad features watermelon radish, an heirloom variety that has its origin in China and is gaining popularity in the culinary world.  It's also called Beauty Heart, a translation from its Chinese name Xin Li Mei (心里美, which literally means inner beauty).  Why?  Because beneath its unassuming look from the outside, watermelon radish has a colorful flesh that resembles that of a watermelon, and has a crisp texture with mild and sweet flavor.  Although watermelon radish is suitable for several cooking method, including braising and pickling, the best way to fully appreciate its beauty is to consume it raw.
If you cannot find watermelon radish in your local farmers' market, you can use other mild-flavored radishes, such as French Breakfast, as a substitute.
Watermelon radish and cucumber salad with Chinese mustard dressing
Makes 2 servings
Ingredients
7 oz (170 g) watermelon radishes, or other mild-flavored radishes
4 oz (115 g) seedless cucumbers
Small bunch of microgreens or sprouts as garnish, optional
Dressing
2 teaspoons mustard powder
2 teaspoons cold water
1 tablespoon rice vinegar
1/2 teaspoon sugar
1 teaspoon soy sauce
2 teaspoons sesame oil
Salt and freshly ground white pepper
Procedure
Using a mandoline, cut the watermelon radishes into very thin slices. Cut the cucumbers crosswise into thin slices.  Chill them briefly in the refrigerator while you prepare the dressing.
Place the mustard powder in a ceramic bowl. Stir in the cold water.  Cover, and let stand for 15 minutes.  In a separate bowl, mix the vinegar, sugar, and soy sauce.
When the mustard is ready to use after 15 minutes, add the vinegar mixture and sesame oil, and mix well to create an emulsified dressing. Adjust seasoning with salt and pepper as needed.
Pour on the chilled vegetables and serve immediately.

Subscribe to Soy, Rice, Fire

Archives