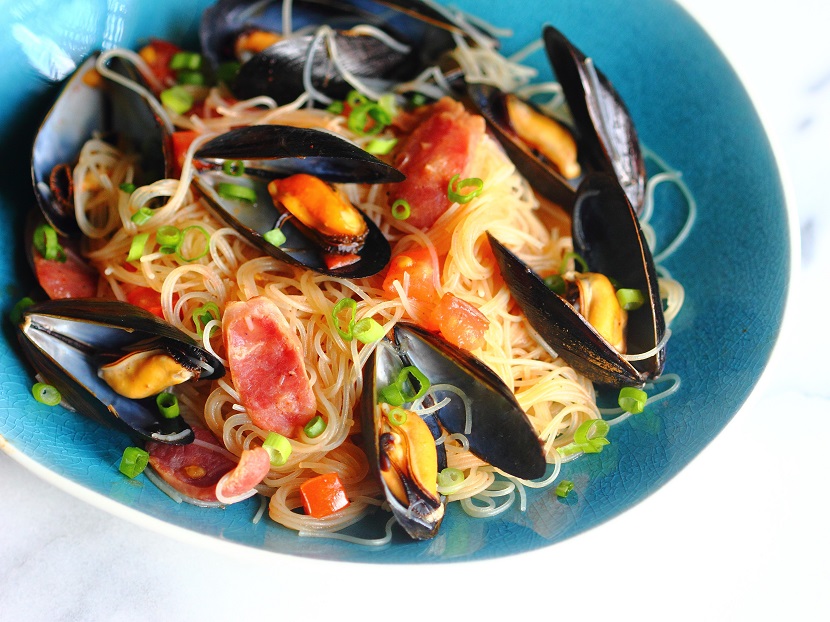 If you enjoy making steamed mussels, you might want to venture out to see what other possibilities you have with these fantastic mollusks.
For example, you can follow the Spanish way by cooking them with chorizo, toasted fideos, tomatoes, and pimentón de la Vera, and be rewarded handsomely with a bowl of exciting feast.
Or make midye dolma, Turkish stuffed mussels with aromatic rice, herbs and spices.  They will instantly transport you to the shores of Istanbul.
Crave Thai food?  Steam your mussels with coconut milk, fish sauce, lemongrass, and curry paste.  And, of course, garnish them with cilantro or Thai basil.
You see, mussels are a versatile ingredient to cook with, and my dish today shows how you can incorporate Chinese flavors into your mussel dishes.
Here, the mussels are first steamed with Shaoxing wine, ginger, and scallions.  The steaming liquidity flavored with mussel juices is then used to cook rice noodles, together with Chinese sausage and hoisin sauce.  When you toss everything together at the end, you get a one-pot meal that is simple yet stunning.
Mussels with Chinese sausage and rice noodles
Makes 2 servings
Ingredients
1.3 lb (600 g) medium-sized mussels, scrubbed and debearded
2 oz (60 g) Chinese sausage, thinly sliced diagonally
4 oz (115 g) thin dried rice noodles
7 oz (200 g) tomatoes, diced
One-inch (2.5 cm) ginger, thinly sliced
3 garlic clove, thinly sliced
Small bunch of scallions, white parts cut into 1-inch (2.5 cm) sections, and green parts thinly sliced
1 tablespoon hoisin sauce
1 tablespoon Shaoxing wine
2 teaspoons soy sauce
1 teaspoon Zhenjiang (aka Chinkiang) vinegar
1 tablespoon vegetable oil
1 teaspoon sesame oil or chile oil
Red pepper flakes, optional
Salt and freshly ground white pepper
Procedure
Heat the vegetable oil in a wok or skillet over medium heat. Add the ginger, garlic, and white parts of scallions, and stir-fry until aromatic, about 30 seconds.  Add the Shaoxing wine and stir for 15 seconds.  Pour in 1 cup of water and bring to a boil.  Add the mussels.  Cover and cook, shaking the wok from time to time, for 2-3 minutes, or until mussels start to open up.  Transfer opened mussels to a bowl.  Discard any unopened ones.  Strain the steaming liquid.
Clean the wok. Add the steaming liquid, 2 cups of water, Chinese sausage, hoisin sauce, and soy sauce.  Bring to a boil over medium heat and add the rice noodles.  Cook for 4-5 minutes, or until the noodles are just cooked.  Add more water as needed.
Mix in the steamed mussels, diced tomatoes, Zhenjiang vinegar, sesame or chile oil, and red pepper flakes if using. Toss and cook for 1 minute, to combine the flavors.  Adjust seasoning with salt and pepper as needed.  Garnish with the sliced scallions and serve immediately.

Subscribe to Soy, Rice, Fire

Archives