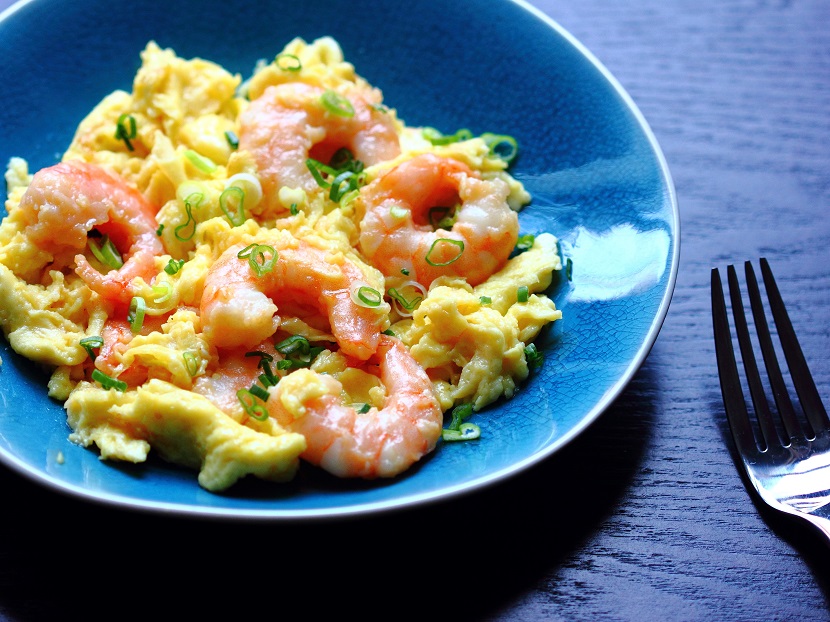 Scrambled eggs is probably one of the easiest yet most satisfying dishes on earth.
Although there are no right or wrong ways of making scrambled eggs, one can always benefit from useful techniques and tricks to create a better dish based on their personal preference.
When I want my scrambled eggs moist and fluffy, I go with a brilliant Cantonese method which I'm sharing with you today.  The secret ingredient here? Potato starch or cornstarch, which helps prevent the eggs from overcooking and becoming rubbery.
The eggs are cooked over medium-high heat for less than a minute.  They make a great dish on their own, or even a better one when mixed with shrimp, mushrooms, or beef during cooking.
If you use shrimp as I do with my dish here, you want to keep your shrimp tender and moist as well.  To achieve that result, use the Chinese "velveting" technique which I previously described in my post for Dragon Well shrimp:
First, coat the shrimp with egg white and potato starch (or cornstarch), and marinate for at least 30 minutes, preferably 2 hours. This step, called "velveting", creates a protection for the shrimp during cooking and seals the flavor and moisture.
Next, blanch the shrimp gently in medium-temperature oil .
Cantonese-style scrambled eggs with shrimp (滑蛋虾仁)
Makes 2 servings
Ingredients
3 large eggs
4 oz (115 g) shelled and deveined shrimp
Small bunch of scallions, thinly sliced
1 teaspoon Shaoxing wine
¼ teaspoon salt
1 ½ teaspoons potato starch or cornstarch
1 ½ tablespoons water
Freshly ground white pepper
½ cup vegetable oil, for velveting the shrimp
For the marinade:
1 tablespoon egg white (from the eggs above)
½ teaspoon Shaoxing wine
½ teaspoon salt
1 teaspoon potato starch or cornstarch
Procedure
Crack the eggs into a bowl. Reserve 1 tablespoon of egg white for the shrimp.
In a separate bowl, mix 1 ½ teaspoons of potato starch with 1 ½ tablespoons of water until lump-free. Add the mixture together with ¼ teaspoon of salt and freshly ground white pepper to the eggs, and beat until smooth.
Wash the shrimp and pat dry. Combine the reserved egg white, Shaoxing wine, potato starch, and salt, and add the mixture to the shrimp.  Mix and stir until the shrimp are well coated with the mixture.  Marinate for at least 30 minutes, preferably 2 hours.
Gently stir in 1 teaspoon of oil into the shrimp. Heat 1/2 cup of oil in a wok or skillet over medium heat.  When the oil reaches about 280 °F or 138 °C, add the shrimp in a single layer and stir quickly.  When the shrimp turn color and are just cooked, about 1 minute, transfer to a strainer to drain.  Alternatively, you can velvet the shrimp in gently boiling water.
Heat 2 tablespoons of oil in a hot non-stick skillet over medium-high heat. Add the beaten eggs, and wait for 10 seconds when the edges of the eggs start to bubble up.  Stir the eggs for a few seconds and mix in the shrimp.  Stir and mix until the eggs are cooked to your preferred doneness, about 10 to 20 seconds.
Garnish with the scallions and serve immediately.

Subscribe to Soy, Rice, Fire

Archives