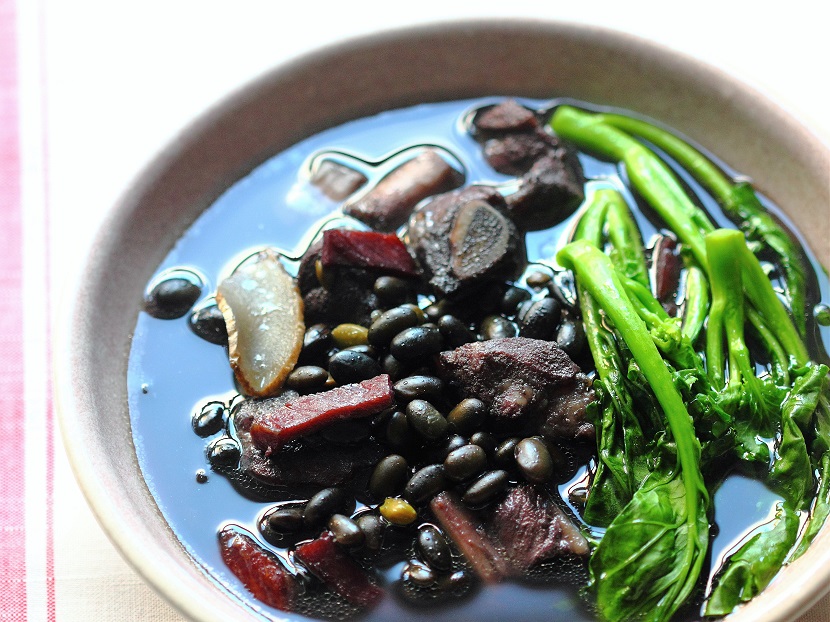 According to the tradition of the American South, eating a plate of black-eyed peas and greens (such as collard greens) in the New Year brings good luck, because the peas symbolize coins and the greens represent greenbacks.
This sounds a great idea to me, as good luck is always welcome.  More important, they taste so good when cooked together with pork, bacon, or sausages.
My recipe here is a riff on this American tradition, by using black soybeans and gai lan, aka Chinese broccoli, to make a hearty soup together with pork ribs and ham.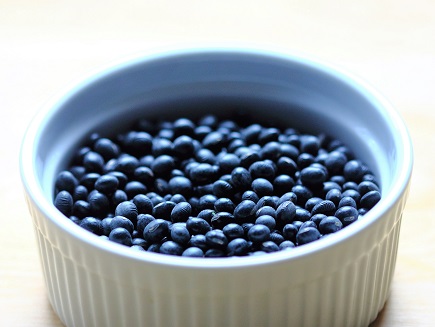 Black soybeans (黑豆, Hei Dou in Mandarin) are a variety of soybeans.  Aside from the black skin, they are very similar to the yellow soybeans, with the same flavor profile and texture.  When cooked in soups or stews, they boost umami taste and impart a wonderful aroma.
Black soybeans also play an esteemed role in Traditional Chinese Medicine (TCM), and are considered to have detoxifying and circulation-enhancing effects.
In the US, canned black soybeans are easily available and can be used the same way as other canned beans, such as black turtle beans.  However, for this recipe, you need dried ones, which can be found in most Asian grocery stores or online.
Feel free to customize the recipe below based on what's available to you.  For example, you can use bok choy, collard greens, or kale to replace gai lan.  Or you can use bacon instead of ham.  And, regular yellow soybeans are a perfect substitute if you cannot find the black variety.
No matter which version you end up with, I'm sure you will have a tasty soup that makes you happy and brings you good luck.
Black soybean soup with pork ribs, ham, and gai lan
Makes 2 servings
Ingredients
1 cup dried black soybeans, soaked in cold water for 4-6 hours
1 lb (450 g) pork ribs, cut across the bone into 1-inch sections, then separated into individual ribs
2 oz (85 g) Virginia ham, cut into small pieces
4 oz (115 g) gai lan or any leafy greens of your choice
1-inch (2.5 cm) ginger, thinly sliced
2 dried bay leaves
1 tablespoon Shaoxing wine
Salt and freshly ground white pepper
 Procedure
 Blanch the pork ribs in boiling water briefly. Transfer them to a colander and rinse under cold water to remove any impurities.
In a large pot, bring 3 cups of water (use the soybean soaking water) to a boil. Add the soybeans, pork ribs, ham, ginger, bay leaves, and Shaoxing wine.  Bring the liquid to a boil again and reduce the heat to maintain a gentle simmer.  Remove impurities and foam from the surface.  Cook, covered, until the soybeans are soft and meat on the ribs is tender, about 1 hour.  Skim the surface from time to time during simmering.
Season the soup with salt and pepper. Add gai lan and cook until crisp-tender, about 2 minutes.
Adjust seasoning as needed and serve immediately.

Subscribe to Soy, Rice, Fire

Archives