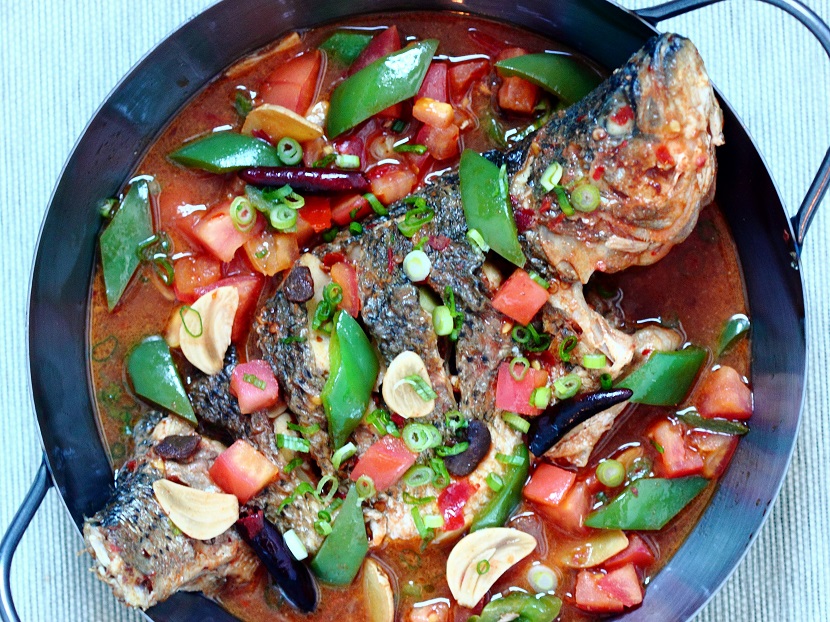 Yang Shuo (阳朔), one of the most beautiful old towns in China, is surrounded by limestone peaks and bordered on one side by the Li River (漓江). Taking a river cruise along the legendary river through the dreamy mountains is such a surreal experience that you felt like you lived in a space created by Chinese water painting.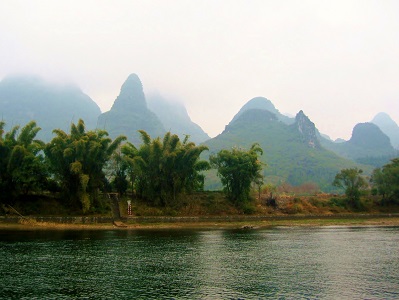 At night, this charming little town bursts into life, with the sky illuminated by lanterns and the air filled with hunger-inducing aromas. Several restaurants in town specialize in a dish called beer-braised fish, made with local fish freshly caught from the Li River. The braising liquid, a mixture of beer, Dou ban jiang (豆瓣酱, chile paste with fermented fava beans), and fermented tofu (腐乳, also known as preserved tofu, or Chinese cheese), imparts a rich and complex flavor to the fish. The result is an amazing dish that will linger for a long time in your taste memory.
Ever since I had that dish during my visit to Yang Shuo several years ago, I have tried and succeeded in recreating it at home. Sure that local fish from Li River is out of the question, but I find any mild-flavored white fish, such as striped bass or porgy, works well for the dish. I've also experimented with a wide array of beers from all over the world, and each of them brings its unique aroma and flavor to the dish, and each time the dish tastes slightly different and always delicious.
You can pretty much use any beer that you like to drink, as long as it's not too bitter that could overpower the delicate fish.
If you cannot find Dou ban jiang or fermented tofu, substitute any Chinese chile paste you have for the former, and Korean Doenjang or Japanese miso for the latter.
Beer-braised fish, Yang Shuo style
Makes 2 servings
Ingredients
Medium-sized whole striped bass or porgy, about 1.2 lb (540 g); scaled and gutted.  Make 3 or 4 diagonal cuts on each side of the fish.
10 oz (285 g) tomatoes, cut into ½-inch (1.2 cm) cubes
6 oz (170 g) green bell pepper, cut into bite-size pieces
One-inch (2.5 cm) ginger, sliced
2 garlic cloves, sliced
2 scallions, thinly sliced
3-4 dried chile peppers, cut in half and seeds removed
2 teaspoons soy sauce
12 oz (355 ml) beer of your choice
1 tablespoon Dou Ban Jiang or another Chinese chile paste
1 teaspoon fermented tofu; Korean Doenjang and Japanese miso are good substitutes
2 tablespoons vegetable oil
Salt and freshly ground white pepper
Procedure
1. Heat the vegetable oil in a hot wok or skillet over high heat. Pat the fish completely dry and add to the wok. Brown both sides of the fish, about 2-3 minutes each side. Transfer the fish to a plate.
2. In the same wok over medium heat, add the ginger, garlic, and chile peppers. Stir fry for one minute. Pour in the beer and bring to a boil. Mix in the soy sauce, Dou ban jiang and fermented tofu. Return the fish to the wok and add the bell pepper. Simmer, uncovered, for about 10 minutes or until the fish is just cooked through. Turn the fish once or twice during cooking. Add the tomatoes and simmer until they are slightly wilted and the braising liquid is thickened, about 2 more minutes.
3. Adjust seasoning with salt and pepper. Garnish with the scallions, and serve immediately.

Subscribe to Soy, Rice, Fire

Archives