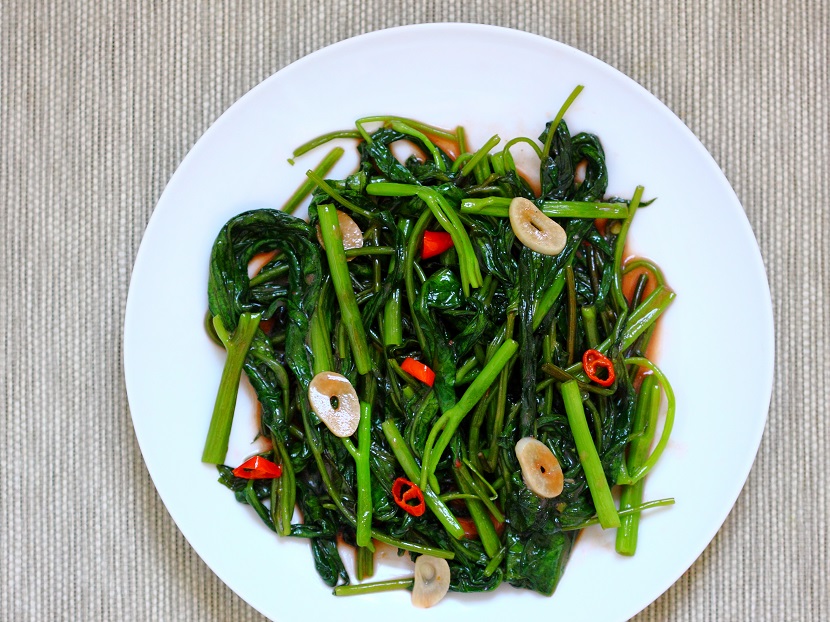 Water spinach is a fascinating vegetable for you to try if you've never cooked with it before.
Unlike its name suggests, water spinach is not related to spinach at all.  As a member of the Morning Glory family, it's a close kin to high-climbing vines that decorate fences and walls, as well as several root crops such as sweet potatoes.
Native to China, water spinach is a popular green vegetable in many Asian countries.  Although its official Chinese name is 蕹菜 (Weng Cai in Mandarin or Ong Choy in Cantonese), most Chinese people call it 空心菜, which literally means "hollow vegetable", because of its long and hollow stems.
Both the leaves and stems of water spinach are edible.  The leaves are wonderfully tender and nutty.  But to some, the stems are the more valuable part because of their crunchy texture.
You can use the leaves and stems together or separately, depending on the final dish you want to make.  In general, this light vegetable tastes better when cooked with sharp and intense flavors.  Fish sauce, shrimp paste, and fermented tofu are a few good options for you to try.  Also keep in mind that the stems need to be cooked a little bit longer than the leaves if you use them in the same dish.
Water spinach is available at most Asian grocery stores.  The best season is late spring and early summer.
My dish here is a simple stir-fry pairing water spinach with fermented tofu.  Packed with umami, the fermented tofu lends body and richness to leaves and stems, and make them irresistible!
Stir-fried water spinach with fermented tofu
Makes 2 servings
Ingredients
7 oz (200 g) water spinach
1 tablespoon fermented tofu, either red or white variety
1 tablespoon brine of the fermented tofu; if the brand you use is very salty, use ½ tablespoon and add some sugar
2 garlic cloves, thinly sliced
1 bird's eye chile, thinly sliced
2 tablespoons vegetable oil
Sugar, salt and freshly ground white pepper
Procedure
Separate the leaves and stems.  Cut the stems crosswise into 2-inch (2.5 cm) pieces.
In a bowl, mash the fermented tofu and mix with the brine to create a coarse paste.  Add 1/3 cup of water and mix well.
Heat the oil in a hot wok or skillet over medium-high heat.  Add the garlic and chile and stir-fry for 15 seconds.  Add the stems; stir and mix for 1 minute.  Pour in the fermented tofu mixture and cook the stems until they're tender, about 1 more minute.
Add the leaves and cook until they're just wilted, about 30 seconds.  Season to taste with salt, pepper, and a pinch of sugar.  Serve hot or warm.

Subscribe to Soy, Rice, Fire

Archives