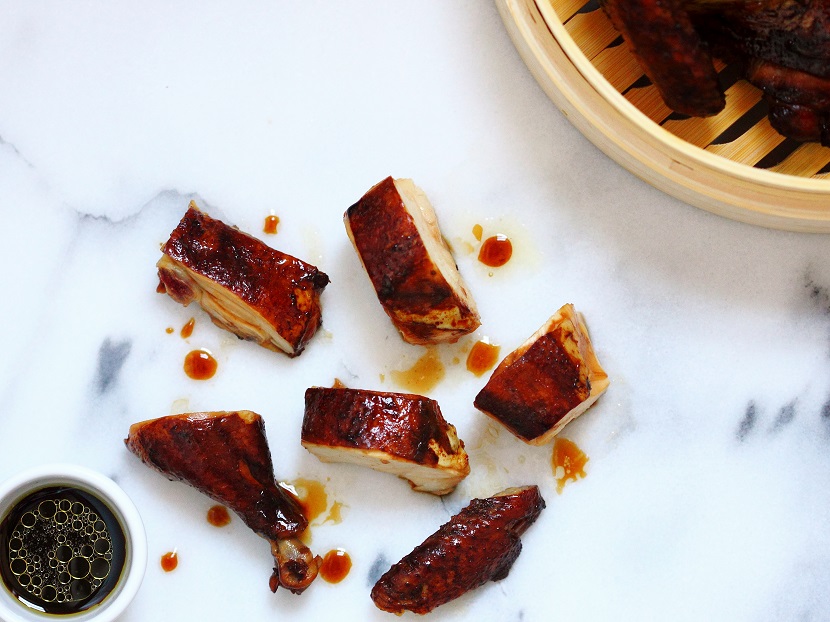 Among the delicacies you often find in the window displays of Cantonese restaurants, Soy Sauce Chicken (豉油鸡) is probably one of the easiest to make at home, and utterly satisfying to serve.
Passed down from generation to generation, the recipe for this classic Cantonese dish may vary depending on whom you ask. However, they typically follow the same method by gently poaching the chicken in soy sauce-flavored liquid, until the meat is tender and the skin is silky. The "secret" to making an aromatic, flavorful, and richly-colored soy sauce chicken is to use a combination of high-quality dark soy sauce and light soy sauce. Other aromatics, such as cinnamon, star anise, dried orange peels, or Chinese rose wine, can be added to create more complex flavors.
The poaching liquid can be re-used to cook not just another round of chicken, but also other poultry or meat as well. It becomes richer and more flavorful with each additional use.
The recipe below is my take on this Cantonese classic, with a twist. Instead of poaching, I cook the whole chicken using steaming method after marinating it in soy sauce for hours. This method works particularly well with small-sized chicken, such as poussin or Cornish hen, as their delicate flesh benefits from the gentle cooking technique and retains their flavor and moisture after cooking.
The marinade takes a minimalist approach by including only dark soy sauce, light soy sauce, Shaoxing wine, and ginger. Once you've tried the recipe, feel free to experiment by adding other aromatics to create your own version.
If you prefer, you can also make this dish with chicken parts, such as breasts, wings, or thighs.  Simple adjust the cooking time accordingly.
Steamed soy sauce chicken
Makes 2 servings
Ingredients
1 3/4 lb (790 g) small-sized chicken such as Cornish hen or poussin, or chicken parts of your choice.
2 tablespoons dark soy sauce
2 tablespoons light soy sauce
1 teaspoon Shaoxing wine
1 teaspoon juice from grated ginger
1 tablespoon sesame oil
Additional light soy sauce for making the sauce
Freshly ground white pepper
Procedure
Using a pair of kitchen shears, cut the chicken open by cutting all the way along one side of the backbone. This makes it easier for marinating and steaming.
In a large, re-sealable plastic bag, add the dark and light soy sauces, Shaoxing wine, and ginger juice. Shake to mix well. Add the chicken, seal the bag and shake to evenly distribute the marinade. Marinate in the refrigerator for 4-8 hours.
Place the marinated chicken, inside down, on a plate that fits into a steamer. Steam until the meat is just cooked (when you poke the meat with a knife the juice comes out clear with no blood), about 15 minutes.
Remove the chicken from the steamer to cool. Strain the juice collected on the plate and reserve. Brush the chicken with some sesame oil to prevent the skin from drying out. When it's cool enough to handle, cut into serving-size pieces.
To make the sauce: in a sauce pan, bring the reserved chicken juice to a boil. Season to taste with light soy sauce and white pepper.  Mix in the remaining sesame oil and remove from the heat.
You can serve the chicken warm or cold. Spoon the sauce over the chicken right before serving.

Subscribe to Soy, Rice, Fire

Archives