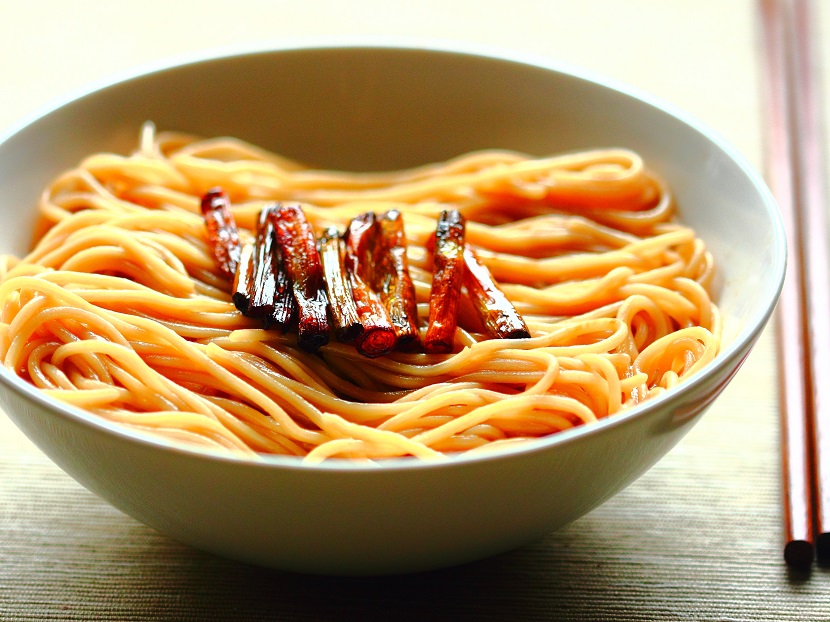 Some of the most fantastic noodle dishes in the world are the minimalist, stripped-down ones.
A great example is the Roman pasta dish Cacio e Pepe, or "cheese and pepper", because it uses only the seasonings of cheese and black pepper.  The rich umami and aroma from the Pecorino cheese, the heat and fragrance from the cracked black peppers, together with some olive oil, create a bold and rich flavor that does not need anything else to satisfy.
The same is true with the Scallion Oil Noodles (葱油面, Cong You Mian in Mandarin) from my hometown Shanghai.
Here, the scallion oil is prepared by slowly frying the scallions in low-temperature oil until they turn golden-brown, and the oil is imbued with an irresistible aroma, which permeates your kitchen as well.  When the stringy noodles are tossed with soy sauce and the scallion oil, they are coated with a powerful flavor punch, a beautiful golden color, and a marvelous sheen.  The fried scallions, served as a garnish to the dish, not only add a crisp texture, but also an intriguing mix of smokiness, bitterness, and sweetness.
You will have leftover scallion oil from the recipe below.  Keep it in a glass jar for another use. As a flavored oil, scallion oil is great with other savory dishes as well.
Although I've had this simple and humble noodle dish countless times, every time I eat it, it always brings me excitement, joy, and nostalgia…
Shanghai scallion oil noodles
Makes 2 servings
Ingredients
8 oz (230 g) fresh noodles
1 bunch organic scallions, about 2 oz (60 g)
1 tablespoon dark soy sauce
1 tablespoon light soy sauce
1/4 cup vegetable oil
Salt and freshly ground white pepper
Procedure
Cut the scallions into 2-inch (5 cm) sections.  Heat the oil in a wok or skillet over low heat.  When the oil temperature reaches around 200°F (93 °C), add the scallions.  Maintain the oil temperature at this level, and slowly fry the scallions until they turn deep golden-brown, about 10 minutes.  Overheating the oil or overcooking could burn the scallions and make them quite bitter.  Transfer the scallions (you may need to do this piece by piece as each turns the desired color) to a plate lined with paper towels to drain and cool.  They will turn crisp as they cool down.
Bring a large pot of water to a boil.  Add the noodles and cook until they are just cooked through.  Do not overcook.  Transfer them to a colander to drain. If you plan to serve the noodles cold, rinse under cold drinkable water and drain well.
In a large bowl, toss the noodles with the soy sauce.  Adjust seasoning with salt and pepper.  Add 2 tablespoons of the scallion oil; toss to make sure it coats every strand of the noodles.  Garnish the noodles with the fried scallions and serve.

Subscribe to Soy, Rice, Fire

Archives