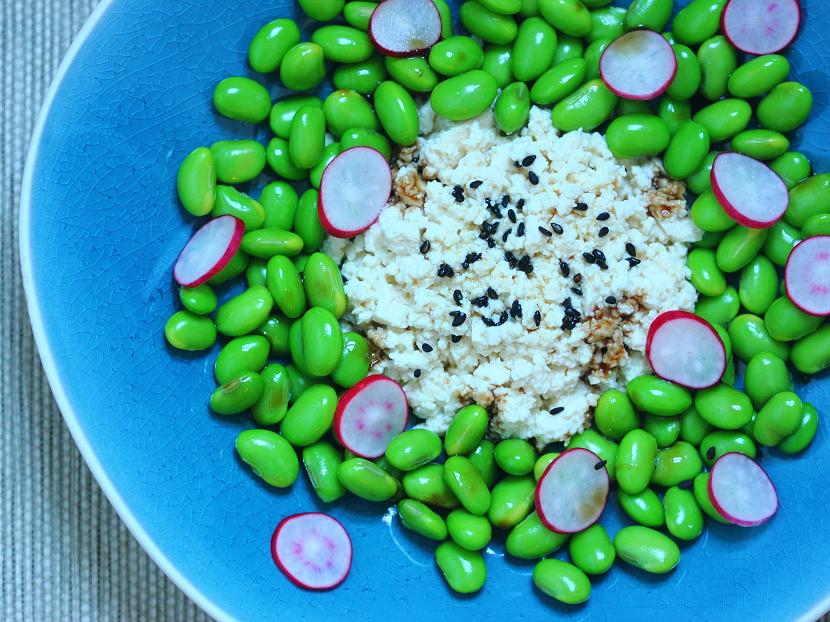 Fresh green soybeans are among my most eagerly anticipated seasonal produce each year.  When they finally make their appearance at Union Squire Greenmarket during late summer, they fill the market, and my heart, with joy and rapture.
Green soybeans, also known as edamame, are picked fairly young before they turn starchy.  They are delightful treats with sweet and nutty flavors and crunchy texture.  Although frozen green soybeans have become widely available at mainstream grocery stores in the US, the fresh ones, with superior flavor and texture, are still a rare find.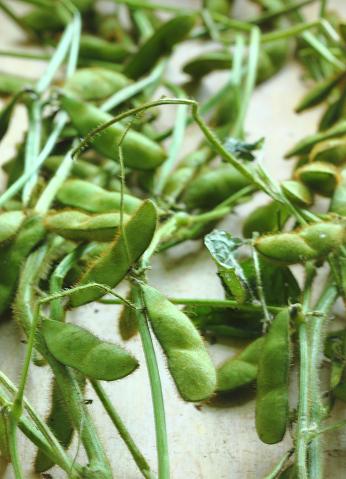 The good news is more farmers are bringing them to the market this year.  I've spotted them at Lani's, Gorzynski Ornery Farm, Paffenroth Gardens, as well as Stokes Farm which is one of the Greenmarket's founding farmers and is selling their beautiful green soybeans for the first time this year.
What you see in the picture are soybean pods on the branch, which I picked from the stand of Gorzynski.
When you get soybeans this fresh, the best way to enjoy them is to cook them minimally.  Although boiling them in the pod with salted water is definitely a great option, I prefer to remove the beans from their fussy pod to put their beauty on full display, and use them in a quick stir-fry, such as Stir-fried green soybeans with heirloom tomatoes and chicken, or briefly blanch them and make a refreshing salad, as the dish I'm sharing here.
Paring soybeans with soybean-based ingredients such as tofu is used frequently in Chinese cooking and makes perfect sense: you know they are in great harmony together!
To add more layers of texture and flavors to the salad, I use quick-pickled radishes.  Chinese preserved vegetables, such as ya cai (芽菜) or zha cai (榨菜), are good options as well.
Green soybean salad with tofu and quick-pickled radishes
Makes 2 servings
Ingredients
6 oz (170 g) shelled green soybeans, from about 12 oz (340 g) beans in the pod
6 oz (170 g) firm or medium-firm tofu, drained
1 teaspoon oyster sauce, regular or vegetarian
1 teaspoon soy sauce
1 teaspoon sesame oil
1 teaspoon toasted sesame seeds
Quick-pickled radishes
2 small mild-flavored radishes, such as French Breakfast, thinly sliced
1 teaspoon rice vinegar
1/2 teaspoon sugar
1/4 teaspoon salt
Procedure:
Combine the ingredients for quick-pickled radishes.  Let stand for 10 minutes.
Mash the tofu into ricotta-cheese-like consistency.
Blanch the shelled fresh soybeans in salted water until crisp-tender, about 2-3 minutes.  If using frozen soybeans, defrost first and boil for 1 minute.  Shock the cooked beans in ice or cold water and drain well.
To make the sauce, mix the oyster sauce, soy sauce, and sesame oil in a small bowl.
Place the mashed tofu in the center of a plate.  Arrange the soybeans attractively around the tofu.  Garnish with the pickled radishes and sesame seeds, and drizzle with the sauce.
Mix the ingredients up when eating.

Subscribe to Soy, Rice, Fire

Archives