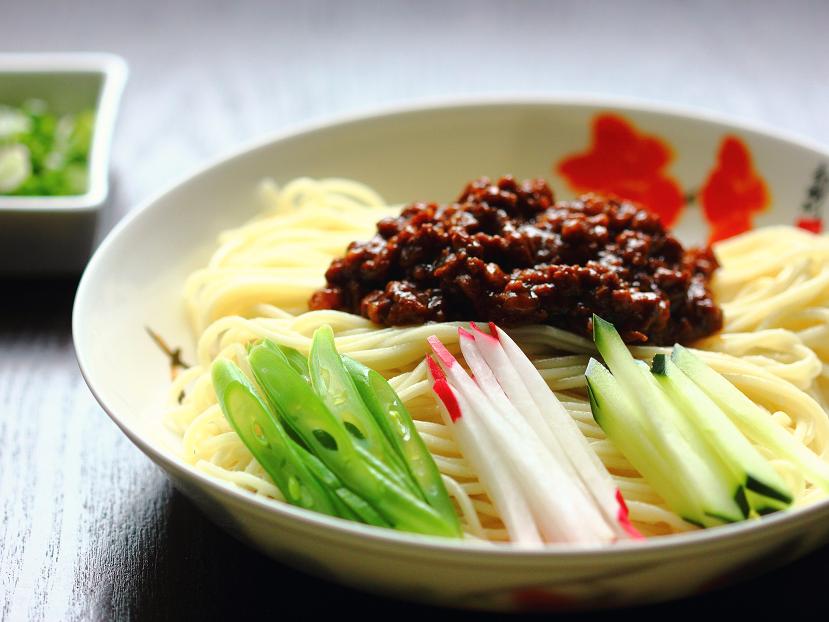 The food of Beijing is a delicious mix of highbrow and lowbrow, ranging from spectacular imperial dishes, such as the world-renowned Peking Roast Duck, to comforting home-style dishes, especially handmade noodles, dumplings, and buns that are eaten everyday by all walks of life.
One of the dishes many locals from Beijing swear by is Zha jiang noodles (炸酱面).  What sets it apart from other noodle dishes is the sauce, Zha jiang, which literally means "fried sauce".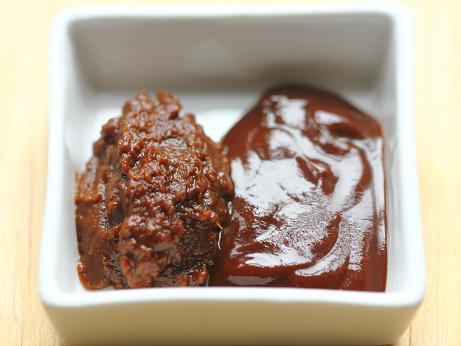 In the old Beijing style, Zha jiang is made with fatty pork and two fermented pastes used frequently in Northern cooking: Huang jiang (黄酱, yellow soybean paste), the one on the left in the picture; and Tian mian jiang (甜面酱, sweet flour paste), on the right.  Together they create an intensely aromatic sauce that's salty, sweet, and loaded with umami flavor.
Beijingers love to add a large variety of seasonal vegetables to their Zha jiang noodles, which makes it a balanced and nutritious one-dish meal.  Best options are those vegetables with crunchy texture and natural sweetness, and can be served raw or after briefly blanched, such as cucumbers, radishes, green beans, peas, and bean sprouts.
The beauty of this dish is that it's so versatile and adaptable, which explains why it has spread all over China, and into Korea and Japan.  It can be served cold or hot with seasonal vegetables available in the market.  You can replace the pork with chicken, lamb, beef, or even mushrooms or tofu for a vegetarian version.  If you cannot find Huang jiang or Tian mian jiang, use other soybean-based pastes or Hoisin sauce instead.
When you make a sauce such as Zha jiang or Ragù Bolognese that benefits from long cooking to develop rich flavors, it's a good idea to make a large quantity.  My recipe below makes enough sauce for at least 4-6 servings.
Zha jiang noodles, old Beijing style (炸酱面)
Makes 2 servings
Ingredients
8 oz (230 g) fresh or 6 oz (170 g) dried wheat noodles
Sauce (enough for at least 4-6 servings; scale up or down as needed)
1 lb (450 g) pork belly, finely chopped; or substitute ground pork
4 oz (115 g) Huang jiang (黄酱) or any other soybean paste
2 oz (60 g) Tian mian jiang (甜面酱) or Hoisin sauce
1-inch ginger piece, finely grated
1 tablespoon Shaoxing wine
1 teaspoon sugar
1 tablespoon vegetable oil
Toppings
2 oz (60 g) radish, cut into medium matchsticks
2 oz (60 g) cucumber, cut into medium matchsticks
2 oz (60 g) green beans, blanched and sliced diagonally
Additional seasonings of your choice, such as Zhenjiang (Chinkiang) vinegar, chile oil, minced garlic, or sliced scallions.
Procedure
In a bowl, mix Huang jiang and Tian mian jiang together and set aside.   Soak the cucumber and radish matchsticks in ice water for added crispness.
Heat the oil in a hot wok or skillet over medium-low heat.  Add the pork; stir and cook for 4-5 minutes, until most of the fat in the meat is rendered.
Remove the pork, leaving the rendered fat in the wok.  Add the mixed paste and stir-fry until fragrant, about 1 minute.  Add the ginger, Shaoxing wine, sugar, and pork.  Stir and mix for 30 seconds.  Pour in a cup of water and stir.  Bring to a boil and reduce to a bare simmer.  Cook for 30 minutes.  Adjust seasoning as needed.  The sauce should taste on the salty side, in order to flavor the noodles.
While the sauce is simmering, cook the noodles in boiling water as per instruction on the packet.  When they are just cooked, remove from the water and drain well.  If you serve them cold, rinse under cold running water and drain.
Divide the noodles between two large bowls.  Top them with Zha jiang sauce, vegetables, and other seasonings of your choice.  Mix well and enjoy!

Subscribe to Soy, Rice, Fire

Archives