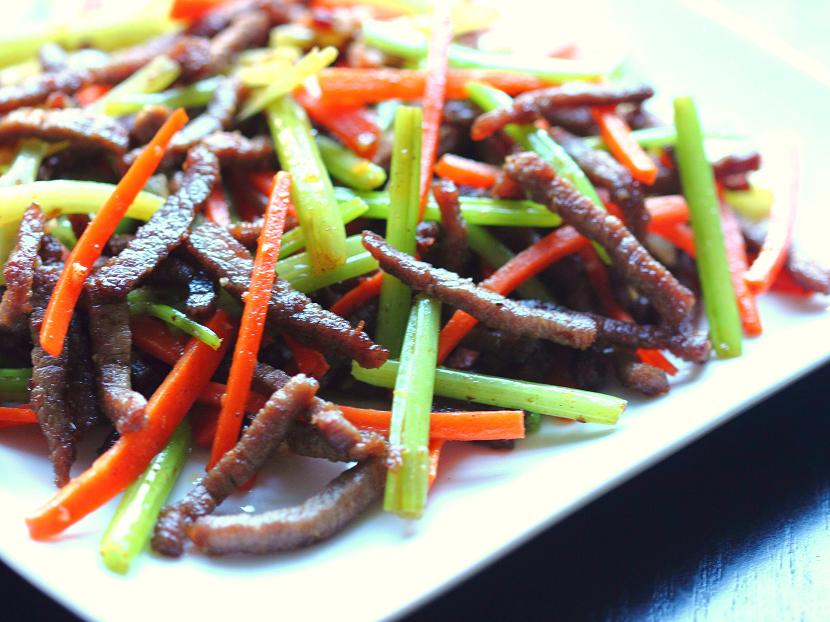 Chinese cooking places particular emphasis on texture.  This delightful dry-fried beef from Sichuan Province, together with it's polar opposite, stir-fried beef with green peppers which I posted last year, are two textbook examples.
You see, the stir-fried beef dish calls for marinating the meat first, using a special cooking technique called "velveting" to ensure the meat turns out extremely tender and moist.
For this dish here, we skip the marinating step and apply "dry-frying" method to create a slightly chewy and crisp texture in the meat, which gives you a totally different but equally satisfying chewing experience.  As compared with stir-frying, dry-frying uses lower heat and cooks the protein a few minutes longer to gradually dry out the moisture and crispen the surface.   Once the protein reaches the desired texture, it's combined and stir-fried with other ingredients briefly to finish off the dish.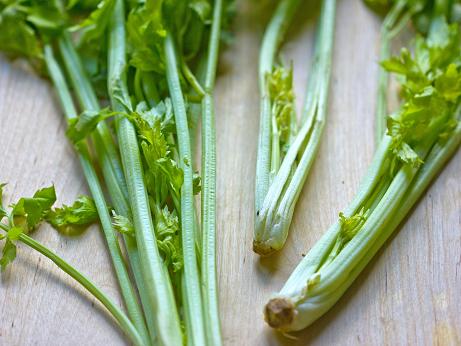 Here is a trick I learned from a master chef in China to produce the best results for the beef: break up the dry-frying process into two steps, and drain the meat in between, as outlined in my recipe below.
The classic recipe for this dish uses Chinese celery, which has longer and thinner stalks and a more pronounced "celery" flavor than its European relative, the common green celery.  You can find Chinese celery year-round in most Asian grocery stores.  Or use any celery of your choice.
While carrots are not included in the classic recipe, I'm adding them to my dish, as I find beef, celery, and carrots make a perfect trio, complementing each other in flavor, texture, and color.
Dry-fried beef with Chinese celery and carrots (干煸牛肉丝)
Makes 2 servings
Ingredients:
10 oz (285 g) lean beef, such as flank or sirloin
3 oz (85 g) Chinese celery or other celery of your choice
5 oz (140 g) carrots, peeled and cut into thin matchsticks about 2-inch (5 cm) long
1 clove garlic, finely minced
1 tablespoon Shaoxing wine
1/4 teaspoon Zhenjiang (Chinkiang) vinegar
1/8 teaspoon chile pepper powder
1/8 teaspoon Sichuan pepper power
3 tablespoons vegetable oil
1/4 teaspoon chile oil
Pinch of sugar
Salt
Procedure:
 Cut the beef against the grain into matchsticks about 2-inch (5 cm) long and 1/6-inch (4 mm) thick.
Remove the leaves of the Chinese celery and save for another use.  Cut the stalks crosswise into 2-inch (5 cm) sections.  If using other variety of celery, cut into thin matchsticks about 2-inch (5 cm) long.
Heat 1 tablespoon of oil in a hot wok or skillet over medium heat.  Add the beef and cook, stirring from time to time, until the meat has released most of its liquid and the foaming has subsided, about 2 minutes.  Remove the beef from the wok and drain well.
Wipe the wok clean.  Heat the remaining 2 tablespoons of oil over medium heat.  Return the beef to the wok and cook until golden brown and crisp, about 5 minutes.  Add the garlic, chile powder, and Sichuan pepper powder; stir and mix for 20 seconds.  Add the Shaoxing wine, Zhenjiang vinegar, and 1 tablespoon of water.  Mix and cook for 1 minute to slightly soften the meat.  Season with salt.
Turn up the heat and add the celery and carrots to the wok.  Stir-fry for 1 minute.  Adjust season with salt and a pinch of sugar.
Drizzle with the chile oil and serve immediately.

Subscribe to Soy, Rice, Fire

Archives