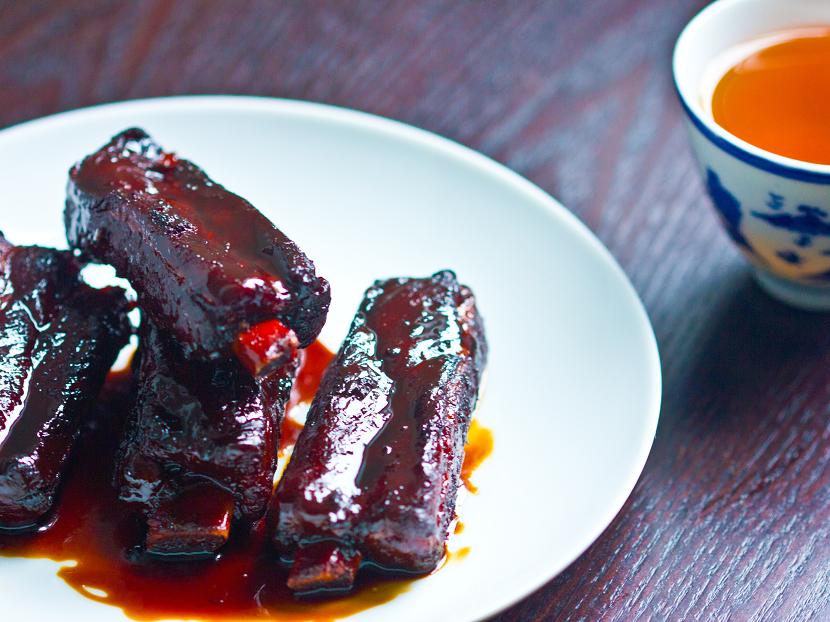 Wuxi, pronounced "wooshi", is a vibrant city in Jiangsu province and about two hours outside Shanghai.  Among the many things it can boast about, its pork spareribs would be my top pick.
In fact, Wuxi spareribs (无锡排骨) are considered one of the representative dishes of Jiangsu cuisine.  Tender and juicy, rich but not greasy, these ribs coated with an irresistible sauce will have you licking your fingers and yearning for more.
The people in Wuxi take their role in the spareribs world seriously.  Only top-quality spareribs, with the sternum bones, cartilage, and surrounding meat removed, are used for the dish.  This part of the ribs, called St. Louis cut in the US, is preferred by many chefs to baby back ribs because of their richer flavor.
Traditionally, the spareribs are first cured with salt and sodium nitrate.  This process accomplishes three things:
Flavors the meat.
Changes the texture of the meat, so it can endure extended cooking without becoming mushy or falling apart.
Gives the meat its red hue.
Nowadays, some recipes omit sodium nitrate for the curing process.  Red yeast rice, an all-natural coloring ingredient used frequently in Chinese cuisine, is added during braising to give the ribs their signature red hue.
The seductive flavors of Wuxi spareribs are a result of long braising with Shaoxing wine, dark soy sauce, star anise, cloves, Chinese cinnamon (cassia), and ginger.  A fair amount of sugar is added to the sauce at the final stage of cooking, to give the dish a pleasantly sweet edge, typical of Wuxi dishes.
In China, Wuxi spareribs are available cooked and vacuum-packed in gourmet food stores.  I have not seen them in stores in the US.  But the truth is, you can make these ribs easily at home, by following my recipe below.  It does take some time, but the rewards will be immense!
Wuxi spareribs (无锡排骨)
Makes 2 servings
Ingredients
18 oz (510 g) pork spareribs, cut in half crosswise by your butcher
2 scallions, cut into 2-inch (5 cm) pieces
One 2-inch (5 cm) piece ginger, cut into 1/4-inch-thick (6 mm) pieces
2 tablespoons dark soy sauce
1 tablespoon light soy sauce
2 tablespoons Shaoxing wine
3 tablespoons sugar
One 2-inch (5 cm) Chinese cinnamon stick
2 star anise pods
5 cloves
1 tablespoon red yeast rice (see note below)
1 teaspoon vegetable oil
Salt and freshly ground white pepper
Procedure
Cut the ribs into single-bone pieces.  Rub them with one tablespoon of salt and cure for 12 hours in the refrigerator.
Blanch the ribs in boiling water for 3 minutes.  Drain and rinse the ribs in a colander.  Pat dry.
Heat the oil in a pot over medium-high heat.  Add the scallions, ginger, star anise, cinnamon, and cloves, and stir-fry for 30 seconds, or until fragrant.  Add the ribs and Shaoxing wine and stir for another 30 seconds.  Add the dark and light soy sauces.  Stir and mix until the ribs are well coated with the sauce, about 30 seconds.
Add water just enough to cover the ribs.  Bring the liquid to a boil and reduce to a simmer.  Make a loose packet of red yeast rice with cheesecloth, leaving room for the rice to double in size during cooking.  Add the packet to the braising liquid.
Simmer for about 1 hour over low heat until the ribs are tender.  Skim the fat and impurities that rise to the top from time to time.
Remove the ribs from the braising liquid and keep warm.  Strain the liquid through a fine sieve into a clean pot.  Add the sugar and bring to a boil.  Reduce the liquid to 2/3 cup (160 ml), about 10 minutes.  Return the ribs back to the pot.  Stir and mix to coat them with the sauce.  Continue to reduce the sauce by half, or until it's richly flavored and syrupy.  Adjust seasoning as needed.
Serve immediately with steamed rice and freshly brewed black or oolong tea.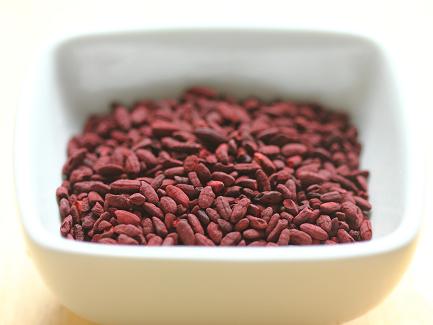 Red yeast rice (红曲米) is the product of yeast (Monascuspurpureus) grown on rice, a method invented more than a thousand years ago in China.  In Chinese cuisine, it's used as a natural coloring to give dishes a bright red color, such as Peking duck and Cantonese char siu.  It is available in Chinese grocery stores.  Omit it if you can't find any.

Subscribe to Soy, Rice, Fire

Archives