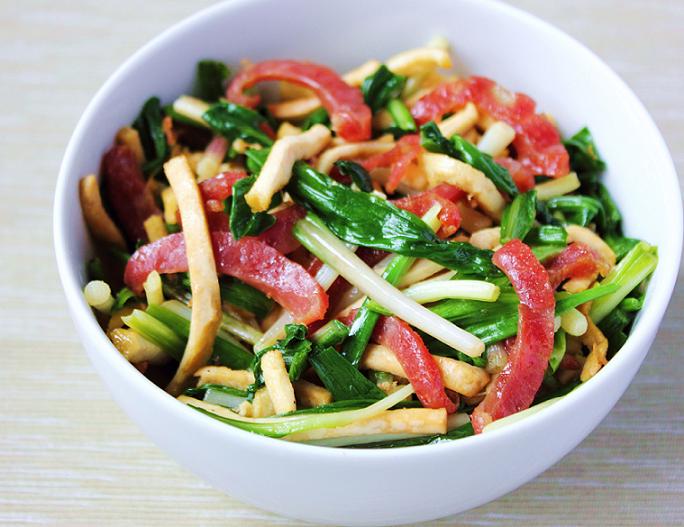 Union Squire Greenmarket is one of my favorite places to go on Saturday mornings, especially during early spring, when you can feel the magic in the air.
The entire park bursts into life with flowers blossoming and tender leaves budding.  You marvel, take a deep breath, and marvel again, as you stroll through the market.  And then, suddenly, you see ramps!  Like seeing long lost friends, you run to them…
I adore the flavor and aroma of ramps, and always cook a lot with them before they disappear by early May.  Although ramps are an iconic North American vegetable, some of recipes I've developed using ramps are inspired by Chinese dishes featuring garlic chives (韭菜), as I find they have very similar texture and flavors when cooked.  The recipe below is adapted from the classic pairing of garlic chives and pressed tofu in stir-fry dishes.   I've also included Chinese sausage, or lap cheong by its Cantonese name, to add extra color and flavor to the dish.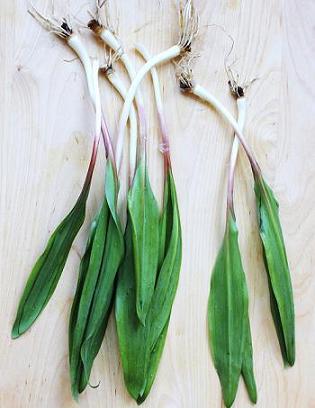 Stir-fried ramps with Chinese sausage and pressed tofu
Makes 2 servings
Ingredients:
1 bunch ramps, about 5 oz (140 g)
2 Chinese sausages, about 3 oz (85 g)
5 oz (140 g) pressed tofu (or baked tofu) cakes
2 tablespoons vegetable oil
1 teaspoon soy sauce
1 teaspoon Shaoxing wine
1 teaspoon water
Freshly ground white pepper
Procedure:
Clean the ramps and cut them into 2-in (5 cm) pieces.
Cut the sausage in half lengthwise; then cut on the bias to make about 2-in (5 cm) thin slices.
Halve the pressed tofu cakes horizontally; then cut into thin slices.
Add one tablespoon oil to a hot wok or skillet over medium-high heat.  When the oil is hot, add the sausage and stir-fry for about 30 seconds.  Add the pressed tofu and continue to stir-fry for approximately one more minute.  Add the Shaoxing wine, stir until the liquid has mostly evaporated, about 30 seconds.  Transfer the mixture to a bowl.
Add the remaining oil to the wok.  When the oil is hot, add the ramps and stir-fry until they start to wilt, about 20 seconds.  Add the sausage-tofu mixture, soy sauce, and water; stir and mix for another minute.  Season with freshly ground white pepper and serve.
Variation: omit the sausage and increase the amount of pressed tofu for a vegetarian version.

Subscribe to Soy, Rice, Fire

Archives