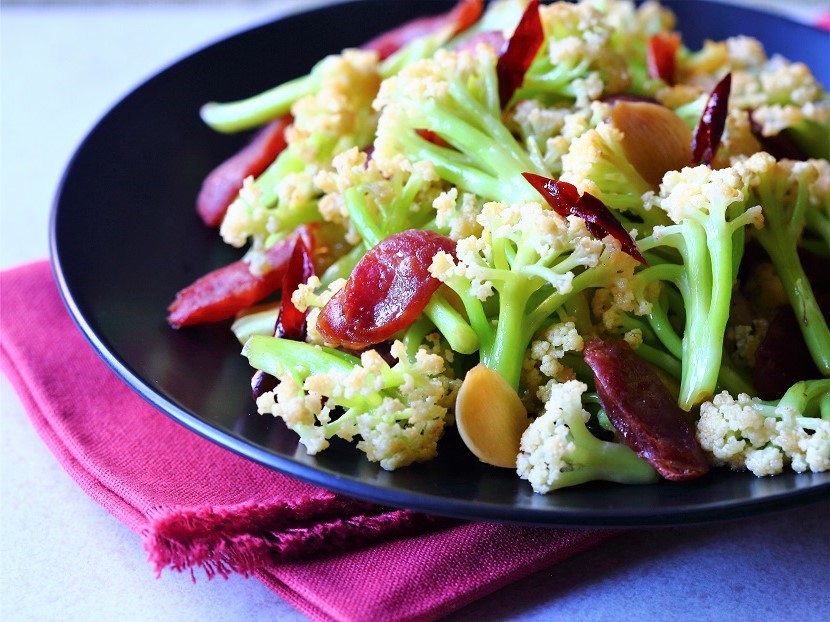 Do you know there are hundreds of cauliflower varieties around the world?
Coming in all shapes and colors, they give you endless possibilities to change up the usual white cauliflower routine, and bring more excitement to your kitchen and dinner table.
For example, you can mix up cauliflower in different colors, such as orange, green, and purple, to elevate a simple stir-fry dish to something special, as I did in my recipe stir-fried cauliflower with XO sauce.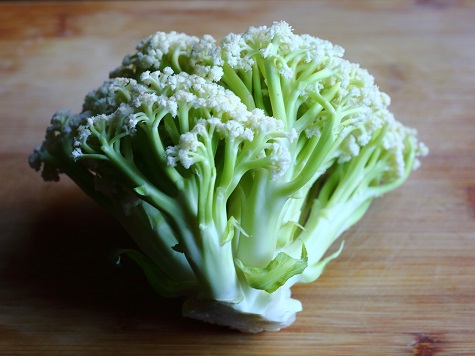 Today I'm sharing with you a recipe using a new type of cauliflower I've fallen in love with, called fioretto cauliflower. It's also known by other interesting names such as flowering cauliflower and sprouting cauliflower.
A hybrid of common cauliflower and broccoli developed just a few year ago, fioretto cauliflower has pale-green stems that are long and thin, and small florets that resemble a bouquet of small flowers. Besides its gorgeous look, it tastes great too. As compared with the common cauliflower, it has a brighter and sweeter taste, and more delicate crisp-tender texture.
This newcomer has quickly become a culinary darling in China. During my recent trips there, I spotted it frequently on restaurant menus. Among various preparations, one stand-out dish is dry-fried fioretto cauliflower with Chinese sausage or cured meat.
The delicate nature of fioretto cauliflower and the vibrancy of Chinese sausage create wonderful contrast and balance. Their individual personalities are accentuated to the fullest through dry-frying, a stir-frying method done low and slow (lower heat and longer time) and without addition of water. Once you try this dish, you will understand why it's insanely popular in China.
Look for fioretto cauliflower at Chinese or Asian grocers, gourmet grocery stores, or your local farmers' market. If you can't find the fioretto variety, common cauliflower would work too for this recipe. Just cut the florets and stems into small pieces,
Dry-fried fioretto cauliflower with Chinese sausage
Serves 2
Ingredients
10 oz (285 g) cauliflower, preferably fioretto cauliflower
2 oz (60 g) Chinese sausage, cut diagonally into thin slices
1 garlic clove, thinly sliced
1 scallion, cut into 1-inch (2.5 cm) pieces
2 dried chilies (optional), cut diagonally into 1/4-inch (6 mm) pieces and seeds removed
Sauce
2 teaspoons soy sauce
1 teaspoon Shaoxing wine
1/4 teaspoon sugar
Procedure
Break the cauliflower into small florets, and cut the large stems into thin slices. In a bowl, mix well all the ingredients for the sauce and set aside.
Heat the oil in a wok or skillet over medium heat. Add the Chinese sausage, garlic, scallion, and chilies. Stir-fry until fragrant and the sausage has rendered some fat, about 1 minute. Add the cauliflower, and continue to stir-fry over medium heat until the tips of the florets start to turn a bit golden-brown, about 3 minutes. Pour in the sauce, stir and mix until there is very little liquid left, about 1 minute. Adjust seasoning as needed, and serve.

Subscribe to Soy, Rice, Fire

Archives