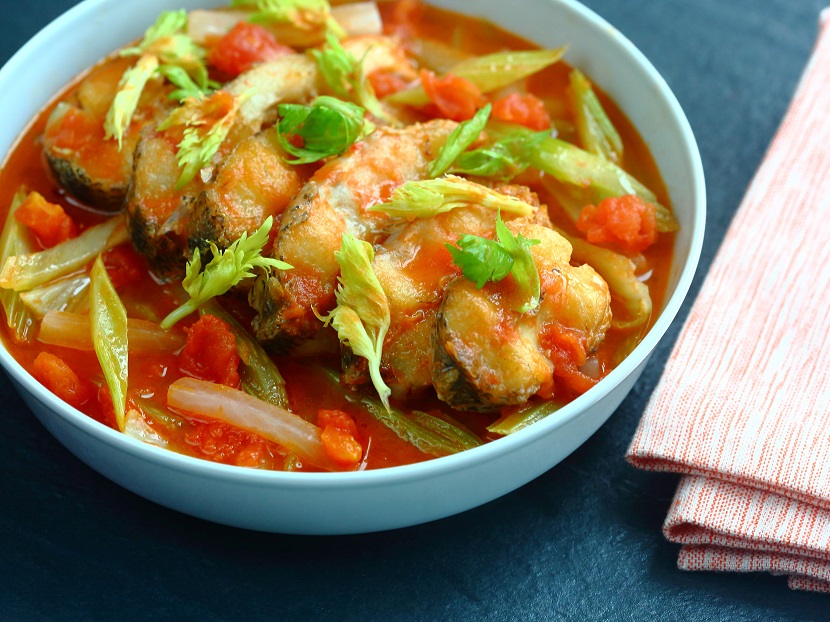 Cooking fish, in a lot of Chinese recipes, calls for the trio of scallion, ginger, and rice wine, which works magic to tame "fishy" flavor and add alluring aromas to the dish.
That, however, is only one of the many methods among the vast and varied regional Chinese cuisines. In Chaozhou (潮州), a top food destination in Guangdong Province, local chefs make a fantastic fish dish using a large amount of aromatic vegetables, without any scallion, ginger, or rice wine. The vegetables they use, including Chinese celery, cilantro, and tomatoes, not only function as aromatics but also make the dish a balanced one-pot meal.
The recipe below is my adaptation of their dish, using western celery instead of the Chinese variety which is not easily available outside China. I also replaces cilantro with Chinese radish (aka daikon) to give the dish a gentler flavor profile.
My recipe uses whole striped bass cut crosswise into bone-in skin-on steaks. Before adding the fish to the vegetable medley, I first pan-fry one side of the steaks to create additional layers of flavor and texture, and allow them better retain their shape when simmered in the broth. You can use any mild-flavored fish of your choice, or use fillet without bone or skin if you prefer.
I'm sure you will love this tasty dish. Its festive look is also a perfect fit for the holiday season.
Fish with aromatic vegetables
Serves 2
Ingredients
1 lb 2 oz (520 g) whole striped bass, cleaned and head removed, cut crosswise into 1/2-inch (1.2 cm) steaks
8 oz (220 g) celery, stalks and leaves separated and stalks cut into 1/2-inch (1.2 cm) pieces
4 oz (110 g) Chinese radish (aka daikon), cut into 1/4-inch (6 mm) thick matchsticks
12 oz (400 g) tomatoes, cut into 1/2-inch (1.2 cm) cubes
2 tablespoons vegetable oil
1/4 cup water
1/2 teaspoon rice vinegar
Salt
Direction
Pat the fish dry with paper towels, and sprinkle with salt. Heat the oil in a wok or skillet, and fry one side of the fish steaks, over medium heat, until golden-brown, about 3 minutes. Transfer the fish to a plate.
In the same wok with the remaining oil, stir-fry the celery stalks and radish for 1 minute. Add the tomatoes, and stir and mix for another minute. Add the water and 1/4 teaspoon salt. Bring to a boil and reduce to a simmer. Cook, covered, until the celery and radish are soft, about 2 minutes. Lay the fish steaks on top of the vegetables, fried side up, and simmer, covered, for 2 more minutes. Mix in the vinegar, and adjust seasoning with salt as need. Garnish with the celery leaves and serve.

Subscribe to Soy, Rice, Fire

Archives