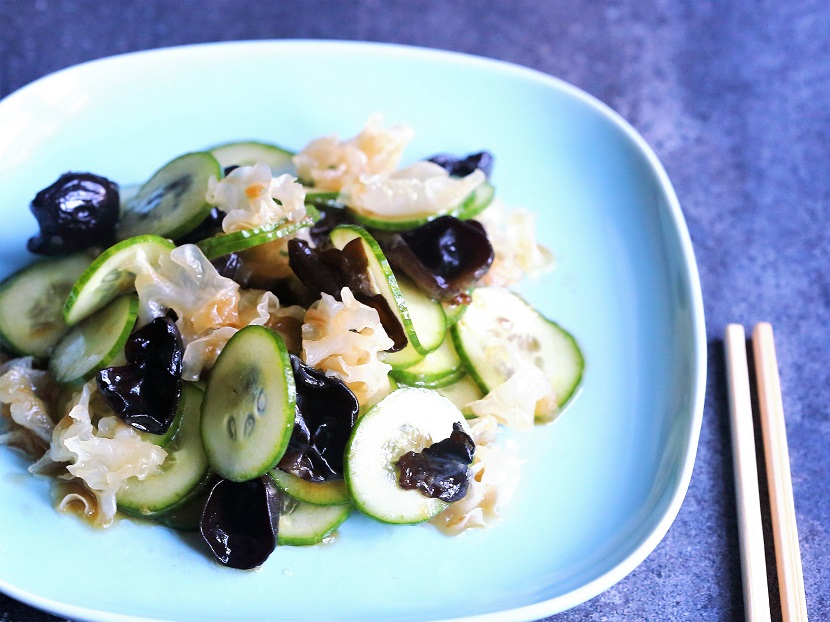 Wood ear mushrooms include several closely related species of tree fungus that are prized in Chinese cuisine as well as in Traditional Chinese Medicine.
Black wood ear mushrooms have appeared in several of my recipes before. Their unique neutral taste and crunchy texture, not to mention the nutritional and medicinal properties they have, make them a favorite ingredient in Chinese cooking and my repertoire.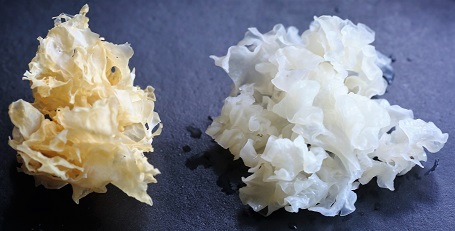 Making their debut today on my blog are the white wood ear mushrooms. Called Bai Mu Er (白木耳) in Mandarin, they are also known as Yin Er (银耳), literally "silver ear". Yellow-white and brittle in the dried form, they turn into semi-translucent and gelatinous yet firm when rehydrated. They are often used in sweet dishes, primarily sweet soups, to nourish and cleanse the body with their medicinal (such as anti-inflammatory) benefits.
The fact that they are not used very often in savory dishes is a mystery to me, because their subtle flavor and crunchy texture, just like the black variety, can bring interesting contrasts and dimensions to a salad or stir-fry.
My dish today is inspired by the cooking of Shandong Province in China. Tossing black wood ear mushrooms with cucumber is a popular salad there in the summer. Mixing black and white wood ear mushrooms with scallion-flavored oil is another intriguing local dish. My recipe below is a mash-up of these two wonderful salads, bringing together the black and white wood ear varieties and cucumber in one dish. The delicate and refreshing ensemble gets a punch from a not-so-subtle dressing with raw garlic, soy sauce, vinegar, sugar, and spiced oil.
Enjoy the salad and enjoy the summer!
Salad of black and white wood ear mushrooms with cucumber
Serves 2
Ingredients
5 g dried black wood ear mushrooms
5 g dried white wood ear mushrooms
8 oz (230 g) seedless cucumber, thinly sliced crosswise
Dressing
2 garlic cloves, grated
2 teaspoons soy sauce
2 teaspoons Zhenjiang (aka Chinkiang) vinegar
1 teaspoon sugar
1 star anise
10 Sichuan peppercorns
1 scallion, cut into 1-inch pieces
2 tablespoons vegetable oil
Procedure
Chill the sliced cucumber in the refrigerator for at least 30 minutes.
Soak the black wood ear mushrooms in cold water for 30 minutes. Remove any hard or knobby bits from the soaked mushrooms and tear into small pieces. Do the same with the white wood ear mushrooms, and keep them separated from the black ones. In boiling water, boil the black mushrooms for 3 minutes. Add the white ones and boil for additional 2 minutes. Remove the mushrooms with a slotted spoon and rinse under cold drinking water. Drain well and pat dry.
To make the dressing, mix well the garlic, soy sauce, vinegar, and sugar in a bowl. Heat the oil in a wok over medium heat. Add the scallion, star anise, and Sichuan peppercorns. Stir-fry until the oil is fragrant, about 1 minute. Discard the solids, let the oil cool, and mix it with the other ingredients in the bowl.
In a large salad bowl, toss the wood ear mushrooms and cucumber together with the dressing. Serve immediately.

Subscribe to Soy, Rice, Fire

Archives