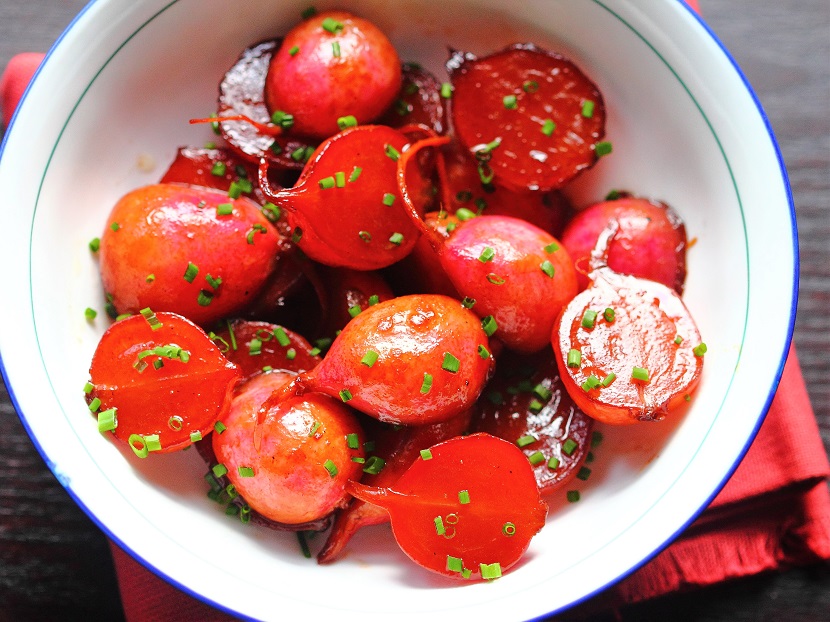 Cooler temperature in September means you can start to apply more cooking methods to vegetables, in addition to grilling or making simple salads.
Take radishes for example, although most people consider them raw-only vegetables, they are actually fantastic when cooked. Heat tames their peppery taste, and turns their texture from crunchy into tender and juicy.
Braising and roasting are great ways to achieve such transformation. While butter always works magic with radishes, my recipe of braised radishes relies on a not so secret weapon in Chinese cooking: soy sauce.
To be specific, I'm using a technique from the cuisine of Ningbo (宁波 in Mandarin, which means "calm waves"), one of the oldest cities on the east coast of China with a rich cultural and culinary heritage. Professional and home cooks alike in Ningbo love to braise their vegetables, such as mustard greens and bok choy, with soy sauce, sugar, and Shaoxing wine, and finish with a drizzle of sesame oil.  Such cooking technique and dishes are known as 宁波熇菜 or 宁波烤菜 in China.
You can apply this technique to a large variety of vegetables with great results. It works particularly well with radishes, as they easily absorb the flavors from the braising liquid into their juicy flesh, and can hold their shape during cooking for a nice presentation.
When you try my recipe below, feel free to use any type of radishes available from farmer's markets or grocery stores. You'll be amazed at how the soy-braising preparation brings a whole new personality to the radishes you knew from your salad days.
Soy-braised radishes, Ningbo style
Makes 2 servings
Ingredients
12 oz (340 g) radishes, halved or quartered depending on the size
Small bunch of scallions, cut into 2-inch (5 cm) sections
1 tablespoon dark soy sauce
1 tablespoon light soy sauce
1 tablespoon Shaoxing wine
1 teaspoon sugar
2 tablespoons vegetable oil
1 teaspoon sesame oil
1 teaspoon finely chopped chives (or thinly sliced green part of scallions) for garnish
Salt and freshly ground white pepper
Procedure
Heat the vegetable oil in a hot wok or skillet over medium-high heat. Add the scallions and cook until fragrant, about 30 seconds.  Add the radishes and stir-fry for 2 minutes.  Pour in the Shaoxing wine and stir for another 30 seconds.  Add the soy sauces, sugar, and 2 tablespoons of water.  Stir to mix and coat the radishes with the sauce.  Turn down the heat to maintain a gentle simmer.
Cook, covered, stirring from time to time, until the radishes turn soft and flavorful, about 15 minutes. Remove the cover and turn up the heat to slightly reduce the sauce.  Keep or discard the scallions depending on your preference.  Adjust seasoning with salt and pepper as needed, and mix in the sesame oil.  Serve hot or at room temperature and garnish with the chives.

Subscribe to Soy, Rice, Fire

Archives