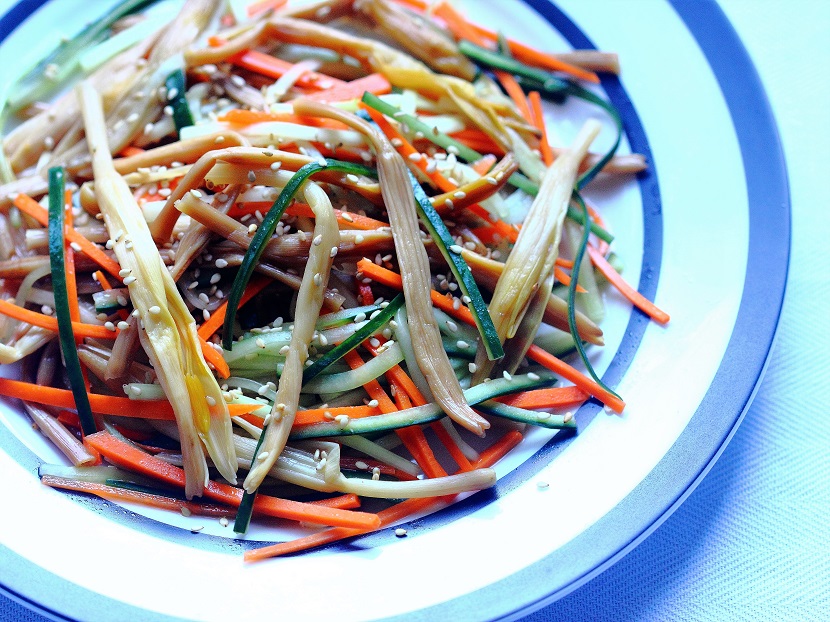 Daylilies are appealing not only to the eye, but also to the taste buds. Native to Asia, daylilies have been used in Chinese cooking for centuries.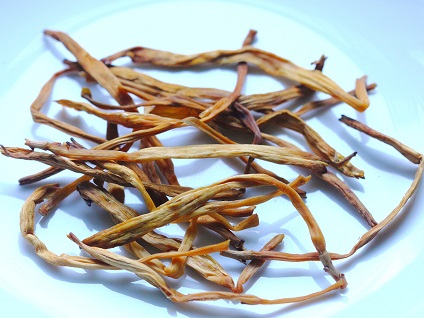 To be precise, I'm talking about dried daylily buds here. When used in cooking, they are often called Huang Hua Cai (黄花菜) in mandarin, which means "yellow flower vegetable", or Jin Zhen Cai (金针菜), literally "golden needle vegetable". Beloved by professional chefs and home cooks alike, they are a unique ingredient with earthy and floral aroma, slightly sweet and tart taste, and wonderfully crunchy and chewy texture.
Although the idea of eating daylily may sound exotic to some of you, you probably have already, knowingly or unknowingly, enjoyed them in iconic Chinese dishes such as hot and sour soup and moo shu pork. Daylily buds are also used frequently in Chinese vegetarian cooking, together with other flavor enhancers such as bamboo shoots and shiitake mushrooms.
While they usually play supporting roles in the dishes they appear, they are front and center in this refreshing salad which I like to make during the summer. I use a simple dressing in order to highlight the subtle flavors of the lovely buds, and the harmony they have with cucumber and carrots.
You can find dried daylily buds in Asian grocery stores. They are often labeled as "dried lily flower" on the package.
Daylily salad with cucumber and carrots
Makes 2 servings
Ingredients
3 oz (85 g) dried daylily buds, soaked in cold water for 1 hour
6 oz (170 g) cucumber
3 oz (85 g) carrots
1 teaspoon toasted sesame seeds
Dressing
4 teaspoons rice vinegar
2 teaspoons sugar
1/2 teaspoon salt
2 teaspoons sesame oil
Freshly ground white pepper
Procedure:
In a small bowl, mix all the ingredients for the dressing. Set aside and let the sugar and salt completely dissolve.
Drain the soaked daylily buds and snip off any tough ends. Blanch them in gently boiling water for 2 minutes.  Transfer them to a colander to drain well and cool.
Remove the seeds from the cucumber if any. Cut into thin matchsticks, preferably the size of 7mm x 2mm, or use a julienne peeler instead.  Do the same with the peeled carrots.
In a large salad bowl, mix the daylily buds, cucumber, and carrots. Cover and refrigerate until slightly chilled.  Right before serving, add the dressing and toss to coat.  Sprinkle with the sesame seeds and serve.

Subscribe to Soy, Rice, Fire

Archives