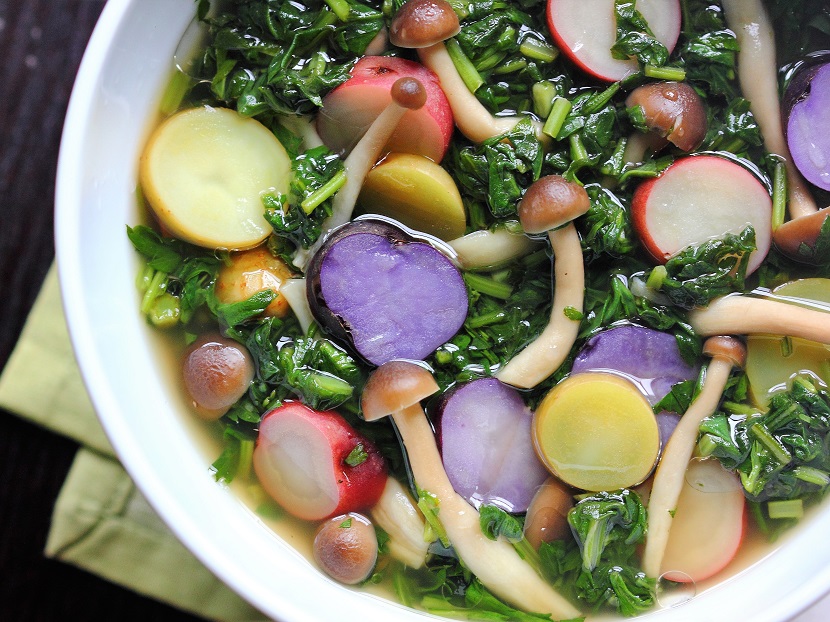 Mugwort is not for everyone, and probably will never be.
The bitter taste in mugwort can turn away many people.  But for those of us who find bitterness a desirable element in balanced flavors, mugwort is a nice addition to the list of bitter and lovely vegetables, including arugula, cardoons, endives, dandelion greens, nettles, and of course, bitter melons.
Historically, various types of mugworts were used in Europe and Asia for their medicinal properties, or used as herbs to flavor drinks and food. Believe it or not, before the introduction of hops, people were drinking beers flavored with mugwort!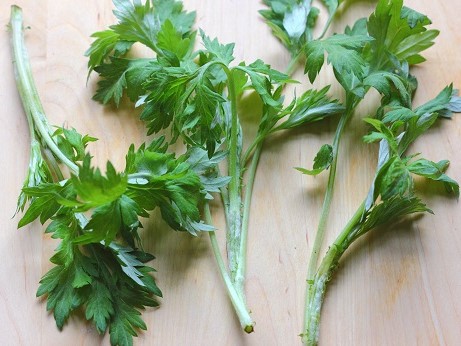 In China, medicinal and culinary usages of mugwort, called Ai Cao (艾草) in Mandarin, date back for thousands of years. Although nowadays it's not widely used in Chinese cooking, it's a key ingredient for green rice cakes (青团), a traditional food for Qingming Festival in early spring, made with glutinous rice flour colored and flavored by mugwort leaves. In southern China, tender mugwort leaves and buds are consumed as vegetables during spring. Similar usages of mugwort exist in Japan and Korea as well.
For me, the real prize of cooking with mugwort is its floral aroma reminiscent of chrysanthemums. Spring is the best time to enjoy mugwort when the young leaves are perfect for making soups or refreshing salads. Seek them out at your farmers' market.  At the Greenmarket at Union Square in NYC, you can find them at Gorzynski Ornery Farm and Lani's Farm. If you are a forager, your supply of mugwort would be abundant because they are fond of growing in uncultivated soils, roadsides, and waste lands in many temperate regions.
My recipe below is inspired by a dish from the book "Foraged Flavor: Finding Fabulous Ingredients in Your Backyard or Farmer's Market". It's a wonderful pureed soup made with mugwort leaves, potatoes, mushrooms, butter, and heavy cream. My recipe takes a lighter and simpler approach, by leaving out the butter and heavy cream, and by skipping the process of pureeing. The result is a rustic soup that highlights the natural flavor and texture of mugwort leaves.
If you want, you can briefly blanch the leaves to tame their bitterness.  However, doing so would also reduce their wonderful aroma, which is why I don't take that step. Instead, I use salt and sugar to counterbalance the bitterness.
Mugwort soup with fingering potatoes and beech mushrooms
Makes 2 servings
Ingredients
4 oz (115 g) tender mugwort leaves
6 oz (170 g) fingering potatoes; preferably a mix of different varieties and colors
3 oz (85 g) beech mushrooms, or any types of mushrooms of your choice
2 cups chicken or vegetable stock
2 tablespoons vegetable oil
Salt and sugar
Procedures
Cut the potatoes into 1/4-inch (6 mm) disks. Chop the mugwort leaves very finely. Trim and separate the beech mushrooms (or slice the mushrooms if using button, cremini, or shiitake mushrooms).
In a pot, add the chicken stock and potatoes. Season lightly with salt. Bring to a boil and reduce to a simmer. Cook until the potatoes are tender, about 10 minutes. Add the mushrooms, mugwort leaves, and vegetable oil.  Turn up the heat to a gentle boil, and cook for 2 minutes. Adjust seasoning with salt and a pinch of sugar as needed to balance the bitterness.  Serve immediately.

Subscribe to Soy, Rice, Fire

Archives