Shanghai-style steamed fish with ham, bamboo shoots, and shiitake mushrooms
By
Simon
On
February 5, 2017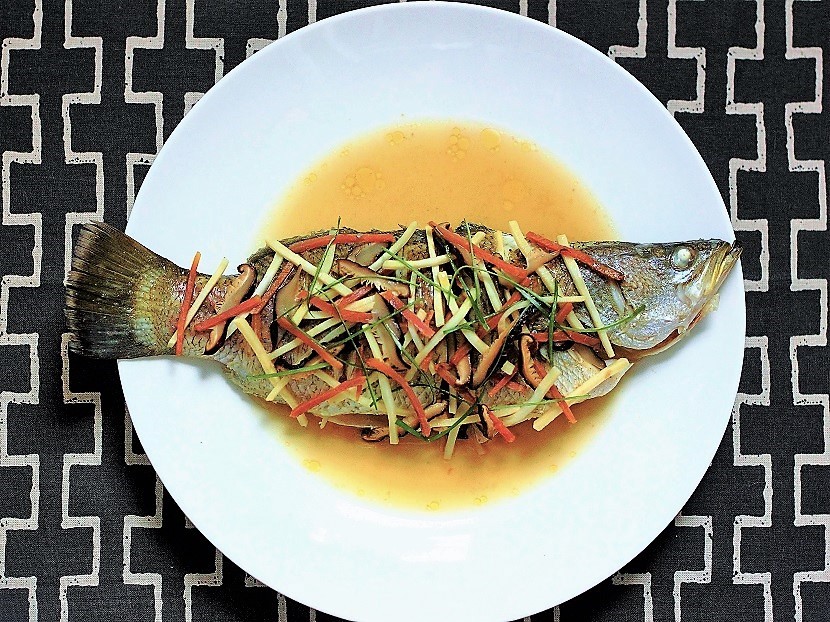 Steamed whole fish is one of the most emblematic dishes of Chinese cuisine.  A quick steaming lets the natural flavors of fresh fish shine through.
The Cantonese method of steaming fish with ginger and scallions and flavoring the dish with soy sauce is a simple and brilliant way to turn any mild-flavored white fish into a masterpiece.
There are, however, other intriguing recipes of steamed fish in Chinese cooking. In Shanghai and its surrounding region, steaming whole fish with ham, bamboo shoots, and shiitake mushrooms creates an exquisite dish fit for a banquet. The combination of these three intensely aromatic and flavorful ingredients in the dish, a hallmark of local cooking in this region, adds an exciting array of flavors and textures to the sweet and succulent flesh of the fish.
If the Cantonese steamed fish is a cup of refreshing green tea, the Shanghainese one would be a pot of intoxicating oolong tea.
Winter is the best time to make this dish, because fresh bamboo shoots are only available during this season, and the dish adds festivity to Chinese New Year celebrations.
If you cannot find fresh bamboo shoots, use pre-cooked vacuum-packed ones instead.
In China, Jinhua Ham would be the preferred choice for this dish. Because it's not available in the US, dry-cured Virginia ham is a good substitute. Another option is the cured ham from Brooklyn-based Prime Food (company website), which is made in a similar style to Jinhua Ham and available at Asia grocery stores and several online stores.
Traditionally, ham and bamboo shoots are cut into thin slices and inserted into the slashes made to the fish fresh.  I prefer to cut them into matchsticks and scatter them over the fish.  You can try either way.
The recipe below works well with any mild-flavored white fish.  For the dish in the picture, I used US-farmed barramundi, which is considered eco-friendly and sustainable.
Shanghai-style steamed fish with ham, bamboo shoots, and shiitake mushrooms
Makes 2 servings
Ingredients
Medium-sized whole barramundi or any mild-flavored white fish, about 1.2 lb (540 g); scaled and gutted
1 oz (30 g) peeled and trimmed fresh bamboo shoots, or pre-cooked ones
1 oz (30 g) dry-cured ham such as Virginia ham; steamed for 20 minutes and cooled
3 medium dried shiitake mushrooms, soaked in 1/2 cup of warm water for 1 hour
1 teaspoon ginger juice, squeezed from grated ginger
Small bunch of scallions; green parts cut into thin strips and white parts cut into 2-inch sections
1 tablespoon Shaoxing wine
1 tablespoon sesame oil
Salt and freshly ground white pepper
Procedure:
In a small bowl, mix the ginger juice with the Shaoxing wine and 1/2 teaspoon of salt. Make 5 or 6 diagonal cuts on each side of the fish. Rub the fish inside and out with the mixture and set aside for 10 minutes.
If using fresh bamboo shoots, boil them in salted water for 10 minutes. Drain and let cool.
Squeeze out the water from the shiitake mushrooms. Strain the soaking liquid and reserve.
Cut the bamboo shoots, ham, and shiitake mushrooms into fine matchsticks about 2 inch (5 cm) long; mix them with the soaking liquid from 3, a few grinds of white pepper, and white parts of the scallions.
Place the fish on a plate that fits into a steamer, and scatter the mixture on top of the fish. Steam for 10 minutes, or until the fish is just cooked. Remove the plate from the steamer, and discard the scallions.
Adjust seasoning with salt and pepper as needed. Garnish with the green scallion strips and drizzle with the sesame oil. Serve immediately.

Subscribe to Soy, Rice, Fire

Archives