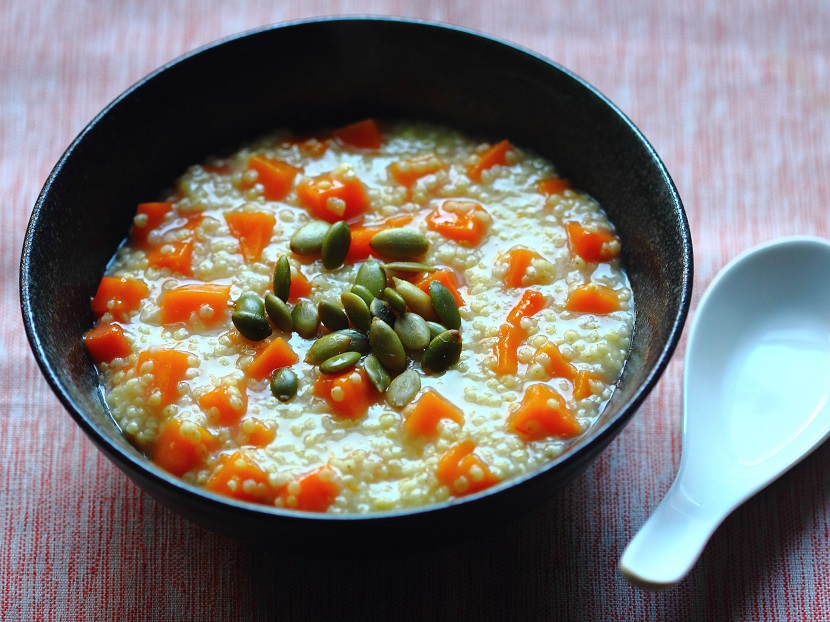 In recent years, millet, an ancient grain, has been rediscovered in the Western World as a powerful superfood, the same recognition that is bestowed on several other heritage grains such as amaranth, sorghum, and quinoa.  Some even call it "the new quinoa".
That does not surprise me, because millet is rich in protein, fiber, iron, B vitamins, manganese, phosphorus, and magnesium.  Its delicate corn-like flavor and light texture when cooked make it a versatile ingredient for salads, pilafs, soups, stews, porridges and even desserts.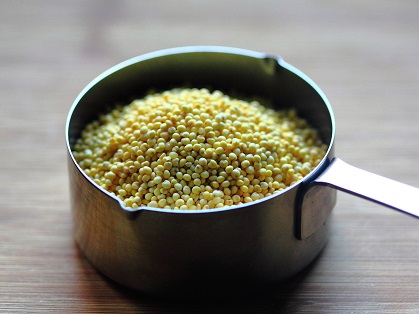 With high productivity, short growing season, and minimal need for watering, millet is also good for the environment.
Millet has been cultivated in China for over 10,000 years.  In 2005, archaeologists discovered a 4000-year old bowl of noodles made with millet near the Yellow River.  Called Xiao Mi (小米) in Mandarin, it remains a food staple in northern China, where it thrives in dry conditions.  The most common way of cooking millet is to make a porridge (小米粥), by itself or mixed with other grains, beans, sweet potatoes, or any type of winter squash.
I like to use butternut squash for my millet porridge as shown in the recipe below.  Butternut squash enhances the aroma and mild sweetness of the porridge, and adds a dose of autumn color. This porridge makes a perfect light dinner when paired with stir-fried vegetables.
Feel free to tweak the recipe with a savory route, by using chicken or vegetable stock instead of water and seasoning lightly with salt.  Or, you can add some honey or maple syrup to satisfy your sweet tooth.
You can find millet in fine grocery stores such as Whole Foods and most Asian food markets.  Choose organic ones if available.
Millet porridge with butternut squash
Makes 2 servings
Ingredients
1/2 cup millet
8 oz (230 g) butternut squash, cut into 1/2-inch (1.2 cm) cubes
2 cups water
Toasted pumpkin seeds as garnish, optional
Procedure
Add the millet and water to a pot. Bring to a boil and reduce to a gentle simmer.  Cook, covered, for 10 minutes.
Add the butternut squash. Stir to mix and slightly turn up the heat.  Once the mixture reaches a boil, reduce to a gentle simmer again.  Continue to cook, covered, until the butternut squash is soft, about 15 to 20 minutes.  Stir from time to time during cooking, and add a bit more water if the mixture gets too thick or if you prefer a soupier porridge.
Serve hot or warm, and garnish with toasted pumpkin seeds if using.

Subscribe to Soy, Rice, Fire

Archives