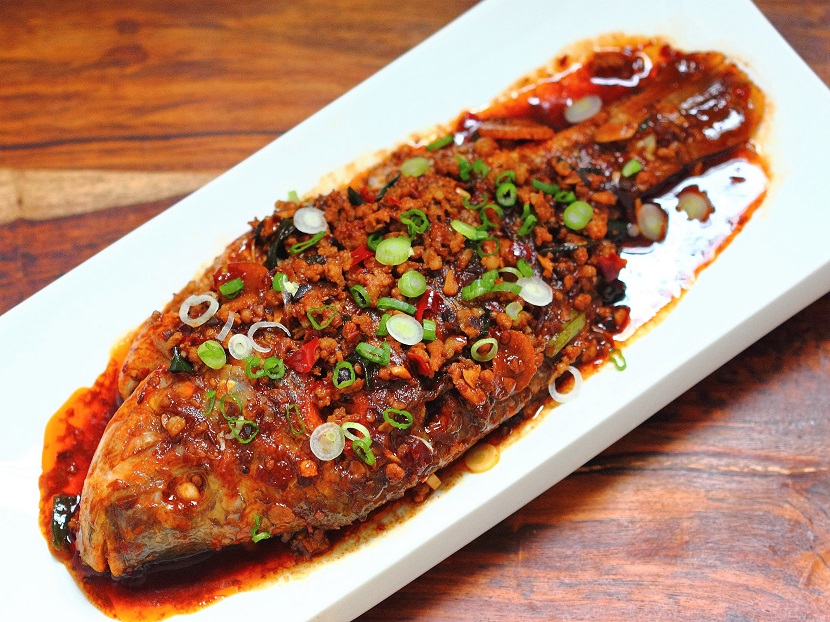 Dry-braised fish is a traditional dish from Sichuan province, where you can find some of the best foods in China.
Dry-braising, literally translated from the term in Mandarin, 干烧 (Gan Shao), refers to a method in Chinese cooking that uses relatively less braising liquid at the start, and reduces most of the liquid towards the end of cooking.  The result? A perfectly braised fish imbued and coated with rich and concentrated flavors of the sauce.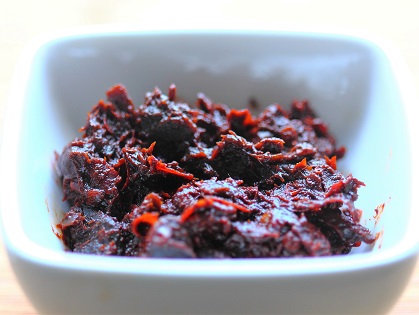 Among the many variations of dry-braised fish recipes from Sichuan, I particularly like the ones that use Dou Ban Jiang (豆瓣酱, chile paste with fermented fava beans) and pork.  A staple ingredient in Sichuan cuisine, Dou Ban Jiang renders layers of flavor to the dish.  The use of pork here is not to create a surf and turf, but rather to make it play a supporting role to add richness to the sauce.
This is a great way to cook any type of fish that has firm and neutral-tasting flesh, such as tilapia, which I used in my recipe below.  The tilapia serves as a perfect canvas that readily absorbs the robust flavors, and is transformed from something rather bland into something sensational!
Dry-braised fish with ground pork and Dou Ban Jiang
Makes 2 servings
Ingredients
Medium-sized whole tilapia (striped bass or porgy also works well), about 1.2 lb (540 g); scaled and gutted
4 oz (115 g) ground pork
2 tablespoons (30 g) Dou Ban Jiang, minced
Small bunch of scallions, half thinly sliced, and half cut into 1-inch (2.5 cm) sections
One-inch (2.5 cm) ginger, sliced
3 garlic cloves, sliced
1 tablespoon soy sauce
1 tablespoon Shaoxing wine
1 tablespoon Zhenjiang (aka Chinkiang) vinegar
1 teaspoon sugar
3 tablespoons vegetable oil, divided
Salt and freshly ground white pepper
Procedure
Make 3 or 4 diagonal cuts on each side of the fish and pat it completed dry. Heat 2 tablespoons of oil in a hot wok or skillet over high heat. Add the fish to the wok. Brown both sides of the fish, about 3 minutes per side. Transfer the fish to a plate.
Discard the used oil in the wok. Add the remaining tablespoon of oil to the wok over medium heat. Add the ginger, garlic, and scallion sections. Stir fry for 15 seconds. Add the ground pork and stir fry for another minute.  Add the Dou Ban Jiang and Shaoxing wine and stir and mix for 30 seconds.  Pour in 1 cup of water and bring to a boil. Mix in the soy sauce, sugar, and vinegar.  Return the fish to the wok and adjust the heat to medium low.  Braise, uncovered, for about 10 minutes until the fish is cooked through and the braising liquid is mostly reduced.  Spoon the braising liquid over the fish frequently, and carefully turn it over half way through.
Adjust seasoning with salt and pepper. Garnish with the sliced scallions, and serve immediately.

Subscribe to Soy, Rice, Fire

Archives