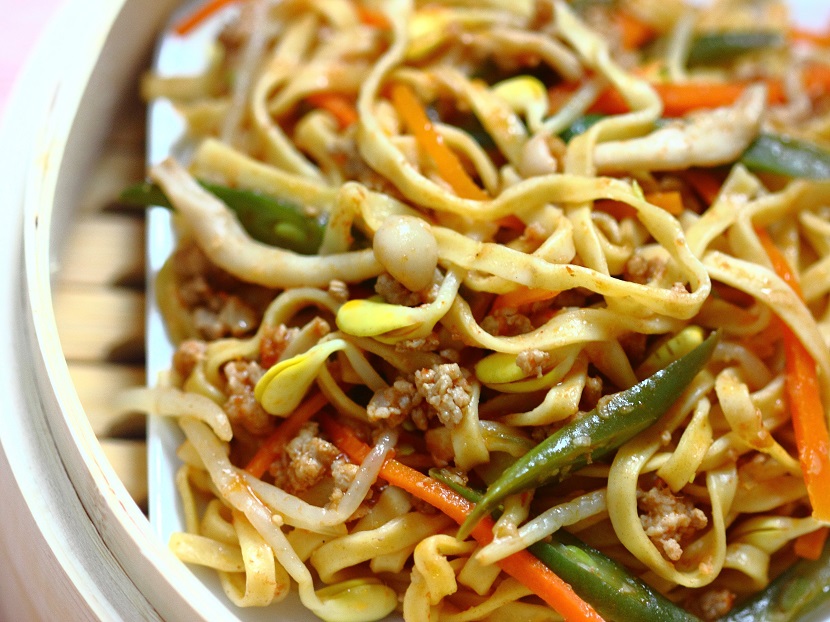 Although noodles are used in all regional cuisines in China, they play a more prominent role in the cooking of Northern China, where wheat-flour based noodles, dumplings, steamed buns, and pancakes are the daily staple.
You can draw great inspirations from the North for noodle dishes, just as I did from Zha jiang noodles of Beijing, which I wrote about previously, and the twice-steamed noodles of Henan I'm introducing today.
Henan, a province located in the Yellow River Valley in central China, is widely recognized as the birthplace of Chinese civilization.  The local cuisine of Henan is called Yu Cai (豫菜) and features a myriad of fantastic noodle preparations including our star dish today.
Called Zhengmian (蒸面) in Mandarin, twice-steamed noodles are a result of, as you've guessed, cooking fresh noodles with the steam twice:
The first steaming partially cooks the noodles, so they are softened and ready to absorb the sauce during the next cooking step.
The second steaming finishes the cooking when the noodles are mixed with the sauce and other ingredients.
To me, steaming twice is such an ingenious way of achieving great texture and flavors for the noodles.
This dish is 100% customizable, because you can include any protein or vegetables of your choice and make it a satisfying one-dish meal.
In my recipe below, I use pork, tomatoes, string beans, and soybean sprouts, typical ingredients home cooks in Henan would use for this dish.  I also include carrots and mushrooms to make it an autumn version.  Feel free to substitute other ingredients, or make it vegetarian by omitting the meat and increasing the amount of soybean sprouts.
To fully appreciate this dish, you need to use high-quality fresh noodles.  I like to use fresh noodles made with whole eggs.  No need to make a trip to Chinatown: you can use linguine or tagliatelle from your local gourmet pasta store.  The noodles in my dish are from Raffetto's, one of best in NYC.
Henan twice-steamed noodles (河南蒸面)
Makes 2 servings
Ingredients
7 oz (200 g) fresh wheat noodles, preferably those made with whole eggs
4 oz (115 g) string beans, blanched and sliced diagonally
4 oz (115 g) beech mushrooms or sliced button mushrooms
2 oz (60 g) carrots, cut into thin matchsticks
2 oz (60 g) soybean sprouts, ends removed
Sauce
1/2 lb (230 g) ground pork or any meat of your choice
1 large tomato, about 7 oz (200 g)
4 garlic cloves, minced
1-inch ginger, minced
1 star anise
1 tablespoon soy sauce
1 teaspoon Zhengjiang (Chinkiang) vinegar
1 tablespoon vegetable oil
Salt and freshly ground white pepper
Procedure
Cut the tomato horizontally in half. Grate the cut sides on a box grater to make a tomato sauce, and collect the liquid in a bowl.
Heat the oil in a hot wok or skillet over medium high heat. Add the minced garlic and ginger; stir-fry until fragrant, about 30 seconds.  Add the pork; stir and cook for 3 minutes.  Add the tomato sauce, ½ cup of water, soy sauce, vinegar, and star anise.  Lightly season with salt.  Bring the mixture to a boil and reduce to a bare simmer.  Cook for 30 minutes.
While the sauce is simmering, spread the noodles in a steamer lined with cheesecloth (you may use single layer or two-layer steamer depending on the size).  Steam for 15 minutes so the noodles are partially cooked and softened.
When the sauce is done, add the carrots, mushrooms, and soybean sprouts. Turn up the heat and bring the liquid to a boil and cook for 1 minute.  Adjust seasoning with salt and pepper.  Transfer ½ cup of the liquid to a bowl and set aside.
Remove the wok from the heat. Add the noodles and string beans.  Toss to mix all ingredients well.  Spread the mixture on a plate that fits into a steamer, or two plates into a two-layer steamer.  Steam until the noodles are just cooked, about 15 minutes.
Warm up the reserved liquid and pour over the noodles. Serve immediately.

Subscribe to Soy, Rice, Fire

Archives