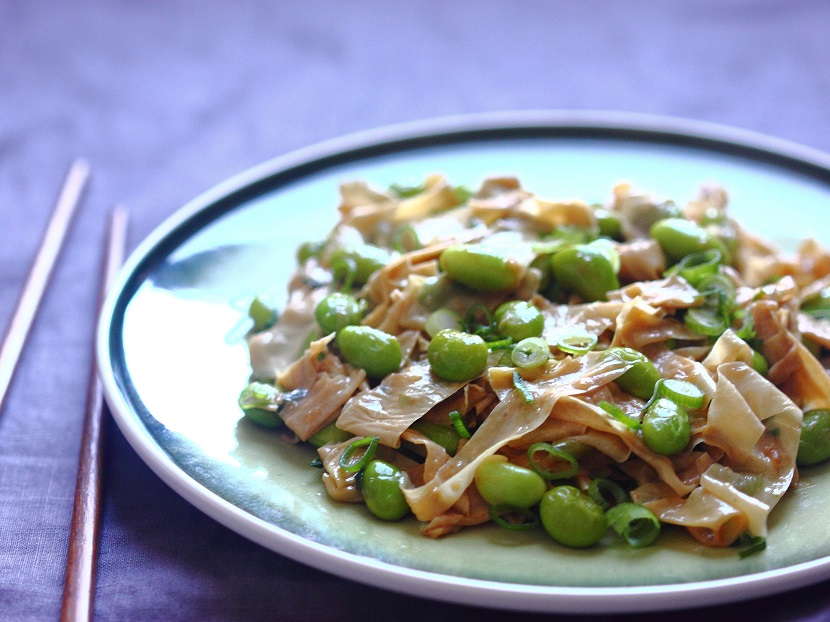 Although soy milk and tofu have become kitchen staples among health-conscious eaters, the versatility of soybean-derived food may still surprise many of them.
My blog has shown recipes using soy products in various shapes and forms, and today I'm adding one more, featuring tofu skin.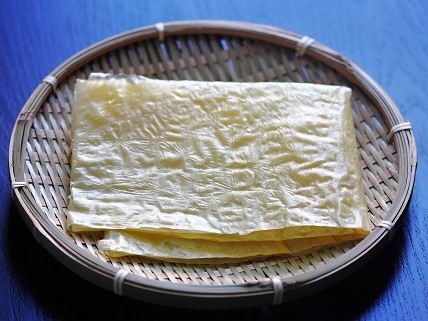 What is tofu skin?  Known as doufu pi (豆腐皮) in China and yuba in Japan, it is the skin that forms on the surface when soy milk is heated, very much like the milk skin atop hot milk.  The skin is then removed, left to hang, and drip dry.  Tofu skin has a nutty flavor and slightly chewy texture, making it a fantastic ingredient for you to add to your soy repertoire.
While freshly-made tofu skin is hard to come by, you can easily find frozen or dried ones at Asian grocery stores.
One of my favorite ways of cooking tofu skin is stir-frying, which intensifies its unique flavor and texture.  My recipe here pairs it with fresh green soybeans, which are currently in season and I got some in the pods from my backyard playground, aka Manhattan Fruit Exchange at Chelsea Market.  You can certainly use frozen soybeans available year-round, or simply leave them out and let the tofu skin go solo.
Tofu skin can also be used as a wrapper to make dim sum, or tofu rolls as shown in my previous post "Soybean rhapsody".
Stir-fried tofu skin with green soybeans
Makes 2 servings
Ingredients
4 oz (115 g) fresh or frozen (thawed) tofu skin; or 3 oz (85 g) dried tofu skin (reconstituted in cold water and drained)
6 oz (170 g) shelled green soybeans, fresh or frozen (thawed)
4 garlic cloves, finely minced
1-inch ginger, finely minced
One small bunch scallions, thinly sliced
1 tablespoon soy sauce
1 tablespoon oyster sauce, regular or vegetarian version
2 tablespoons vegetable oil
Salt and freshly ground white pepper
Procedure
Cut the tofu skin into small strips, about 3 inch (7.5 cm) x ½ inch (1.2 cm).
Heat the oil in a hot wok or skillet over medium high heat. Add the garlic, ginger, and two thirds of the scallions; stir-fry until fragrant, about 30 seconds. Add the tofu skin and soybeans and turn up the heat; toss for about 1 minute.  Add the soy sauce, oyster sauce, and ½ cup of water; stir and mix until the liquid has reduced and thickened, about 1 minute.
Adjust seasoning with salt and pepper as needed. Garnish with the remaining scallions and serve immediately.

Subscribe to Soy, Rice, Fire

Archives