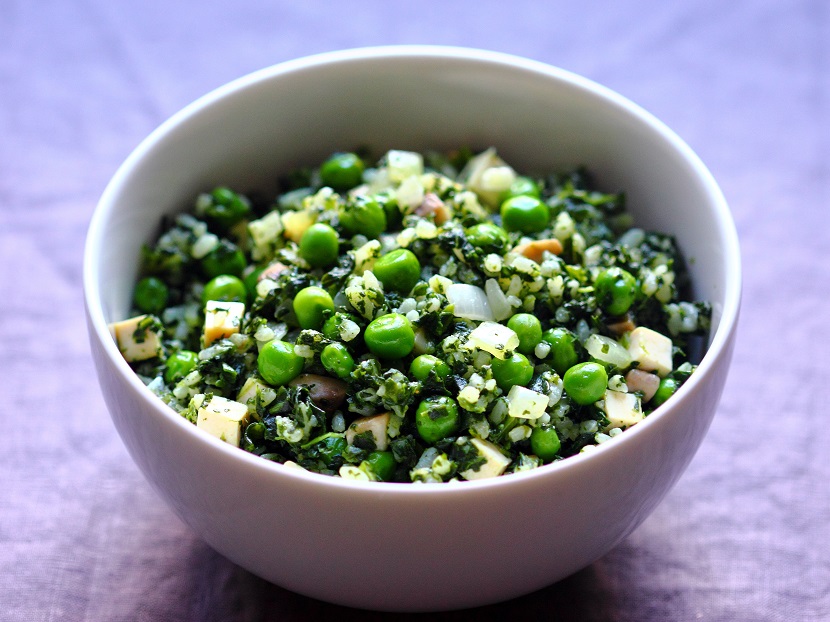 Fried rice is the kind of dish that can be made year-round and always satisfies, especially when you adapt it with seasonal vegetables that match the weather.
For my springtime fried rice, I like to use spinach and peas, both emblematic of the season.  The spinach leaves give the rice an intriguing green hue, hence the name "Emerald fried rice".  Any other spring vegetables, such as asparagus, pea shoots, and ramps, can be excellent ingredients to choose as well.
Whatever you use, it will definitely be a crowd-pleaser at your dinner table.  Who could resist the temptation of a comforting fried rice, let alone one that screams "Spring!" after a long and harsh winter?
My recipe below is a vegetarian version, using pressed tofu as the main protein.  You can easily turn it into a meat or seafood version by using chicken, pork, or shrimp.
There is only one rule for making emerald fried rice: make it vegetable-centric and keep it green!
Emerald fried rice (翡翠炒饭)
Makes 2 servings
Ingredients:
6 oz (170 g) cooked and cooled rice (day-old is ideal)
10 oz (285 g) fresh spinach leaves, or 5 oz (140 g) frozen ones (thawed before using)
6 oz (170 g) shelled peas, fresh or frozen (thawed before using)
5 oz (140 g) mushrooms, cut into 1/2-inch (1.2 cm) dices
4 oz (115 g) pressed tofu, cut into 1/2-inch (1.2 cm) dices
4 oz (115 g) cremini or white button mushrooms, cut into 1/2-inch (1.2 cm) dices
1 medium onion, about 5 oz (140 g), cut into 1/2-inch (1.2 cm) dices
1 tablespoon plus 1 teaspoon vegetable oil, divided
1 teaspoon sesame oil
Salt and freshly ground white pepper
Worcestershire sauce, optional
Procedure:
Briefly blanch the spinach leaves in boiling salted water. Transfer them to cold or ice water to cool, and drain well.  Skip these steps if using frozen spinach.  Squeeze off excess water from the leaves.  Chop the spinach finely with a knife, or pulse briefly in a food processor (making sure you get chopped spinach, not a puree).
Heat 1 tablespoon of oil in a hot wok or skillet over medium heat. Sauté the onion until translucent, about 2 minutes.  Add the mushrooms and stir fry for 2 minutes.  Add the pressed tofu and peas, and stir and mix until everything is warmed through, about 2 more minutes.  Season to taste with salt and pepper.  Transfer the mixture to a bowl.
In the same wok, heat 1 teaspoon of oil over medium low heat. Add the rice.  Use a spatula to break up the lumps.  Stir and cook for about 4 minutes, or until the rice grains are separate without any lumps, and are soft but still slightly firm to the bite.  Add the spinach; mix and stir for 1 minute.  Return the tofu and pea mixture to the wok.  Stir and cook for 1 more minute.  Adjust seasoning with Worcestershire sauce or any flavor-enhancing condiment of your choice.
Drizzle with the sesame oil and serve immediately.

Subscribe to Soy, Rice, Fire

Archives