Tian mian jiang (甜面酱), which literally means "sweet flour paste" in Mandarin, is a dark brown fermented paste made primarily from flour, water, and salt.  It's a key ingredient in the cuisines of Beijing and Northern China.
Many stir-fried dishes from the North use Tian mian jiang to flavor meat, seafood and vegetables, such as pork, duck, squid, kidney, and potatoes.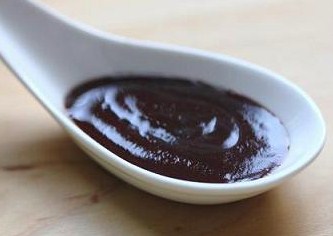 Without Tian main jiang, you cannot make authentic Peking Duck or Zha jiang noodles, which is one of the most searched-for recipes on my site.
The dish I'm introducing today is another example of Tian mian jiang-based traditional recipes from Beijing.  Here, the tender chicken and crunchy walnuts create a nice textural contrast, and the sweetness from Tian mian jiang counterbalances the mild and pleasant bitterness of the walnuts.
I've also made this dish with pecans instead of walnuts with equally great results.
By the way, Tian mian jiang is used in other parts of China as well.  For example, it plays a key role in the fantastic Sichuan Twice-cooked pork.  You can find Tian mian jiang from quality brands such as Liu Bi Ju at Chinese grocery stores or online.  Otherwise, Hoisin sauce is an acceptable substitute, though it is not as nuanced or complex in my opinion.
Stir-fried chicken and walnuts with Tian mian jiang (酱爆核桃鸡丁)
Makes 2 servings
Ingredients
8 oz (230 g) chicken meat from breast or thigh, cut into 1/2-inch (1.2 cm) cubes
2 oz (60 g) roasted walnuts or pecans
White part of a scallion, cut into 2-inch (5 cm) strips
2 tablespoons vegetable oil
1 teaspoon sesame oil
Salt and freshly ground white pepper
Marinade
1/8 teaspoon salt
2 teaspoons Shaoxing wine
1/2 tablespoon potato starch or cornstarch mixed with ½ tablespoon water
Sauce
2 tablespoons Tian mian jiang (甜面酱) or Hoisin sauce
1/2 teaspoon grated ginger
2 teaspoons Shaoxing wine
1 teaspoon soy sauce
1/4 teaspoon Zhenjiang (aka Chinkiang) vinegar
1/4 teaspoon sugar
Procedure
Mix the chicken with the ingredients for the marinade in a bowl.  Marinate for 15 minutes.  This step is called "velveting".
Combine all the ingredients for the sauce in a small bowl and mix well.
In a wok or skillet, heat the oil over medium heat until reaching the temperature around 280 °F or 138 °C.  Add the chicken and stir quickly.  When the chicken pieces turn white, about a minute and a half, remove them with a slotted spatula.  Keep the remaining oil in the wok.
Heat the sauce in the wok over low temperature until it thickens, about 15 seconds.  Add the chicken; stir to coat the chicken pieces nicely with the sauce for about 30 seconds.  Mix in the walnuts and sesame oil.  Adjust seasoning with salt and pepper as needed.
Garnish with the scallion strips and serve immediately.

Subscribe to Soy, Rice, Fire

Archives