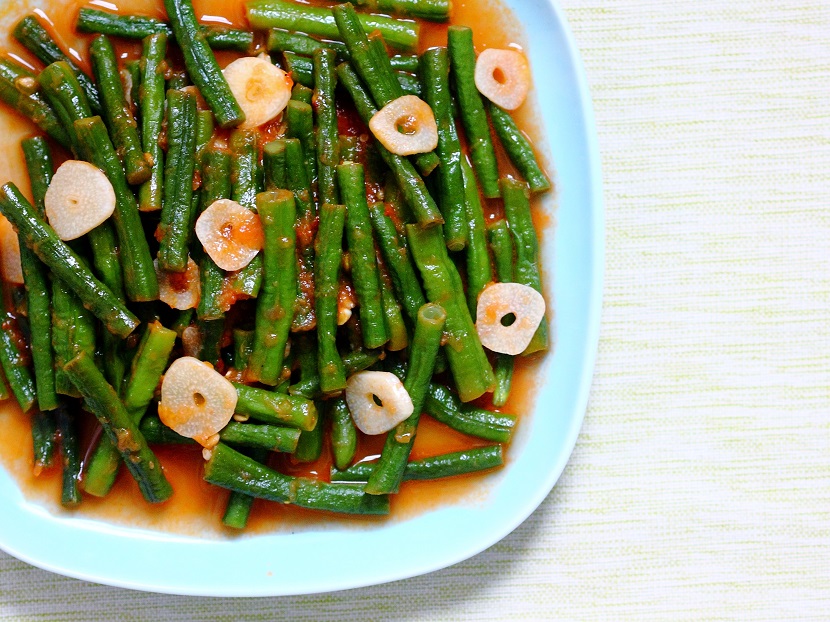 Yardlong beans have been cultivated in the warmer parts of Asian countries for centuries and widely used in Asian cuisines.  In recent years, they're also being "discovered" by professional and home cooks in the US who are interested in expanding their vegetable horizons.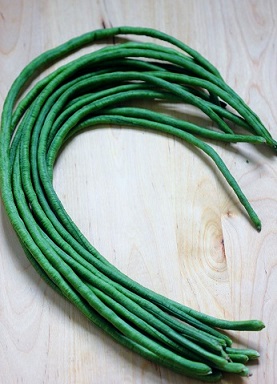 The yardlong beans you typically find at farmer's markets or Asian grocery stores are harvested young for their tender and edible pods before the seeds mature and expand.  While they may look like a longer version of green beans, they're more closely related to black-eyed peas.  For that reason, they have a more dense texture and a more intense "bean" flavor as compared with green beans.
In the kitchen, you can certainly treat them as you do for green beans.  For example, you can blanch them in salted water and serve them in a salad, or add them to a stir-fry.  However, because their texture and flavor hold up well to long cooking methods, I also like to cook them in stews and braises together with meat or strong flavored ingredients, such as Chinese fermented black beans, fish sauce, or chile paste.  During stewing or braising, they turn luscious without getting mushy, and become intensely flavorful by absorbing the flavors from the cooking liquid.
The recipe below may look simple, but the dish you will get tastes surprisingly complex.  It's a great way to use tomatoes at this time of the year, when they are abundant and at their peak.  Grating them to make a lush tomato sauce is a technique (and a great idea) I learned from Manresa, an excellent cookbook by Chef David Kinch.
Yardlong beans simmered in tomato sauce
Makes 2 servings
Ingredients
8 oz (230 g) yardlong beans, cut into 2-inch (5 cm) sections
1 large tomato, about 7 oz (200 g)
2 garlic cloves, thinly sliced
1 tablespoon vegetable oil
Salt and freshly ground white pepper
Procedure
Blanch the beans in boiling salted water for 2 minutes.  Drain well.
Cut the tomato horizontally in half.  Grate the cut sides on a box grater to make a tomato sauce, and collect the liquid in a bowl.
Heat the oil in a hot wok or skillet over medium heat.  Add the garlic and stir-fry until fragrant, about 15 seconds.  Add the tomato sauce.  When it reaches a boil, turn down the heat to reduce it to a gentle simmer.  Lightly season the sauce with salt and add the blanched beans.  Simmer, uncovered, until the beans reach your desired doneness, about 5-8 minutes.  Add some water during cooking if needed.
Adjust seasoning with salt and pepper; service hot or warm.

Subscribe to Soy, Rice, Fire

Archives