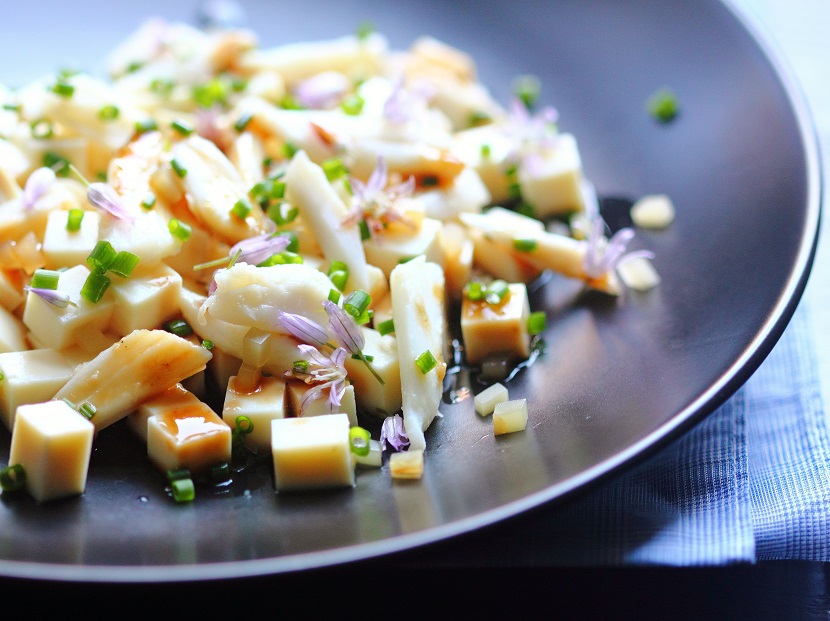 Blue crab is one of Nature's best gifts in the summer.
There are so many ways to cook these beautiful swimmers.  For example, you can follow the tradition in Louisiana by boiling them with Zatarain's spice mix, garlic, and onions.  Or, steam them with a heavy dusting of Old Bay Seasoning, Maryland style.
I prefer the steaming method when cooking crabs, as it's the best way to retain the natural flavor and juices of their meat.
Once the crabs are steamed, serving them over old newspaper with mallets and picks is a messy and fun way to enjoy the gathering with friends and family.
Or, if you're willing to spend the time and effort, which I highly recommend, pick the meat first and use it for making appetizers, pastas, or dumplings.  The best crab meat is the one you pick yourself.  Try it and I'm sure you will agree.
Here is a recipe that makes good use of blue crabs when they're in season.  It's inspired by a popular Chinese dish "Braised crab meat with silken tofu" (蟹粉豆腐).  I tweaked the recipe to turn it into a refreshing salad that's perfect for summer.  The succulent and sweet crab meat pairs beautifully with the silken tofu.  The salty and crunchy bits of Chinese zha cai (榨菜) add nice contrasts both in flavor and texture.
This recipe also works well with other types of crabs such as Dungeness, or high-quality store-bought crab meat.
Crab meat and silken tofu salad
Makes 2 servings
Ingredients
4 medium-sized blue crabs, or about 4 oz (115 g) fresh crab meat
6 oz (170 g) silken tofu, cut into ½-inch (1.2 cm) cubes
1 tablespoon diced zha cai (榨菜), or other preserved vegetables or pickles
One small bunch of chives, thinly slices crosswise
1 tablespoon soy sauce
1 tablespoon oyster sauce
1/2 tablespoon Zhejiang (aka Chinkiang) vinegar
1 tablespoon vegetable oil
Freshly ground white pepper
Chive blossoms for garnish, optional
Procedure
Soak the crabs in plenty of iced water for 15 minutes to send them to sleep, which is a humane way to cook live seafood.  It also reduces the stress in the meat during cooking.  In a steamer, steam the crabs until the shells turn bright red and the meat is just cooked, about 8 – 10 minutes.  Remove the crabs from the steamer.  When they are cool enough to handle, crack the bodies, legs, and claws, and remove as much meat as you can.  If using store-bought crab meat, steam the meat until just cooked.
To make the sauce, mix well the soy sauce, oyster sauce, vinegar and oil in a bowl.
Transfer the cubed tofu onto a place.  Scatter the crab meat, diced zha cai, and chives over the tofu.  Pour the sauce over and gently mix the ingredients.  Season with a few grinds of white pepper.  Garnish with the chive blossoms if using and service.

Subscribe to Soy, Rice, Fire

Archives