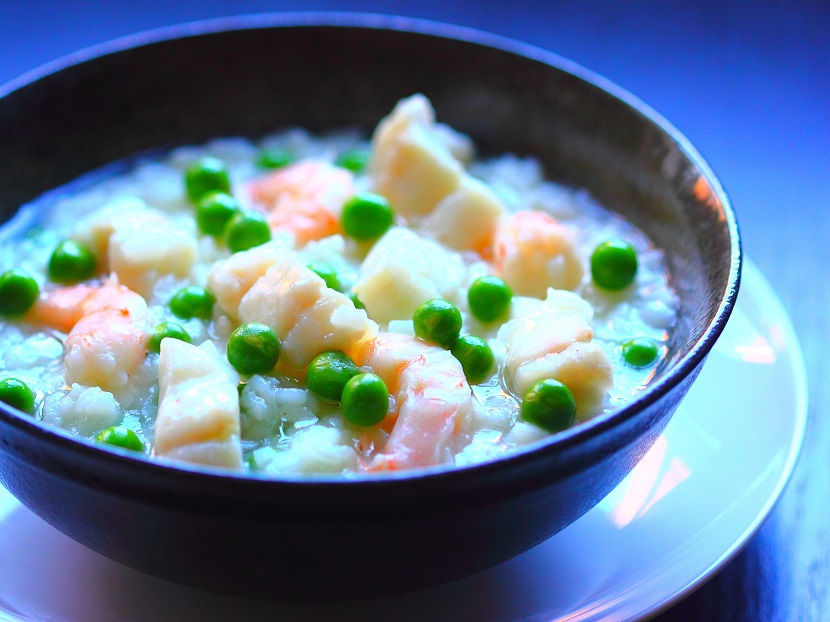 Chinese rice congees vary considerably by region. The seemingly simple combination of rice and water can create endless variations, depending on the type of rice, amount of water, length of cooking time, or the assortment of garnitures you use.
As a sequel to my post on Cantonese-style rice congee, the very smooth and creamy version you typically find at dim sum houses, I'm introducing a different type of congee. Here, the rice grains are not cooked until completed broken down as in the Cantonese version. Instead, they are simmered just long enough, about ten minutes, to turn soft but not disintegrated.  For that reason, the finished dish looks more like a rice soup than a porridge.
I like to make this congee whenever I want a quick and balanced meal, because I can use it as a medium for fresh vegetables, sliced meat or seafood, or whatever leftover I have in the fridge.
You can use the recipe below as a general guide and create your own versions. For example, you can replace fish and shrimp with any type of protein you like, or use mushrooms and tofu as vegetarian options. You can also use day-old rice, which can be quickly heated through in the cooking liquid.
Whatever you do, try to incorporate seasonal vegetables into your congee, as they not only give your dish a sense of seasonality, but also make it taste better. For me, freshly shelled peas are the obvious choice during this time of the year. They are wonderfully tender and sweet, and bring a burst of fresh spring flavors to each bite.
Congee with seafood and peas
Makes 2 servings
Ingredients
1 cup medium or long-grain rice, rinsed
6 oz (170 g) mix of shelled and deveined shrimp, and white fish fillet
5 oz (140 g) shelled peas
3 cups fish or chicken stock, clam juice, or water
1 teaspoon Shaoxing wine
1/2 teaspoon juice from grated ginger
1 tablespoon sesame oil
Salt and freshly ground white pepper
Procedure
Cut the shrimp and fish fillet into bite-size pieces; mix with the Shaoxing wine, ginger juice, and 1/4 teaspoon of salt, and marinate for 10 minutes.
In a pot, bring the stock to a boil. Add the rice and season lightly with salt. Simmer over medium-low heat until the rice turns soft, about 10 minutes.
Add the seafood and peas, and simmer until they are just cooked through, about 2 more minutes.
Adjust seasoning with salt and pepper. Drizzle with the sesame oil and serve immediately.

Subscribe to Soy, Rice, Fire

Archives