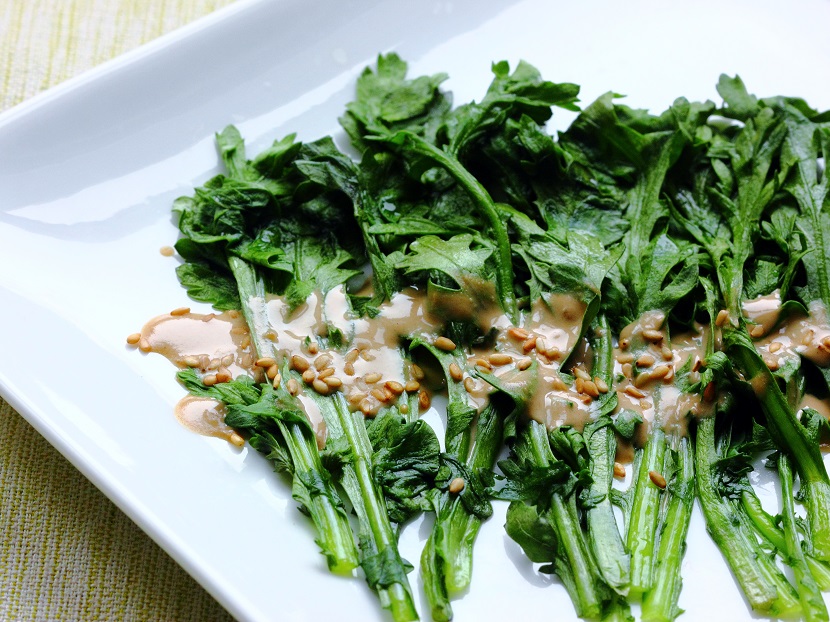 Chrysanthemum greens are one of my favorite vegetables in spring.
I love their fresh herbal and floral aroma, reminiscent of chrysanthemum flower tea. There is no coincidence here: the flowers used for making the tea and the leaves all come from plants that belong to the same genus Chrysanthemum.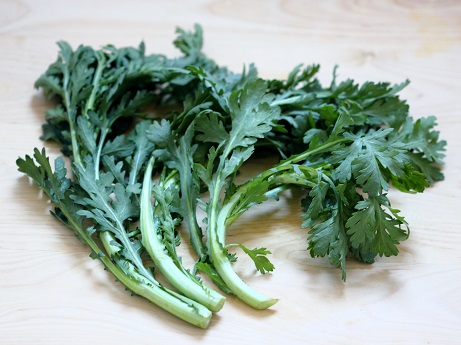 I adore their beautiful serrated dark green leaves with crisp texture. A quick stir-frying, steaming, or blanching is the best way to preserve their beauty and fully enjoy their aroma and texture. You can also eat them raw when the leaves are very young and tender.
And what's more, these greens are full of nutrition, particularly rich in antioxidants and potassium.
Now you can understand why they are widely used in many Asian cuisines. In the US, you can find them in Asian grocery stores when they're in season, under various names such as Tong Hao (茼蒿) in Mandarin, Shungiku in Japanese, or Sukgat in Korean.
Here is a simple recipe for chrysanthemum greens. The young leaves are steamed briefly until just wilted. The sesame dressing and toasted sesame seeds further accentuate the aromatic character of the leaves.
According to the 24 solar terms (节气) in Chinese calendar, following the Spring Equinox, we're entering the period of Qing Ming (清明), which means "clear and bright". I cannot think of a better dish than this very clear and bright salad to welcome springtime.
Chrysanthemum green salad with sesame dressing
Makes 2 servings
Ingredients
4 oz (140 g) tender chrysanthemum leaves
2 teaspoons Asian-style sesame paste
4 teaspoons water
1 teaspoon white rice vinegar
1 teaspoon sesame oil
¼ teaspoon sugar
1/8 teaspoon salt
1 teaspoon toasted sesame seeds
Procedure
To make the dressing, add the sesame paste to a bowl. Add the water in small quantities and mix well before each addition. A small whisk does a great job. Add the rice vinegar, sesame oil, sugar, and salt. Mix until the dressing is smooth and creamy. Add more water if it is too thick.
Spread the leaves in a single layer in a steamer. Sprinkle with salt and steam over high heat until the leaves are just wilted, about 1 minute. You can skip this step if the leaves are very tender and nice to eat raw.
Arrange the leaves on a plate. Top with the dressing and garnish with the sesame seeds.  Enjoy!

Subscribe to Soy, Rice, Fire

Archives