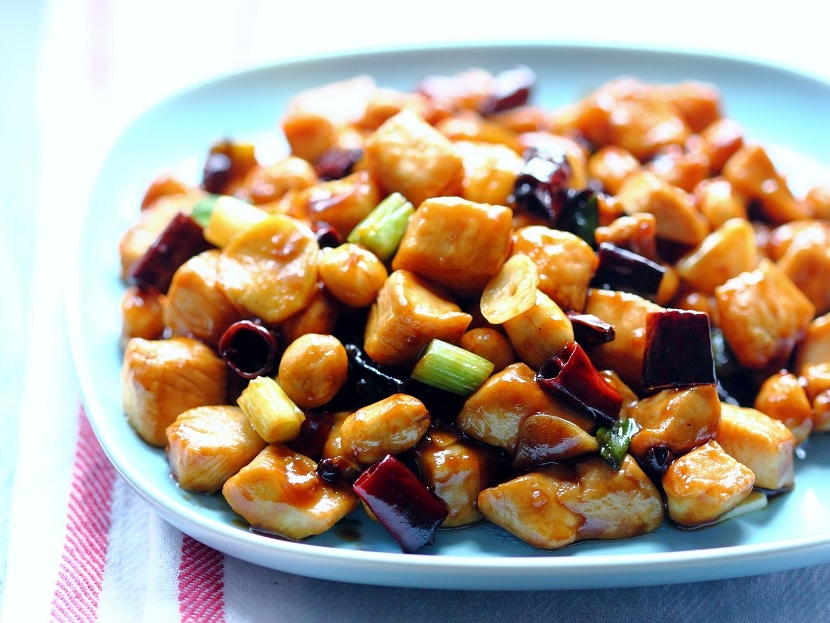 Gong Bao Chicken (宫保鸡丁, Gong Bao Ji Ding in Mandarin) is one of the most celebrated chicken dishes in Chinese cooking.  It is also among the most misrepresented outside China.
If you live the US, chances are you've only had the Americanized version of this dish, often called Kung Pao Chicken.  While it's tasty, it bears little resemblance to the original recipe, and should more appropriately be called "stir-fried chicken with mixed vegetables in a sweet and mildly spicy sauce".
The authentic version, prepared in the Sichuanese way, uses only chicken and peanuts as the main ingredients, and tastes incredibly flavorful, complex, and thrilling.
It requires you to cut the chicken meat, from breast or thigh, uniformly into small dices, not only for aesthetic reasons, but also to ensure each piece is cooked quickly and evenly, and each bite brings you a flavor explosion.
It also calls for fried peanuts, made by frying raw peanuts slowly in low-temperature oil until golden and fragrant.  Fried peanuts have an intense aroma which is lacking in roasted peanuts.  While roasted ones are a good substitute in a pinch, you will be richly rewarded if you spend time frying your own peanuts.  Trust me on this.
What really sets Gong Bao Chicken apart from its bastardized versions or other chicken dishes is the clever combination of spices and seasonings, a hallmark of Sichuan cuisine.  Sugar, Zhenjiang vinegar, dark and light soy sauces, used in the right ratios, create balanced and layered flavors.  Dried chile peppers and Sichuan peppercorns provide addictive heat and tingle that ignite all your senses.
Once you've tasted the real thing, there is no turning back…
Gong Bao Chicken (Gong Bao Ji Ding)
Makes 2 servings
Ingredients
10 oz (285 g) chicken meat from breast or thigh, cut into 3/5-inch (1.5 cm) cubes
2 oz (60 g) fried or roasted peanuts (see instruction below for frying peanuts)
2 garlic cloves, thinly sliced
1-inch ginger, peeled and thinly sliced
1 scallion, cut crosswise into 1-inch (2.5cm) pieces
1/3 cup dried red chile peppers, seeds removed and cut into 1-inch (2.5 cm) pieces
1 tablespoon Sichuan peppercorns
2 tablespoons vegetable oil
For the marinade:
¼ teaspoon salt
1 teaspoon light soy sauce
2 teaspoons Shaoxing wine
½ tablespoon potato starch or cornstarch
For the sauce:
½ teaspoon salt
1 tablespoon sugar
1 teaspoon light soy sauce
1 teaspoon dark soy sauce
1 tablespoon Zhenjiang (aka Chinkiang) vinegar
½ tablespoon Shaoxing wine
1 teaspoon potato starch or cornstarch
1 1/2 tablespoons chicken stock or water
Procedure
Mix the chicken with the ingredients for the marinade in a bowl.  Marinate for 15 minutes.
Combine all the ingredients for the sauce in a small bowl and mix well.
Heat the oil in a wok or skillet to medium-low temperature, around 280 °F (140 °C).  Add the chile peppers and Sichuan peppercorns and stir until fragrant, about 30 seconds.  Add the chicken and turn up the heat.  Stir-fry until the chicken pieces turn white, about 1 minute.  Add the ginger, garlic, and scallion, and continue to stir and mix for another minute.
Give the sauce a stir and pour over the chicken.  Stir and mix until the sauce thickens and nicely coats the chicken pieces, about 30 seconds.
Mix in the peanuts and serve immediately.
Instruction for frying peanuts:
10 oz (285 g) raw peanuts
½ cup vegetable oil
Heat the oil in a wok or skillet over low heat until oil temperature reaches around 212 °F (100 °C).  Add the peanuts and stir-fry until golden and crisp, about 15 minutes.  Turn down the heat if the color of the peanuts starts to turn dark quickly.  Remove the peanuts from the oil; drain and cool on a plate lined with paper towels.

Subscribe to Soy, Rice, Fire

Archives