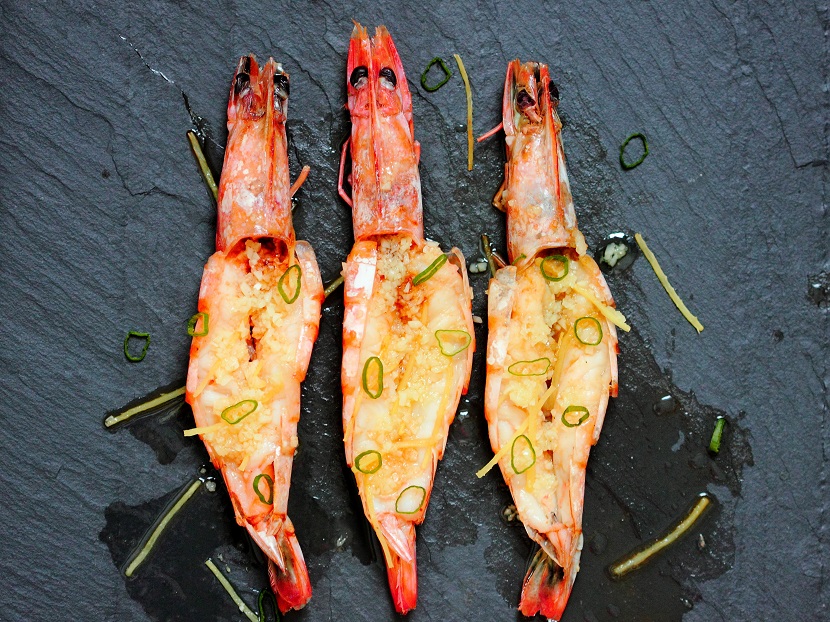 When you get hold of high-quality shrimp, such as wild-caught Gulf Shrimp, you want to use the simplest preparation to highlight the freshness and sweetness of their flesh.
While grilling and sautéing are great options, I usually turn to steaming, a gentle method for cooking seafood, and follow a simple and brilliant Chinese recipe:  steamed butterflied shrimp with minced garlic (蒜蓉开背虾)
Butterflying shrimp not only makes a beautiful presentation, but also allows the shrimp to cook quickly and evenly with a brief steaming.
Garlic and shrimp are obviously a match made in heaven.  When steamed together, they create such an irresistible aroma that it's easy to understand why this dish is so popular, for the same reason why gambas al ajillo is an all-time favorite Spanish tapas.
And both dishes remind us that sometimes the best things in life are the simplest.
My recipe below uses whole shrimp and cook them in the shell for maximum flavor.  Feel free to use headless ones or shelled ones if you prefer.
Steamed butterflied shrimp with minced garlic (蒜蓉开背虾)
Makes 2 servings
Ingredients
14 oz (400 g) whole Gulf Shrimp, or any other high-quality variety
4 – 6 garlic cloves, finely minced
1-inch ginger, cut into thin matchsticks
1 scallion, thinly sliced
1 tablespoon Shaoxing wine
2 teaspoons soy sauce, divided
½ teaspoon salt
2 tablespoons vegetable oil
Procedure
Heat the vegetable oil in a small pan over medium-low heat.  Add the minced garlic; stir and mix until fragrant, about 15 seconds.  Transfer the garlic and oil mixture to a bowl.
With a pair of scissors, cut open the back of the shell of each shrimp.  To butterfly the shrimp, use a paring knife to cut almost through the flesh (but not all the way) so the shrimp can lay flat in the shell.  Remove the vein. Marinate the butterflied shrimp with the Shaoxing wine, 1 teaspoon of soy sauce, and ½ teaspoon of salt for 15 minutes.
Arrange the shrimp flat and open, cut side up, on two plates that fit into a two-tier steamer.  Distribute the garlic and oil mixture evenly over the shrimp, and scatter the ginger matchsticks on top.  Steam the shrimp until they are just cooked, about 5 minutes.  Do not overcook.
Place the cooked shrimp beautifully on a serving plate.  Mix the remaining soy sauce with the cooking liquid collected during steaming and drizzle on top of the shrimp.  Garnish with the scallion and serve immediately.

Subscribe to Soy, Rice, Fire

Archives