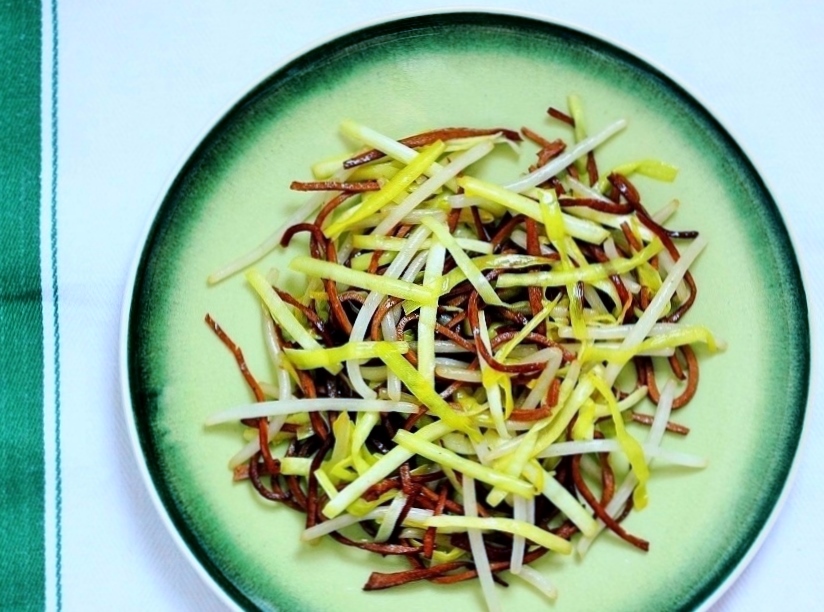 When asparagus is grown without sunlight exposure, the absence of photosynthesis results in a process called "etiolation", which creates not only a pale color in the spear, but also a more delicate flavor.  The result, white asparagus, is considered an "aristocrat" by its admirers.
Likewise, when you use the same method to grow garlic chives by inhibiting chlorophyll synthesis, you get yellow chives, a delicacy in Chinese and several other Asian cuisines.  As compared with their green cousins, yellow chives are more tender in texture, and milder and sweeter in flavor, which means they are less garlicky and more oniony.
Called Jiu Huang (韭黄) in Mandarin, yellow chives can be used very much the same way as garlic chives.  For example, they are great in stir-fries with meat, seafood, eggs, or other vegetables.  They also make delicious fillings in dumplings and spring rolls.  The Cantonese like to add them to  their wonton soup to bring a beautiful fragrance and freshness to the dish.
You can find yellow chives in larger Chinese grocery stores.  Use them within a day or two as they are quite perishable.
My stir-fry recipe here pairs yellow chives with pressed tofu and mung bean sprouts to create a very satisfying vegetarian dish with layers of texture.  Although any type of pressed tofu would work here, I recommend that you use a spiced variety as they make the dish more flavorful.
Mung bean sprouts, often called "silver spouts" in Chinese dishes, bring a nice crispness to the dish.  If you have time, remove both ends of the sprouts for a more elegant presentation.
Stir-fried yellow chives with pressed tofu and mung bean sprouts
Makes 2 servings
Ingredients
3 oz (85 g) yellow chives, cut into 3-inch (7.5 cm) pieces
3 oz (85 g) mung bean sprouts, both ends removed
2 oz (60 g) spiced pressed tofu, cut into thin matchsticks
1 teaspoon sesame oil
1 tablespoon vegetable oil
Salt and freshly ground white pepper
Procedure
Heat the vegetable oil in a hot wok or skillet over high heat.  Add the tofu and stir-fry for 30 seconds.  Add the yellow chives, and continue to stir-fry for 30 more seconds.
Add the mung bean sprouts.  Stir and mix until the sprouts are cooked but still crisp, about 30 seconds.
Season with salt and pepper, and drizzle with the sesame oil.  Serve immediately.

Subscribe to Soy, Rice, Fire

Archives