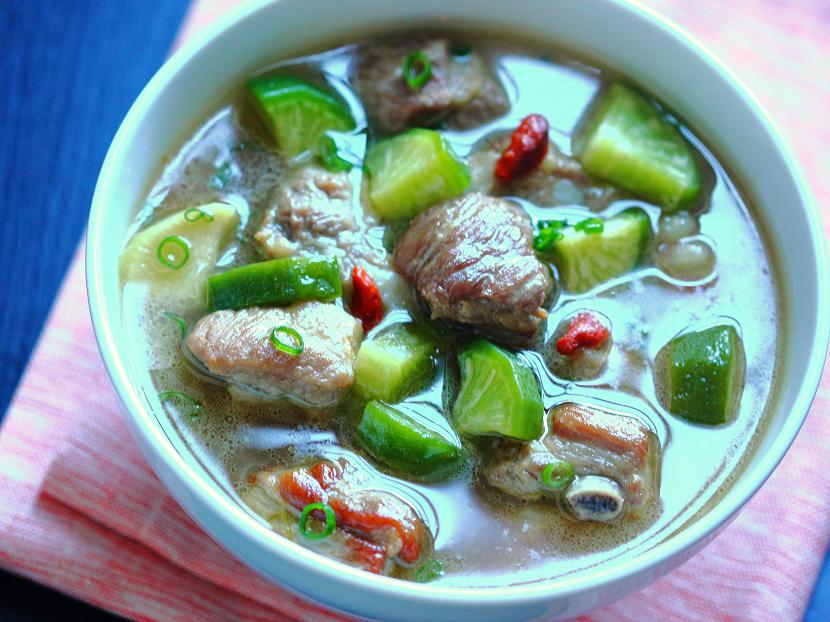 Radishes are incredibly diverse and come in many different shapes, colors, and sizes.  Among my favorite ones are three unique varieties from China:  the legendary China Rose, the strikingly beautiful Watermelon Radish, and Green Radish, star of today's recipe.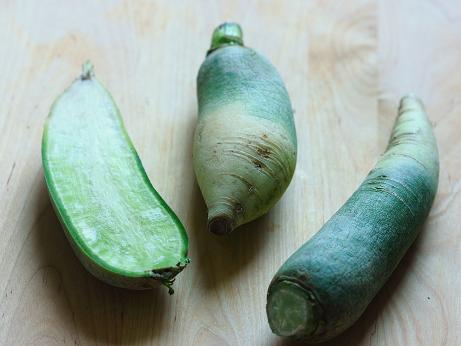 Originated in Northern China and prized for its sweet and mild flavor, green radish (青萝卜, qin luo bo in Mandarin) is now grown in many parts of the world.  Green radish is so named because its skin has leafy-green color which changes gradually to white near the lower tip.  Inside, its jade-green flesh is sweet and juicy, with a hint of pungency.  During cold weathers, these delightful roots become extra juicy and flavorful.
Green radishes can be used very much the same way as white radishes (aka daikon), though they have a very distinctive flavor.   They are excellent when eaten raw in salad, pickled, stir-fried, or added to soups or stews, my favorite way of cooking them.
You can find green radishes at Chinese, Korean, or Japanese grocery stores, and sometimes at your local farmers market.  I recently saw some amazing green radishes grown by Norwich Meadows Farm at Union Square Greenmarket.
Cooking green radishes without peeling them is a good way to preserve the color and flavor concentrated in their skin.  If you're looking for a more refined presentation, you can carefully pare away the superficial thin layer just to reveal the bright green color, as I do in the recipe below, where I pair them with pork ribs and goji berries to make a warming and aromatic soup, a perfect cold-weather dish.
Green radish and pork rib and soup
Makes 2 servings
Ingredients
1 lb (450 g) pork ribs, cut across the bone into 1-inch sections, then separated into individual ribs
12 oz (370 g) green radish
10 goji berries
1-inch (2.5 cm) ginger, crushed
1 scallion, white and green parts separate; green part thinly sliced
1 tablespoon Shaoxing wine
1/2 teaspoon Zhenjiang (aka Chinkiang) vinegar
1 tablespoon vegetable oil
Salt and freshly ground white pepper
Procedure
Peel the superficial thin layer of the radish to reveal its bright green color.  Quarter lengthwise and cut each section crosswise into ½-inch (1.2 cm) pieces.
Heat the oil in a hot wok or skillet over high heat.  Season the ribs with salt and sear them in the wok until golden brown, about 3-4 minutes.  Add the ginger, white part of the scallion, and Shaoxing wine.  Stir and mix for 15 seconds.  Add 3 cups of water.  Bring to a boil and reduce to a gentle simmer.
Simmer, covered, for 15 minutes.  Add the green radish and goji berries, and simmer until the radish just turns crisp-tender, about another 15 minutes.  Be careful not to overcook, which would turn the radish grayish and mushy.
Adjust seasoning with salt and pepper.  Garnish with the green part of the scallion and serve immediately.

Subscribe to Soy, Rice, Fire

Archives