Lilies are known for their elegant beauty and intriguing scents.  But do you know the bulbs of certain lily varieties also have culinary and medicinal uses?
In Chinese cuisine, lily bulbs are considered a gourmet ingredient.  The scales that form the bulbs are crisp and sweet, which are perfect for refreshing salads or simple stir-fries.  When used in sweet or savory soups, they turn velvety and creamy, or even "melt" into the liquid.
Lily bulbs are highly regarded in Traditional Chinese Medicine (TCM) for their medicinal properties, such as nourishing Yin and calming spirit.  Because of that, they are frequently used in Chinese food therapy or herbal cuisine.
In Mandarin, lily bulbs are called Bai He (百合), which literally means "a hundred embraces", because each bulb contains numerous tightly overlapping scales.  They are such an auspicious symbol of harmony and togetherness in Chinese culture that one of the largest Chinese dating sites is named, well, baihe.com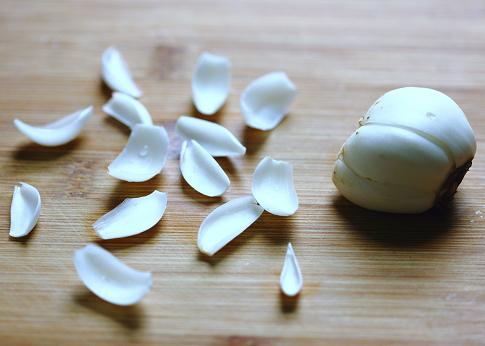 Lily bulbs are available in both fresh and dried forms.  Fall is the best time to harvest the fresh bulbs, which I prefer to use, and the best-tasting ones are labeled as Lanzhou Lily (兰州百合), with white and plump scales as shown in the picture.  They are grown in the mountains around the city of Lanzhou in GansuProvince, and luckily for us in the US, they are available vacuum-packed in Chinese grocery stores.
If you can find fresh lily bulbs, try this beautiful stir-fry.  You'll find how crisp and refreshing it is, just as the breezes in the fall!
Stir-fried fresh lily bulb with celery and mushrooms
Makes 2 servings
Ingredients
1 fresh lily bulb, about 1 oz (30 g)
4 oz tender celery stalks, thinly sliced crosswise
4 oz beech mushrooms, or any variety of your choice
½ tablespoon dried wood ear mushrooms, soaked in warm water for 15 minutes
2 teaspoons oyster sauce, regular or vegetarian version
½ teaspoon Zhenjiang (aka Chinkiang) vinegar
2 teaspoon vegetable oil
Salt and fresh-ground white pepper
Procedure
Gently break up the lily bulb into individual scales.  Blanch them in salted boiling water for 10 seconds, and shock in ice or cold water and drain well.
Next, blanch the sliced celery for 20 seconds, shock and drain.
Remove any hard or knobby bits from the soaked wood ear mushrooms and tear them into small pieces.
Heat the oil to a hot wok or skillet over medium-high heat.  Add the beech mushrooms and wood ear mushroom, and stir-fry for 1 minute.  Add the lily bulb scales, celery, oyster sauce, and vinegar.  Stir and mix for 20 seconds.  Season to taste with salt and pepper.
Serve hot or warm.

Subscribe to Soy, Rice, Fire

Categories

Archives