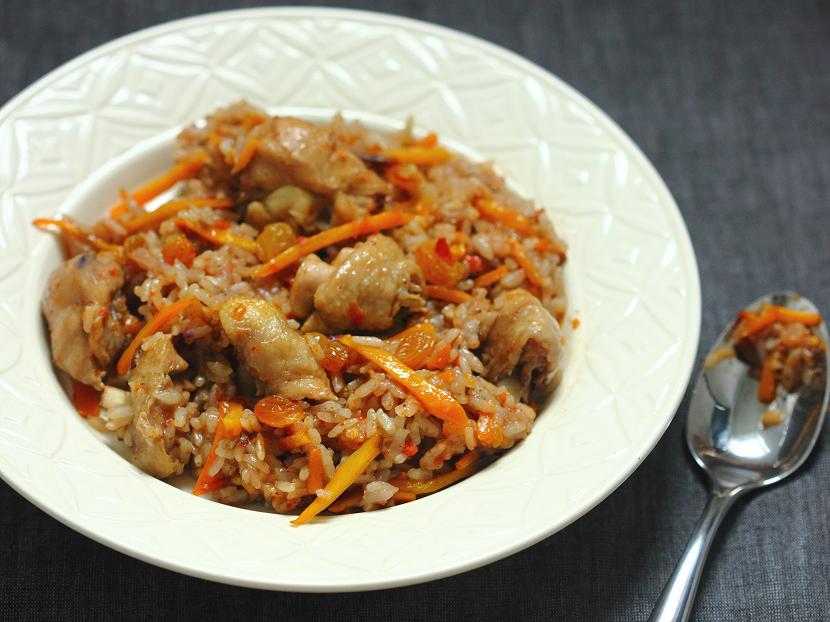 Uyghur food from China's Xinjiang Uyghur Autonomous Region, located in the western part of China along the fabled Silk Road, draws influences from the neighboring countries and creates something quite distinct from the rest of China.
For example, the much-celebrated local rice dish, romanized as polo, polov, or pulao, is very similar to rice dishes from other Central Asian countries such as Kazakhstan, Kyrgyzstan, and Uzbekistan, all of which variations of pilaf originated in Persia.
While each Uyghur family has their own recipe for polo, it typically includes carrots and meat (usually lamb or chicken).  To make the polo, you start with browning the meat in copious amount of animal fat or oil, followed by caramelizing sliced onion and carrots.  You then add water and spread the rice in a thin layer on top of other ingredients.  The whole dish is steamed over low heat, until the rice has absorbed most of the liquid and developed a rich flavor.
Cumin and red pepper flakes, common spices in Uyghur cooking, are added to flavor the polo.
Raisins, a mainstay of local food there, are often added on top of the rice during steaming, to give the dish a sweet edge.  Air-dried in the hot desert air, raisins from that region are truly remarkable and ranked the best in China.  Dried apricots, apples, potatoes, and eggs are some of the other ingredients Uyghurs like to add to their polo.
Although the best way to cook polo is in a kazan over an open fire, as it's traditionally done, you can create an equally fantastic polo with a wok or skillet by following my recipe below.
With tender and sweet carrots from farmers' market at their seasonal best right now, I cannot think of a better time to make this dish!
Uyghur-style rice with chicken and carrots
Makes 2 servings
Ingredients
1 lb (450 g) chicken drumsticks, or your favorite chicken parts
¾ cup short-grain rice, rinsed and drained
6 oz (170 g) carrots, cut into thin matchsticks
1 onion, thinly sliced
1 tomato, diced
1 teaspoon cumin seeds, toasted and ground
1 tablespoon golden raisins
¼ teaspoon red pepper flakes
2 tablespoons vegetable oil
1 ½ cup chicken stock or water
Salt and freshly ground black pepper
Procedure
Cut the drumsticks into 1-inch (2.5 cm) pieces.  Season lightly with salt.
Add the oil to a hot wok or skillet over high heat.  Add the chicken pieces and brown on all sides, about 3-4 minutes.  Transfer the chicken pieces to a plate.
In the same wok over medium-high heat, add the sliced onion and cook until caramelized, about 2 minutes.  Add the carrots and cook for another 2 minutes.  Add the cumin, red pepper flakes, and tomato; stir and cook for 30 seconds.
Return the chicken to the wok and add the chicken stock or water.  Stir and mix.  Bring the mixture to a boil.  Season with salt and pepper.  Spread the rice on top of the mixture in a thin layer, making sure each grain is in contact with the liquid.  Sprinkle the raisins on top of the rice.  Bring to a boil again and reduce to a gentle simmer.  Cook, covered, until the rice has absorbed most of the liquid and just cooked through, about 30 minutes.  Add more water during cooking if needed.
Remove the wok from the heat.  Stir and mix the rice with other ingredients.  Taste and adjust seasoning as needed.  Let rest, covered, for 10 minutes.
Serve and enjoy!

Subscribe to Soy, Rice, Fire

Archives