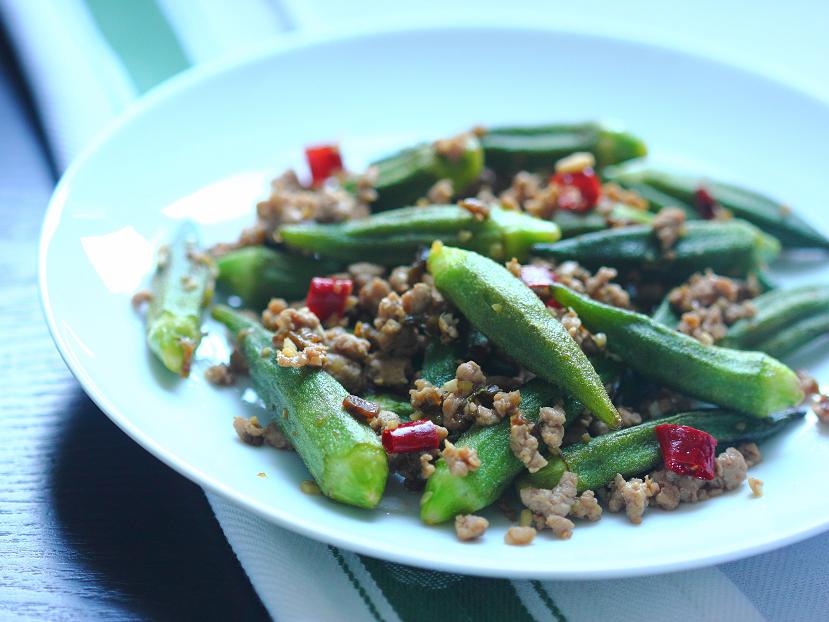 Okra is not traditionally used in Chinese cooking.  For that reason, you won't find it in the repertoire of classic Chinese recipes.
However, in recent years, it has gained popularity in China, and is viewed as an upmarket ingredient with great health and nutritional benefits.  The fact that it was selected as a preferred vegetable for the Olympic athletes of the Beijing Olympic Games definitely helped it win new fans.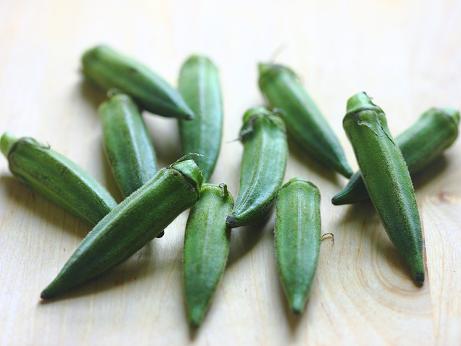 Both professional and home cooks there are increasingly experimenting with this "new" ingredient, and creating new recipes drawing inspiration from traditional Chinese techniques and flavorings, for example stir-fried okra with shrimp, braised okra with soy sauce, or steamed okra with Hunan pickled chile peppers.
Each summer, when okra is in season, I like to come up with new recipes to fully enjoy this amazing vegetable.  The dish I'm sharing with you here is my latest creation.  It is a riff on one of Sichuan's most famous dishes, Dry-fried green beans (干煸四季豆).
As with green beans, dry-frying, called gan bian (干煸) in Mandarin, is a perfect cooking method for okra.  When you cook okra whole with small amount of oil over medium heat, it gradually turns tender and slightly blistered, and takes on the same crisp-tender texture of green beans.
This technique is also a great trick to control the slime factor of okra.  Why? Because when you minimize its interaction with liquid, mucilage inside the okra is effectively kept in check!
Dry-fried okra would be fantastic on its own when seasoned with sea salt.  However, the addition of ground pork and ya cai (芽菜), a unique preserved vegetable from Sichuan, makes the dish even more intriguing with layers of flavors.  Ya cai is available in most Chinese grocery stores.  If you cannot find it, substitute other types of Chinese preserved vegetables such as zha cai (榨菜), or simple omit it.
You can use dry-frying technique for meat dishes as well.  Check out my recipe for dry-fried beef with Chinese celery and carrots. 
Dry-fried okra with ground pork and ya cai
Makes 2 servings
Ingredients
8 oz (230 g) okra, small size preferred; top trimmed
4 oz (115 g) ground pork
2 teaspoons chopped ya cai (芽菜, see note below), or other Chinese preserved vegetables such as zha cai
2 teaspoons Shaoxing wine
2 teaspoons soy sauce
1 teaspoon Zhenjiang (aka Chinkiang) vinegar
1-inch ginger, finely minced
2 garlic cloves, finely minced
2 dried chile peppers, seeds removed and cut into ½-inch (12 mm) pieces
2 tablespoons vegetable oil
Salt and freshly ground white pepper
Procedure
Wash the okra and pat dry completely.
Heat the oil in a hot wok or skillet. Add the okra and stir-fry over medium heat until it turns soft and slightly blistered, about 5-6 minutes.  Turn down the heat if the okra starts to turn brown quickly during cooking.  Transfer the okra to a plate lined with paper towel to drain.
In the same wok and with the remaining oil, stir-fry the garlic, ginger, and dried chile peppers over medium-high heat until aromatic, about 15 seconds.  Add the pork and stir-fry, breaking up the lumps, for about 1 minute.  Add the Shaoxing wine, soy sauce, vinegar, ya cai, and reserved okra; stir and mix until the flavors are well combined, about 1 minute.
Adjust seasoning with salt and pepper, and serve immediately.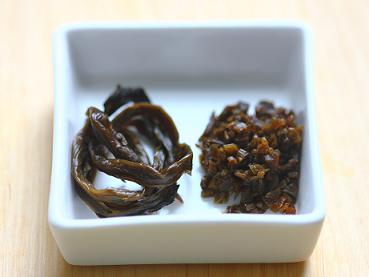 Ya cai (芽菜) is one of the most distinctive flavoring ingredients in Sichuan cooking.  Made from the stems of a variety of mustard green through double fermentation process, it has a complex salty and sweet flavor, and is rich in umami.  It appears in several classic Sichuan dishes such as dry-fried green beans and dan dan noodles.  Ya cai is available in Chinese grocery stores.  The best ones are labeled as Yibin ya cai, from the city of Yibin (宜宾) in Sichuan province.

Subscribe to Soy, Rice, Fire

Archives