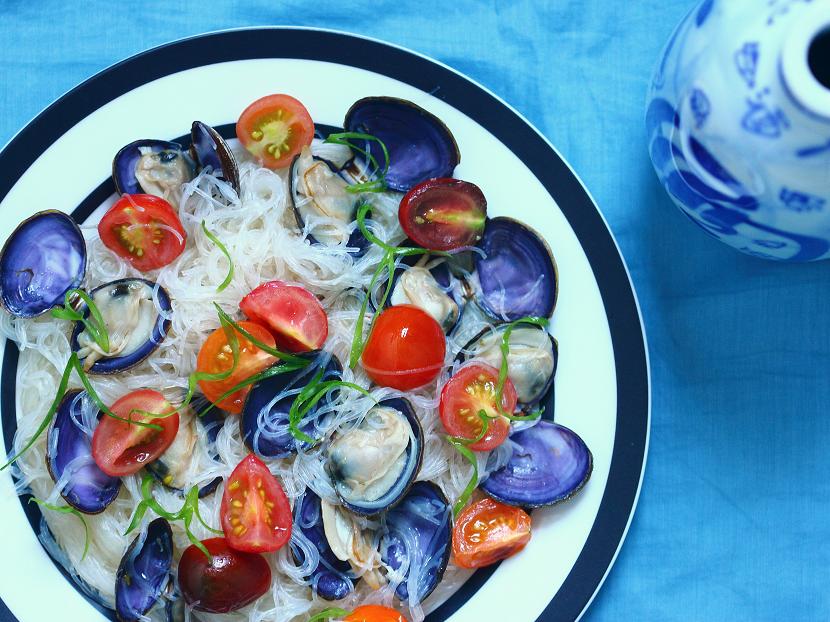 Clams and noodles make a good match in cooking, for an obvious reason: the umami-rich clam juice released during cooking is readily absorbed by the noodles, creating a beautiful harmony of flavors.
That's why Italian spaghetti alle vongole never fails to impress, and Spanish fideo con almejas always makes you crave for more.
The same can be said for the dish I'm sharing with you here.  The delicate medley of clams, tomatoes, and cellophane noodles makes a fabulous dish that really hits the spot.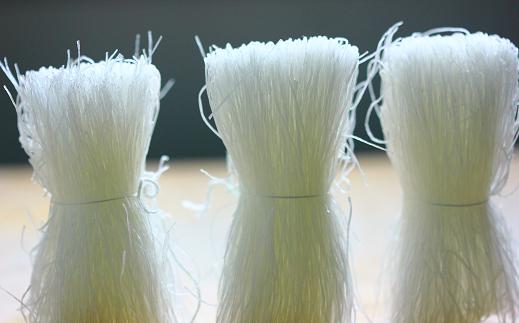 Cellophane noodles, or fensi (粉丝) in Mandarin, have an impressive absorbent quality.  With little flavor by themselves, they pick up flavorings from the ingredients they cook with.  Although they can be made from a variety of starches, my favorite ones are made from mung bean flour.  You can find them in most Asian grocery stores, and the best ones are labeled as Long Kou Fensi (龙口粉丝), named after the port city Long Kou in Shandong Province.  Off-white and opaque in their dried form, they turn translucent and shiny when soaked and cooked, hence the name "cellophane".
In Chinese cooking, cellophane noodles are often paired with meat or seafood in stir-fries, braises, and soup dishes.  They can also be chopped up and used in the fillings of dumplings, because they help create a light and soft texture.   One of the most famous Chinese dishes using cellophane noodles is Ants climbing a tree.
Outside China, cellophane noodles are used in other Asian cuisines as well, though the varieties used are often made from other starches such as sweet potato or arrowroot starch.
Clams with cellophane noodles and cherry tomatoes
Makes 2 servings
Ingredients
1 lb (450 g) small-sized clams such as Manila clams or cockles, scrubbed and cleaned
3 oz (85 g) cellophane noodles, preferably those made from mung bean starch
5 oz (140 g) cherry tomatoes, halved or quartered depending on the size
1 scallion, white part thinly sliced crosswise and green part thinly sliced diagonally
1-inch ginger, finely diced
1 tablespoon Shaoxing wine
2 teaspoons vegetable oil
Salt and freshly ground white pepper
Procedure
Soak the cellophane noodles in just boiled water for about 10 minutes, or cold water for 30 minutes.  Drain well.
Heat the oil in a hot wok or skillet over high heat.  Add the white part of the scallion and ginger, and stir-fry for 10 seconds.  Add the Shaoxing wine, ½ cup of water, and the clams.  Cook, covered, shaking the wok frequently, until the clams are open, about 2-3 minutes.  Transfer the clams to a bowl and discard any unopened ones.  Strain the clam juice into a separate bowl.
Add the clam juice to a clean wok over medium-high heat.  Bring to a boil and add the cellophane noodles.  Cook until the noodles have absorbed most of the liquid, about 1 minute.  Add the tomatoes and clams; stir and cook for 30 seconds, or until the tomatoes are just warmed through and the flavors are well mixed.
Adjust seasoning with salt and pepper.  Garnish with the green part of the scallion and serve immediately.

Subscribe to Soy, Rice, Fire

Archives