Chinese eggplant is my favorite eggplant to cook with.
As compared with other varieties, Chinese eggplant is more tender, less bitter, and has thinner skin.  That means you do not need to salt them to draw out the bitterness, and you can consume them without peeling the skin, which is full of nutrition and flavor.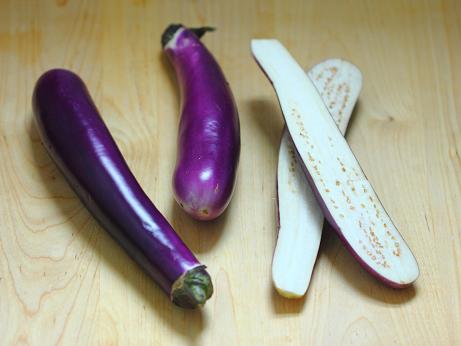 Called qie zi (茄子) in Mandarin, eggplant is widely used in Chinese cooking and stars in famous dishes such as Fish-fragrant eggplant (鱼香茄子).
A versatile ingredient, Chinese eggplant can be cooked in many different ways: deep-fried, stir-fried, roasted, braised, grilled, or steamed.
Steaming gives the eggplant a delicate and silky texture, and creates a very light dish that's perfect for the summer.
The dish I'm sharing with you here is my take on the typical Chinese home-style steamed eggplant.  I like to cut the eggplant by making slits into the flesh through the skin, so the sauce will deeply permeate the eggplant.  The use of roasted almonds is not traditional, but they add a wonderful textural contrast to the eggplant.
When you make the dish, feel free to use your favorite seasonings in the sauce.
For a meaty version, check out my recipe Steamed eggplant with fish-fragrant pork.
Steamed Chinese eggplant with almonds
Makes 2 servings
Ingredients:
1 medium Chinese eggplant, about 6 oz (170 g)
1 tablespoon roasted sliced almonds
1 scallion, thinly sliced
1 tablespoon soy sauce
½ teaspoon Zhenjiang (aka Chinkiang) vinegar
¼ teaspoon sugar
1 teaspoon sesame oil
Salt and freshly ground white pepper
Chile oil for garnish, optional
Procedure
Cut the eggplant in half lengthwise.   Place each half on the cutting board with cut side down.  Cut diagonal slits through the skin into the flesh with 1/8-inch (3 mm) intervals, making sure you do not cut all the way through.  Slice each half crosswise into 1-inch (2.5 cm) pieces.
Place the eggplant pieces in a steamer.  Season lightly with salt and pepper.  Steam until the eggplant is very tender, about 10 minutes.
To make the sauce, mix well the soy sauce, vinegar, sugar, and sesame oil in a bowl.
Arrange the eggplant pieces beautifully on a plate.  Dress them while still hot with the sauce.  You can serve the dish hot or at room temperature.  Right before serving, garnish with the almonds, sliced scallion, and chile oil if using.

Subscribe to Soy, Rice, Fire