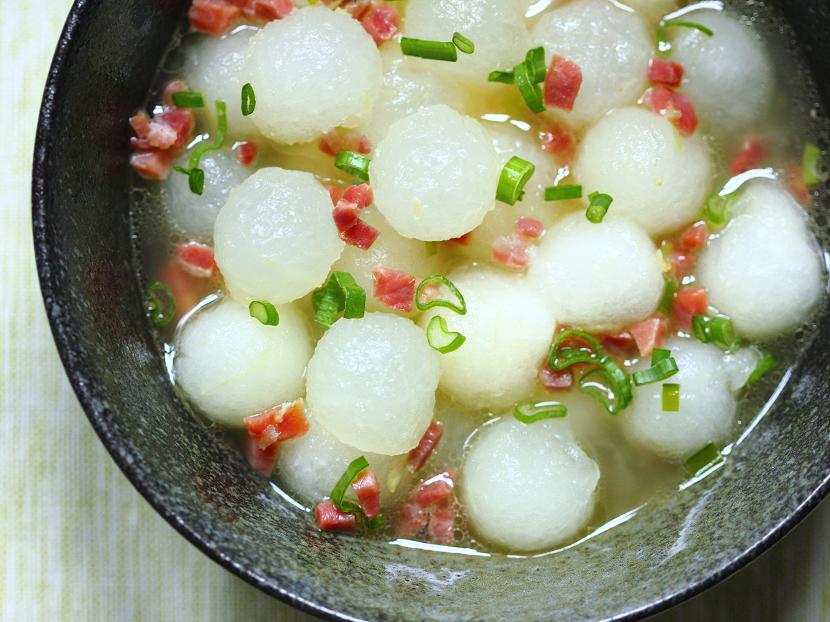 How did winter melon, a warm-climate vegetable, get a name associated with cold season?
One possible explanation has something to do with its appearance: its large fruit is covered with a layer of white powder, which resembles the frost in the winter.
Or, perhaps because of its storability and usage: these sturdy melons, which can grow to over 30 lbs at maturity, can be stored for months and used later in the winter season when fewer vegetables are available.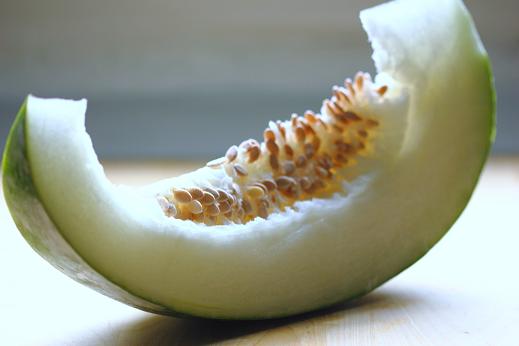 Whatever the reason maybe, winter melon is a popular ingredient in Chinese cooking, especially during the summer.  Called Dong Gua (冬瓜) in Mandarin, winter melon is often cubed or sliced and used in soups and braises.  Beneath its green-colored skin lies snow-white flesh with a mild taste, which acts like a sponge and absorbs the flavors of other ingredients during cooking.  For that reason, winter melon is often paired with intensely-flavored ingredients such as ham or dried shrimp.
According to Traditional Chinese Medicine (TCM), winter melon has cooling effect on the body, which means it helps clear summer heat and relieve thirst.  Serving a winter melon dish cold or at room temperature is immensely comforting and refreshing in the summer.
You can find winter melons at Asian grocery stores.  Because of their enormous size, they are typically sold by the slice.
One of my favorite ways of cooking winter melon is to make a braise with ham.  The dish I'm presenting here follows the classic recipe with a twist (or rather twists and turns): instead of cutting the melon into slices as traditionally done, I scoop out winter melon balls using a melon baller.  I find it more fun to make and enjoy the dish this way!
Braised winter melon with ham
Makes 2 servings
Ingredients:
1 ¾ lbs (800 g) winter melon
2 oz Virginia ham, cut into 1/8-inch (3 mm) dices
1 cup chicken or vegetable stock
1 scallion, white and green parts separated and thinly sliced
1/2-inch ginger, finely diced
1 teaspoon Shaoxing wine
1 tablespoon vegetable oil
Pinch of sugar
Salt and freshly ground white pepper
Procedure:
Remove the fibrous parts and seeds from the winter melon.  Using a melon baller, scoop out balls from the flesh.  Blanch them in salted boiling water for 2 minutes; shock in ice or cold water and drain well.
Heat the oil in a hot wok or skillet over medium-high heat.  Add the ham, white part of scallion, and ginger; stir-fry until fragrant, about 30 seconds.  Add the Shaoxing wine and stir for 15 seconds.  Pour in the stock.  Bring the liquid to a boil and add the melon balls.  Bring to a boil again and reduce to a simmer.
Cook for 8-10 minutes, until the melon balls are soft but not mushy.  Adjust seasoning with salt, pepper, and pinch of sugar.  Garnish with the green part of the scallion.  Serve hot or at room temperature.

Subscribe to Soy, Rice, Fire

Archives