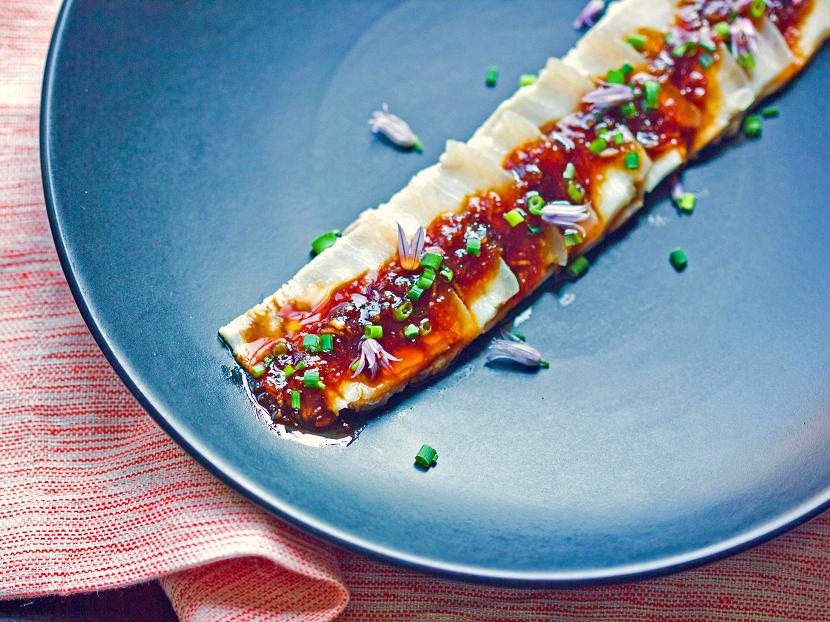 A great way to enjoy meat in the summer is to prepare and serve it "white-cut", a technique used all across China.  The meat is poached in a simple clear broth until just cooked, then sliced and served with a dipping sauce.  While pork is mostly used for this preparation, beef or lamb works equally well.
Among the regional variations of "white-cut" pork, my favorite one comes from Sichuan.
Known for creating bold and complex flavors for their food, the Sichuanese serve their pork with minced garlic mixed with an enriched soy sauced called Fu Zhi Jiang You (复制酱油).  It is made by simmering soy sauce with brown sugar and spices, to create a sauce with irresistible aromas and balanced savory, salty, and sweet flavors.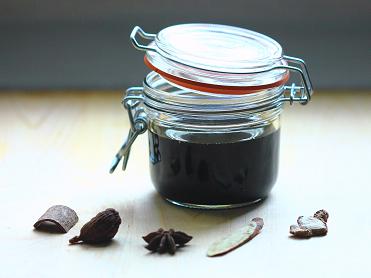 You can easily make Fu Zhi Jiang You at home by following my recipe below.  To flavor the soy sauce, I use the following spices (from left to right in the picture): cassia cinnamon, black cardamom, star anise, licorice, and sand ginger (沙姜, called Sha Jiang in Mandarin).  Feel free to make your spice combination based on what's available to you.  Clove, fennel seed, Sichuan peppercorn, and ginger are good choices as well.  This is such a versatile sauce that you can use it to add oomph to meat, poultry, raw or blanched vegetables, as well as rice or noodle dishes.
The preferred cut for this dish is either rump or belly, with skin attached.  When the pork is cooked, you cut very thin slices through the skin, fat, and meat, so each slice offers a full spectrum of flavors and textures for a great eating pleasure.  Of course, you can use leaner or skinless cut such as tenderloin if you prefer.
White-cut technique can be applied to poultry as well.  A great example is white-cut chicken I posted before, which is served with an aromatic ginger-scallion sauce.  I like to think of the pork and chicken dishes as two siblings that bear a family resemblance to each other but have strikingly different personalities.
White-cut pork with garlic sauce (蒜泥白肉)
Makes 2 servings
Ingredients:
12 oz (340 g) skin-on pork rump or belly
2 scallions, cut in half crosswise
1-in piece ginger, sliced
2 tablespoons Shaoxing wine
3 garlic cloves, finely minced
1 teaspoon chile oil
1 teaspoon sesame oil
1 small bunch chives, thinly sliced
Chive blossoms for garnish (optional)
Enriched soy sauce
1 bottle (17 fl.oz or 500 ml) naturally brewed soy sauce
7 oz (200 g) brown sugar
1 g cassia cinnamon piece
1 g black cardamom
1 g star anise
1 g licorice
1 g sand ginger
Procedure:
In a pot, add enough water that will completely cover the pork.  Bring to a boil.  Add the scallions, ginger, Shaoxing wine, and pork.  Bring to a gentle boil and reduce the heat to a bare simmer, with only occasional bubbles breaking the surface.  Poach until just cooked (when you poke the meat with a knife the juice comes out clear with no blood), about 15 minutes. Turn off the heat and leave the pork in the poaching liquid for about 20 minutes.
Remove the pork from the liquid.  Cover it with plastic wrap and briefly cool in the refrigerator.
When the pork is cool enough to handle, cut crosswise into thin slices, about 3 x2 inch (7.5 x 5 cm) and no thicker than 1/8 inch (3 mm).
To make the enriched soy sauce: add all the ingredients to a sauce pan.  Bring to a boil and reduce to a bare simmer.  Cook for about 30 minutes, or until the sauced is reduced by a third.  Let it cool down and strain into a clean container.
To serve the pork: arrange the pork slices on a plate.  Mix the minced garlic with 2 tablespoons of the enriched soy sauce, chile oil, and sesame oil.  Pour the mixture over the pork and garnish with the chives and chive blossoms.  Enjoy!

Subscribe to Soy, Rice, Fire

Archives