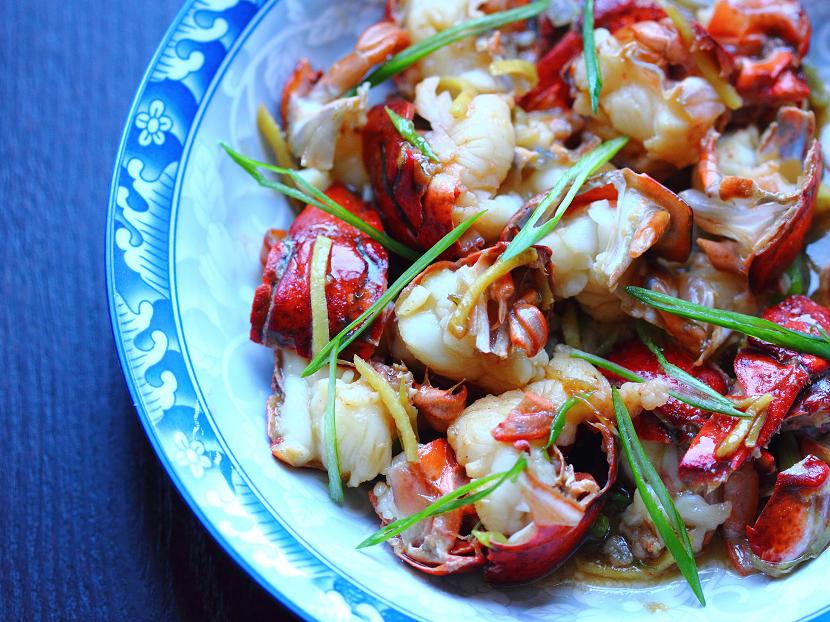 Summer is a good time to enjoy lobster, when these majestic crustaceans migrate closer to shore, and the warm weather makes it easier for lobster-fishing.  More catches mean lower price for a lobster treat.
The conventional way of boiling lobster and serving it with melted butter is certainly easy and fun, and instantly transports you to the charming coastal towns in Maine.
However, boiling the crustacean dilutes the natural sweetness of the flesh.  Other cooking methods, such as grilling, steaming or stir-frying might be better options.
When I cook delicate seafood such as lobster, I often look to Cantonese cuisine for inspiration.   If you've had steamed fish prepared in the classic Cantonese way, you would agree that their minimalist approach of using soy sauce, ginger, and scallions, with a little help from steams, allows the natural flavors of the fish to shine brightly.
The dish I'm introducing here is another Cantonese classic using clean flavoring from ginger and scallions.  There are several variations to prepare this dish.  Some of them call for a two-step cooking process to lock in the moisture of lobster flesh, either by first oil-poaching chopped lobster pieces, or briefly deep-frying them with a thin coating of cornstarch, before combining them with aromatics.
The variation I like the most is to stir-fry the lobster with ginger and scallions directly, without pre-cooking.  I find this method creates a lighter and cleaner dish, and stays true to the "less is more" approach.
You have to try this dish, as you'll be amazed how simple but spectacular it is!
Cantonese stir-fried lobster with ginger and scallions
Makes 2 servings
Ingredients
2 lobster tails in shell, about 8 oz (230 g).  You can include claws as well if using whole lobster.
2 scallions, white and green parts separated and thinly sliced diagonally.
1-inch piece ginger, half finely grated and the other half cut into thin matchsticks.
1 teaspoon Shaoxing wine
2 tablespoons vegetable oil
Salt and freshly ground white pepper
Sauce
1 tablespoon chicken stock or water
1 teaspoon soy sauce
1/2 teaspoon Zhenjiang (aka Chinkiang) vinegar
1/4 teaspoon potato starch or cornstarch
1/8 teaspoon salt
Procedure
Cut each lobster tail in half lengthwise through the shell, and remove the vein.  Cut each half into 5-6 pieces, following the natural sections of the shell as a guide.  If you prefer, you can use a pair of kitchen shears instead of a knife to cut the shell.  Chop the claws into small pieces as well if using.
Marinate the lobster pieces with grated ginger and Shaoxing wine for 15 minutes.
Mix all the ingredients for the sauce in a bowl.  Heat the oil in a hot wok or skillet over high heat.  Add the sliced ginger and white part of sliced scallions.  Stir-fry for 20 seconds or until fragrant.  Add the lobster and stir-fry for another minute.  Pour in the sauce mixture; stir and mix until the sauce thickens and coats the lobster pieces, about 30 seconds.  Adjust seasoning with salt and pepper as needed.
Garnish with the green part of sliced scallions and serve immediately.

Subscribe to Soy, Rice, Fire

Archives