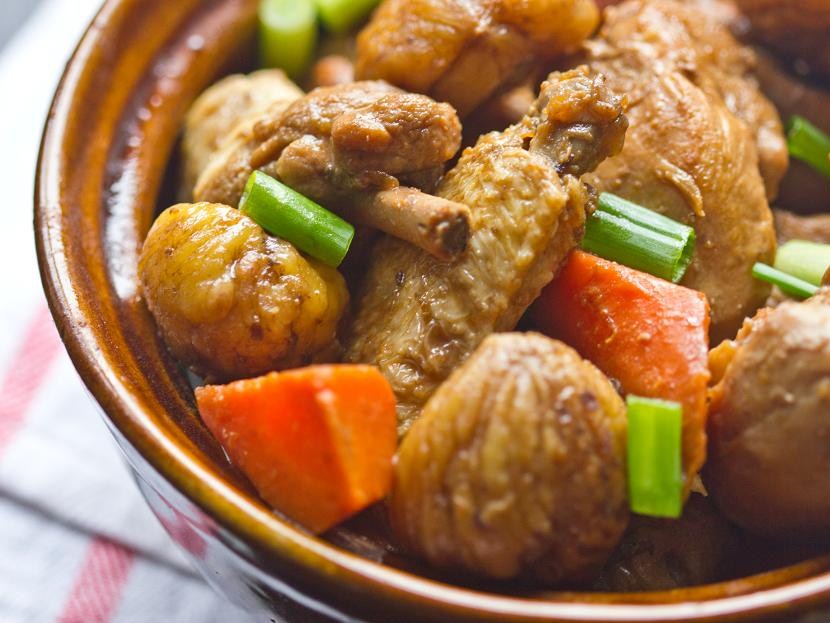 Among all nuts, chestnuts are special in many ways.
To begin with, they are a cold-weather icon, and a big celebrity during the holiday season because of their appearance in a popular Christmas song.
If you compare the nutritional composition of chestnuts with those of other nuts, you'll notice that chestnuts rank highest in starch and lowest in oil.  That makes them more comparable to wheat, rice, and potatoes.  Some even call them a "grain that grows on a tree".
No wonder this ancient nut has been a staple source of nutrition for centuries throughout Asia, Europe, and America.
By the way, a chestnut tree can live up to 500 years…
As a cooking ingredient, the high starch content in chestnuts means they are a perfect component in stuffing, sauces, and purees.  Their natural sweetness makes them shine in desserts such as mont blanc and marrons glacés.
In savory dishes, chestnuts pair extremely well with game and poultry.  A great example is roasted goose stuffed with chestnuts, which is a very popular dish for Christmas in Europe.
The dish I'm introducing here, braised chicken with chestnuts, is another example.  It is a popular dish in many parts of China.  Used as a main ingredient rather than just garnish or stuffing, whole chestnuts are braised together with chicken to allow their flavors to meld.  The sugar in the nuts adds a subtle sweetness to the sauce, and the starch thickens it beautifully.
For this dish, it would be ideal to use raw chestnuts instead of pre-cooked ones, which may get mushy after braising.  Peeling chestnuts can be quite easy if you know the right method.  There is no shortage of useful tips on the web for that task, which typically involves marking an "x" on the flat side of the chestnuts, followed by roasting in oven or boiling in water.  In my recipe below, I use a method which I learned recently.  It's surprisingly simple and effective.
"Chestnuts roasting on an open fire"…  When you finish that beautiful song, give this recipe a try, 'cause I know it will make the season bright.
Braised chicken with chestnuts
Makes 2 servings
Ingredients
Half young chicken (bone in, skin on), about 20 oz (570 g), or any parts of chicken of your choice
8 fresh chestnuts
1 medium carrot, about 4 oz (115 g), cut into medium pieces
2 scallions, one tied into a knot and the other cut into 1-inch (2.5 cm) pieces
1-inch (2.5 cm) piece ginger, crushed
1 1/2 tablespoon Huang jiang (黄酱, yellow soybean paste), or substitute 1 tablespoon dark soy sauce and 1 tablespoon light soy sauce
1 tablespoon Shaoxing wine
1/2 teaspoon Zhenjiang (Chinkiang) vinegar
1 tablespoon vegetable oil
Salt and freshly ground white pepper
Procedure
 Remove the shells of the chestnuts.  In a pot, bring water to a boil.  Add the shelled chestnuts and boil for 1 minute.  Turn off the heat.  Removing one chestnut from the water at a time, rub the skin off the nut using a thick and dry towel.  The skin should come off easily.  If not, let it soak bit longer in the hot water and try again.
Chop the chicken into small pieces.  Heat the oil in a hot wok, Dutch oven or skillet.  Sear the chicken pieces until golden brown.  Transfer them to a plate.
In the same wok, add the scallion knot and ginger.  Stir-fry for 20 seconds.  Add Huang jiang and Shaoxing wine, stir and mix, scraping up any brown bits that have stuck to the bottom of the wok.
Return the chicken to the wok.  Add enough water to cover two thirds of the chicken.  Bring the liquid to a boil.  Add the chestnuts, carrots, and Zhenjiang vinegar.  Reduce to a gentle simmer and cook, covered, for about 30 minutes, or until the chicken is cooked through and the chestnuts become mealy but not mushy.
Adjust seasoning with salt and pepper.  Garnish with the remaining scallion and serve immediately.

Subscribe to Soy, Rice, Fire

Archives