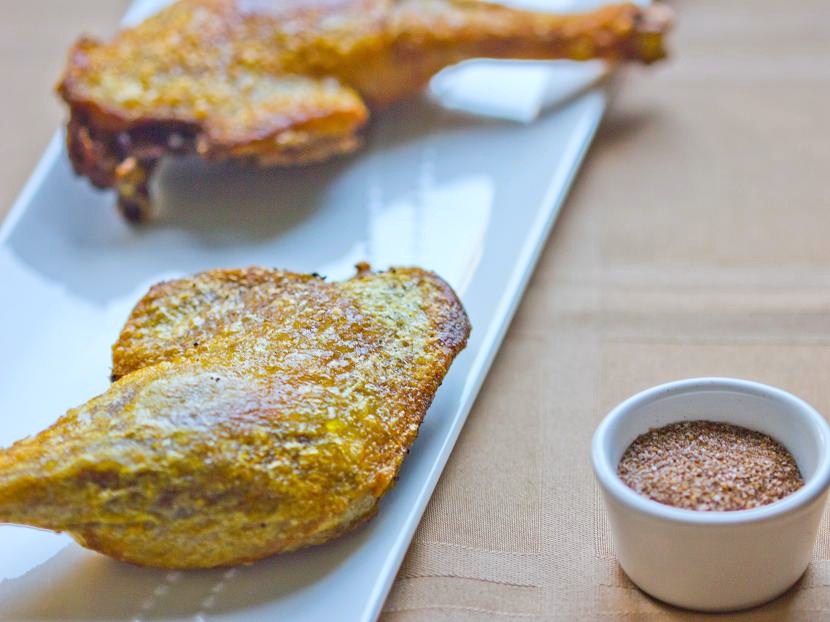 If you are looking for a special duck recipe for a holiday feast or dinner party, this fragrant crispy duck will be the answer.
In fact, this dish can be a perfect alternative to the traditional Thanksgiving classics.  In many cultures, duck is considered a festive food ideal for special occasions and celebrations.
Fragrant crispy duck (香酥鸭) is made all over China with numerous regional variations.  Although each of them produces a delicious bird with crisp skin and juicy meat, my favorite is the Sichuan version.  What sets their dish apart from the rest is the wonderful Sichuan pepper salt, which creates magic when used as a dipping salt for the duck.
Sichuan pepper salt, known as hua jiao yan (花椒盐) or simply jiao yan (椒盐) in China, is an iconic ingredient in Sichuan cuisine.  Although it is a simple mixture of salt and ground Sichuan pepper, it lends complex and rich flavors to meat and seafood dishes, especially deep-fried ones.
This fantastic dish is completed in two simple steps:
Steaming.  This process not only produces very juicy and tender meat, but also renders a lot of fat from the duck.
Deep-frying.  Frying briefly at very high temperature, around 350 – 375 °F (177 – 190 °C), creates beautifully crispy skin without drying out the meat.
I've tweaked the classic recipe by using duck legs instead of a whole duck.  You can certainly use a whole bird if you have a large crowd to please and impress.  Simply follow the same procedure and consider cutting the duck in half before cooking to make it easier to handle.
Fragrant crispy duck with Sichuan pepper salt

Makes 2 servings 

Ingredients 
2 duck legs, about 12 oz (340 g)
Rub
1/4 teaspoon salt
1/2 teaspoon white peppercorns, crushed
1/2 teaspoon Sichuan peppercorns, crushed
1 teaspoon Shaoxing wine
Dipping salt
1 teaspoon Sichuan peppercorns (about 2.5 g)
3/4 teaspoon salt (about 5 g)
Procedure
In a bowl, mix the ingredients for the rub.  Spread the rub over the cut side of the legs.  Let marinate for 15 minutes.
Place the legs in a steamer, skin side down, and steam for 40 to 50 minutes, or until the meat is fully cooked and tender.
Transfer the legs to a wire rack to cool and dry.  When they are cool enough to handle, wipe off the rub.  Be careful not to tear the skin.
While the legs are cooling, prepare the dipping salt: heat the Sichuan peppercorns in a pan over low heat until fragrant and slightly browned, about 2 minutes.  Grind them into powder with a spice grinder.  Heat the salt in a pan over low heat to remove any moisture, about 1 minute.  Mix the salt and pepper powder in a bowl.
Heat the oil for deep-frying to 350 – 375 °F (177 – 190 °C).  Always be extremely careful and follow safety precautions during deep-frying.  Pat the legs dry and deep-fry until golden-brown, about 2-3 minutes.   Remove from the oil and drain on paper towels.
You can leave the legs whole or chop them into smaller pieces as desired.  Serve immediately with the dipping salt.

Subscribe to Soy, Rice, Fire

Archives