When the leaves fall and temperature drops, we think of game.  In many cuisines, game meats are traditionally associated with dishes in the fall and winter, the hunting season.
Of course, nowadays people are more likely to shoot a photo with a smartphone than shooting a game animal with a gun.  Besides, in the US, the game meats available in the market are actually raised on farms or ranches.  Nevertheless, the tradition of cooking game meats to bring their rich and "wild" flavors to the cold weather has endured.
Game has always been highly prized in Chinese cuisine.  In fact, many cookbooks and restaurant menus devote an entire section for game meats.  Small game birds, such as squabs and quails, play prominent roles in the repertoire of game recipes.  Take squabs for example: they show up frequently as roasted, deep-fried, steamed, braised, and in various soups.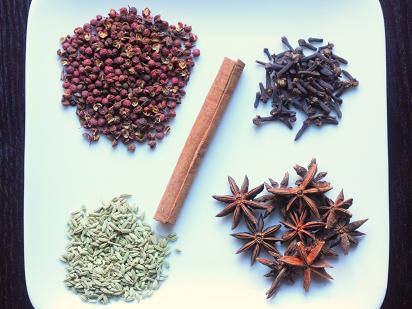 When cooking with game, Chinese chefs often use five-spice power to bring out the best flavors of the meat and at the same time tame the gaminess of the animal.  Game and Chinese five-spice powder are a magic pairing.
As with other famous spice blends in the world, such as quatre épices of France, garam masala of India, or ras el hanout of Morocco, Chinese five-spice powder has many variations, and there is no definitive combination of spices that make up the mix.  The most frequently used ingredients include star anise, Chinese cinnamon (cassia), cloves, fennel seeds, and Sichuan peppercorns.  As always, freshly ground spice mix is much better than the ready-made ones you can get from a retail store.  If you are interested in grinding your own five-spice power, here is a recipe for you to try (scale it down if making a smaller batch)
10 g Sichuan peppercorns
10 g star anise pods, broken into small pieces
5 g fennel seeds
5 g Chinese cinnamon, broken into small pieces.
4 g cloves
The dish I'm introducing below is inspired by one of the most famous Chinese squab dishes: minced squab in lettuce cups (生菜鸽松).  In my version, I cut the breast meat into small dices instead of mincing the meat, and flavor them with five-spice powder.   A quick stir-fry is all you need to bring out the flavors of the aromatic squab meat, the crunchy chestnuts, the sweet carrots, and the fragrant pine nuts.  Wrap them in a crisp lettuce leaf and you get a parcel full of enticing flavors and textures.    This dish makes a great appetizer or a light meal.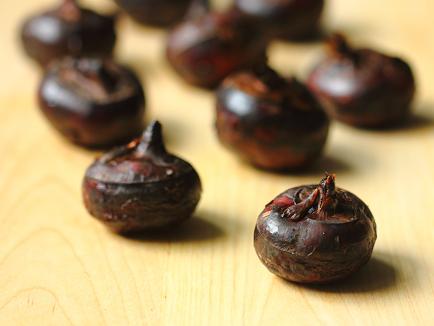 A note on water chestnuts:  you can certainly use the ones from a can.  However, fresh ones are worth hunting for, as they have much superior flavor and texture.
If you are new to the game (pun intended), this recipe will no doubt introduce you to the wonderland of game meats.
Five-spice squab in lettuce leaves
Makes 2 servings
Ingredients
Breast meat from one squab, cut into 1/3-inch (8 mm) dices
6 small leaves of red leaf lettuce, green leaf lettuce, or Boston lettuce
3 oz (85 g) carrots, cut into 1/3-inch (8 mm) dices
3 oz (85 g) peeled water chestnuts, cut into 1/3-inch (8 mm) dices
2 tablespoons toasted pine nuts
2 teaspoons vegetable oil
Salt and freshly ground white pepper
Marinade
1/4 teaspoon five-spice powder
1/4 teaspoon grated ginger
1/4 teaspoon corn starch
1/2 teaspoon soy sauce
1/2 teaspoon Shaoxing wine
Procedure:
 In a bowl, mix the ingredients for the marinade.  Add the squab meat and marinate for 15 minutes.
Heat the oil in a hot wok or skillet over medium-high heat.  Add the carrots and stir-fry for 1 minute.  Add the squab meat, stir and mix for another minute, or until the meat is just cooked.
Add the water chestnuts.  Stir and toss for 30 seconds.  Mix in the pine nuts.  Season to taste with salt and pepper.
Serve the squab mixture with lettuce leaves to make individual parcels.

Subscribe to Soy, Rice, Fire

Archives