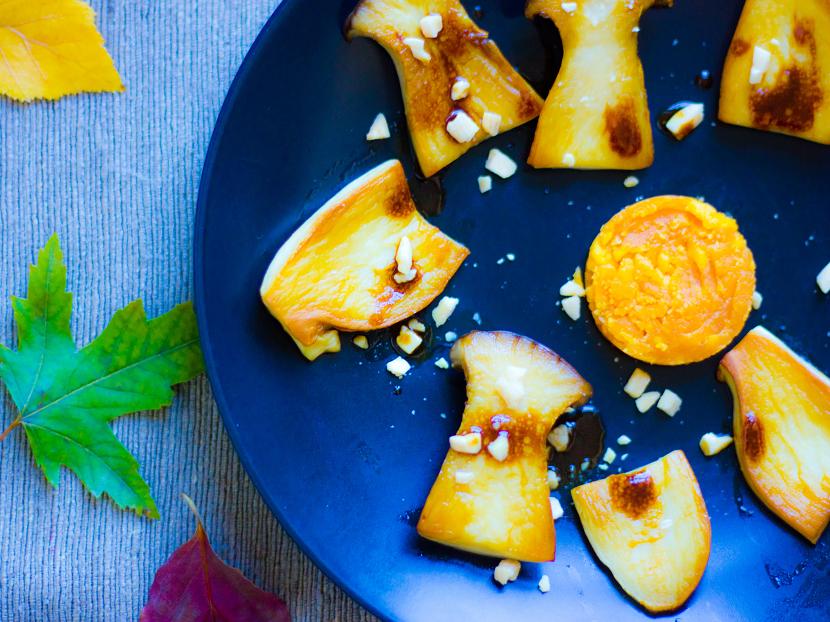 Salting, one of the world's oldest forms of preserving food, has created a long list of culinary wonders, such as ham, bacalao, preserved lemon, bottarga, and may I add, salted duck egg.
When a raw duck egg is salted for 20 to 30 days either in a brine or in a paste made with salt and mud, its chemical composition is drastically changed.  Some of the proteins are broken down into amino acids.  Fat content increases.  While the white remains liquid, its yolk, the crown jewel of the finished product, becomes solid with a bright yellow-red color.  When cooked, the yolk has an intriguing texture that is at once creamy and granular.   It tastes pleasantly salty and richly savory (umami).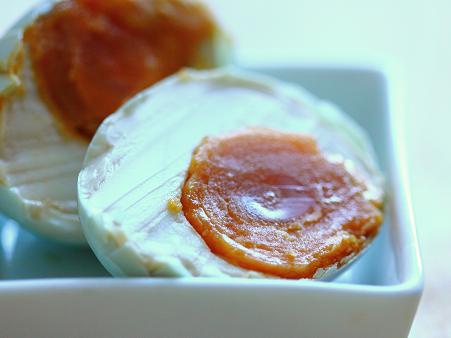 Salted duck eggs have a long history China and are produced all over the country.  The most prized ones come from Gaoyou in Jiangsu province for their large, delicate, and rich yolks.  In the US, you can fine salted duck eggs either raw or cooked and vacuum-packed in Asian grocery stores.
As a cooking ingredient, salted duck eggs can be simply hard boiled and served with congee.  They are used in mooncakes to symbolize the moon, for the celebration of the Mid-Autumn Festival.  They can also be stuffed together with pork in Zongzi, made with glutinous rice wrapped in bamboo or reed leaves.   The best way to highlight the flavor of duck egg yolks, in my view, is to use them as a finishing sauce to enhance a vegetable dish, such as in stir-fried corn, pumpkin, or zucchini, or paired with umami-rich ingredients such as fish, crabs, or mushrooms to create a savory explosion.
In the recipe below, I'm teaming them with king oyster mushrooms.  When pan-seared to golden brown, these mushrooms shine with their meaty texture, earthy aroma, and rich flavors.  Mixed with golden morsels of salted yolks, they taste even more sensational.
To celebrate the Mid-Autumn Festival, which falls on September 30 this year, I'm presenting the cooked yolks in a full-moon shape as shown in the picture, before mixing them with the mushrooms.
Pan-seared king oyster mushrooms with salted duck egg yolks
Makes 2 servings
Ingredients
2 salted duck egg yolks, from hard boiled eggs
10 oz (285 g) king oyster mushrooms
1 teaspoon soy sauce
1 teaspoon Tian mian jiang (甜面酱, sweet flour paste), or hoisin sauce
1/2 teaspoon Zhenjiang (Chinkiang) vinegar
1 teaspoon sesame oil
1 tablespoon crushed toasted almonds
2 tablespoons vegetable oil
Procedure
Remove the ends of the mushrooms, and slice lengthwise into 1/2-inch-thick (1.2 cm) sections.  Cut each section crosswise into about 2-inch (5 cm) pieces.
Heat the oil in a very hot pan over medium high heat.  Add the mushrooms in a single layer (you may need to do this in batches), and sear each side for about 2 minutes until golden brown.  Remove the mushrooms from the pan and drain on paper towel.
To make the sauce, mix the soy sauce, Tian mian jiang, vinegar, and sesame oil in a small bowl.  Stir until well mixed.
Break down the yolks into a coarse paste with the back of a spoon.  Heat in a microwave oven until they become frothy, about 15 seconds.
Using a small ring mold, arrange the yolks in a round shape on a plate.  Place the mushrooms attractively around the "moon".  Drizzle the sauce and sprinkle the almonds on top.  Mix the yolks with the mushrooms before eating.

Subscribe to Soy, Rice, Fire

Archives