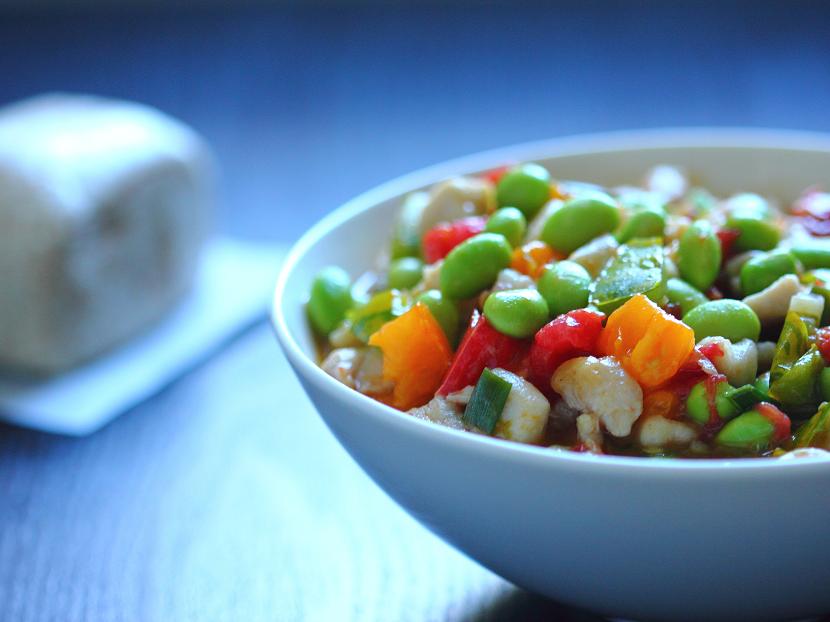 Like buttery and aromatic fresh fava beans in spring, sweet and succulent peas in summer, fresh green soybeans, if you are lucky enough to find them, are a real treat in late summer and early fall.
While frozen green soybeans have become a common grocery item in the US, fresh ones in the pod are still somewhat elusive, even when they are in season.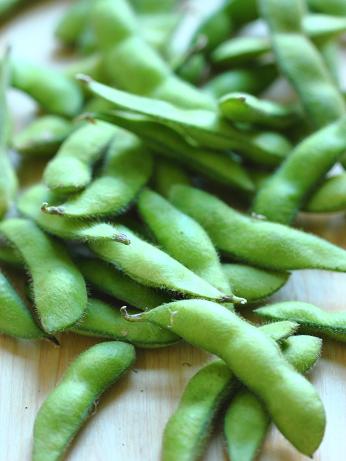 My search for them began in late August, when the soybeans started to be harvested at a fresh green stage, which is at about eighty percent maturity.  After coming home empty-handed from several trips to Chinatowns in Manhattan, Queens, and Brooklyn, my luck turned around, when I first spotted some at the Greenmarket in Union Square.  Then some at Whole Foods.  And some more at Dean & Deluca…
Is it worth the effort to seek them out?  Definitely, because the fresh soybeans in season taste wonderfully sweet and tender, with a lovely snap when you bite into them.  By comparison, frozen ones do not have the same brightness either in flavor or in texture.
Green soybeans are called Mao Dou (毛豆), or hairy beans in China, their birthplace.  They are easily available from July through October, and are consumed as a summer vegetable there.  A versatile ingredient, they can be stir-fried with sliced meat or eggs, with pressed tofu or pickled mustard greens, added to braises or soups, or simply boiled in salted water.
To truly appreciate the flavor and texture of fresh soybeans in season, the best way to prepare them is to cook minimally with a quick stir-fry, as I do in the recipe below.  I'm paring them with heirloom tomatoes, another seasonal vegetable at their peak.  Together with chicken, they create a bright and clean dish with their inherent tastes of savory, sweet, and sour.  All you need to add is salt.
This dish captures the essence of Chinese home-style dishes, or Jia Chang Cai (家常菜) in Mandarin: use what's in season and cook simply.
Stir-fried green soybeans with heirloom tomatoes and chicken
Makes 2 servings
Ingredients
6 oz (170 g) shelled green soybeans
7 oz (200 g) heirloom tomatoes (preferably mixed colors), cut into ½-inch (1.2 cm) cubes
7 oz (200 g) chicken thigh or breast meat, cut into ½-inch (1.2 cm) cubes
2 scallions, thinly sliced
1 teaspoon Shaoxing wine
1 teaspoon cornstarch
2 tablespoons vegetable oil
Salt and freshly ground white pepper
Procedure
Mix the chicken with Shaoxing wine and cornstarch, and marinate for 15 minutes.  This step is called "velveting".
In a wok or skillet, heat the oil over medium heat until reaching the temperature around 280 °F or 138 °C.  Add the chicken and stir quickly.  When the chicken pieces just turn color, about 1 minute, remove them with a slotted spatula.  Keep the remaining oil in the wok.
Turn up the heat.  In the same wok, heat the oil and add the soybeans and scallions.  Stir-fry for about a minute and a half.  Add the chicken, stir and mix for another 30 seconds.
Add the tomatoes.  Gently stir for about 20 seconds, until they are mixed with other ingredients and warmed through.  Do not overcook the tomatoes or they will break down quickly.   Serve immediately.

Subscribe to Soy, Rice, Fire

Archives